Good morning trulovers!  I have oodles of inspiration coming up for you this week and especially if you are newly engaged, you will find lots of ideas and style to help you work out your wedding theme.
Here is the UK it has been a rather grey and rainy January so far, so I am loving today's Snow Queen Wedding Inspiration from the South of France shot by Malvina Photo.  Inspired by the Disney film Frozen, Malvina Molnar and Amandine from Be Lovely created a styled shoot showcasing the elegance of a winter wedding, full of texture and delicate detailing.  Not to mention creating a winter wedding and snowy atmosphere in the South of France is quiet a challenge!
French Wedding Style – Photography © Malvina Photo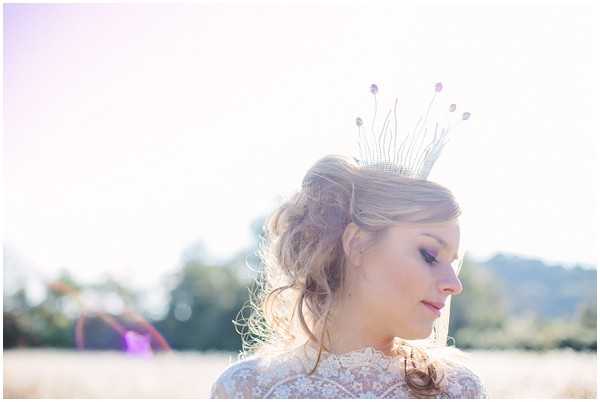 Malvina and Amandine take us through the inspiration and process behind today's wedding styled shoot: "We started planning this shot while it was still 30 degrees plus outside, so our need for fresh air and cold weather guided us through the elaboration of the theme… We quickly came up with some keywords and a color scheme: ice, frost, blue, white and silver. It can be tricky to pinpoint the right colors and items because you can quickly go into something Christmassy or choose a wrong shade of blue that feels more tropical than winter.

Now the obvious problem was that it rarely snows in Southern France, so finding the right location with the best winter feeling was key. We contacted Ute, the owner of the Château de Roquelune, as I knew the castle had an elegant orangery which, with its large windows, would perfectly let the cold winter light in.  And what better way to say queen than in her own winter wedding castle.

Charlotte had just opened her bridal shop Olympe when we got in touch with her. She chose three amazing dresses by designer Sarah Seven and we went on to create the queen's crown to evoke ice and sparkle.

Cyril, our florist, played a major role in creating the throne scene with Amandine who  created the stationary and some decorative items like the snow globes and the snow stars on the glasses. They chose an opulent  white and blue theme with an abundance of flowers and plants, and a style at once modern and festive for the stationary. When going for a white theme, it is important to play with textures: we used mat, reflective, sparkly, furry, soft or translucent items on the table to avoid any impression of monotony.

For the hair and make-up we decided to have two distinct styles: one by day and one by night, to give the bride a choice and also show that, yes, you can have two styles for your wedding! For the daytime, we chose romantic hairstyles with braids and we went a little bit over the top with accessories in the hair. Cyrille, our hairdresser, did an incredible job at creating sophisticated, but natural-looking updoes. For the evening, we did something more fashion-forward to go with the party mood! Finally, Caroline, the makeup artist,  created looks that can suit brides who like just to enhance their natural beauty and brides who want something more colorful."
The shoot was created by local artists and if you feel the need for a theme tune listen to Ice Queen.

Credits:
Adult gowns: Sarah Seven by Olympe, Montpellier
Dress (child): Pauline from Les Petits Inclassables
Wedding rings: Alliances Antipodes, Montpellier
Make-up: Caroline
Hairstyling: Cyrielle de Kali Style
Photographer: Malvina Photo
Video: Eternisez
Flowers: Cyrille from Nature des sens, Montpellier
Location: Château de Roquelune, Pézenas
Paper goods:  Amandine de Be Lovely
Models: Jade, Sonia, Sabine and Margaux (with her rabbit)