I hope that you are all having a wonderful relaxing Sunday.  Although I haven't posted for a while about my shedding for wedding journey it is still progressing along slowly. So how are my numbers:
Weight:      13st 0lbs (-18lbs)
Chest:         44.5″ (-2.5″)
Waist:         39.75″ (-2.25″)
Hips:          45″ (-2.5″)
When I started the Cruise Phase of Dukan Diet I mentioned that I am going to be testing a number of products suitable for weight loss or slimming, the first of which is Weleda Birch Cellulite Oil.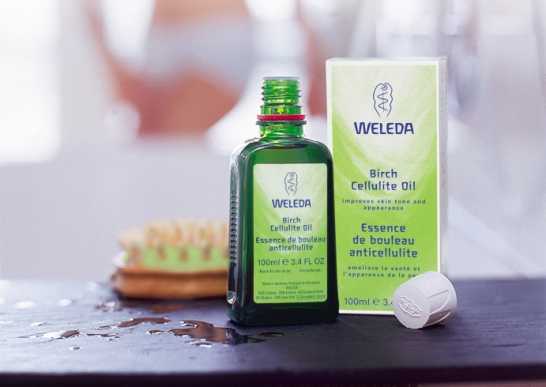 For those of you who haven't heard of Weleda, here is a snippet about the company:
Since 1921 Weleda's aim has been to maintain, promote and restore human health.  The composition of our products is based on our anthroposophical understanding of the human being and plants, as well as a sound pharmaceutical knowledge. Weleda products are made of completely natural substances.  We rigorously avoid synthetic fragrances, dyes and preservatives.  In addition to special cultivation and wild sources over 70% of our plant based raw materials are grown organically and biodynamically.
The lovely Carey Hawkins first pointed me toward the Weleda product range and I was keen to try the Weleda Birch Cellulite Oil as part of my weight loss journey to see how skintone could be affected.  It is 100% natural, contains no artificial additives and is specially formulated to tone and firm skin, and tackle those orange peel dimples on thighs and hips.
So what is the science behind it?  Made from organic silver birch, the tender young birch leaves contain valuable flavanoids with encourage secretion of elimination processes, to flush out toxins and restore skin radiance.  The leaf extract is combined with organic rosemary extract to stimulate circulation and metabolic processes, plus toning ruscus extract.  Skine smoothing oils of apricot, vitamin-rich wheatgerm and jojoba refine skin texture.  A mix of summery essential oils supports the toning effect of the other plant ingredients.
Before you even start using Birch Cellulite Oil, you are met with a gorgeous smell of birch.  The smell of a product is very important for me and this one is lovely, and through sense memory reminds me of a luxury spa. The consistency and texture of Birch Cellulite Oil is thick and non of this running through your fingers.
The Birch Cellulite Oil can be used as the second step for improving skin tone after Weleda's Birch Body Scrub, although I have just tested the Birch Cellulite Oil on its own.
I used the Birch Cellulite Oil every morning on damp skin and massaged it as directed in a circular motion for just under a month. (Although I love my readers, I am not doing a picture step by step commentary!)
The lovely smell and the visual signs of improvement have meant that this has become part of my morning beauty regime.  My skin has improved smoothness and more notably firmness and for this I would totally recommend this product.  But..
There is always a but, to give a true account of my testing there are other factors that have also changed.  I have been loosing weight during the trial period, I have also been exercising and I have also been using a massage brush for cellulite zones. However that does not change my opinion that I would and I am adding this to my shedding for wedding toolkit.
For more information on Weleda Cellulite Oil or other products visit www.weleda.co.uk
Monique x x