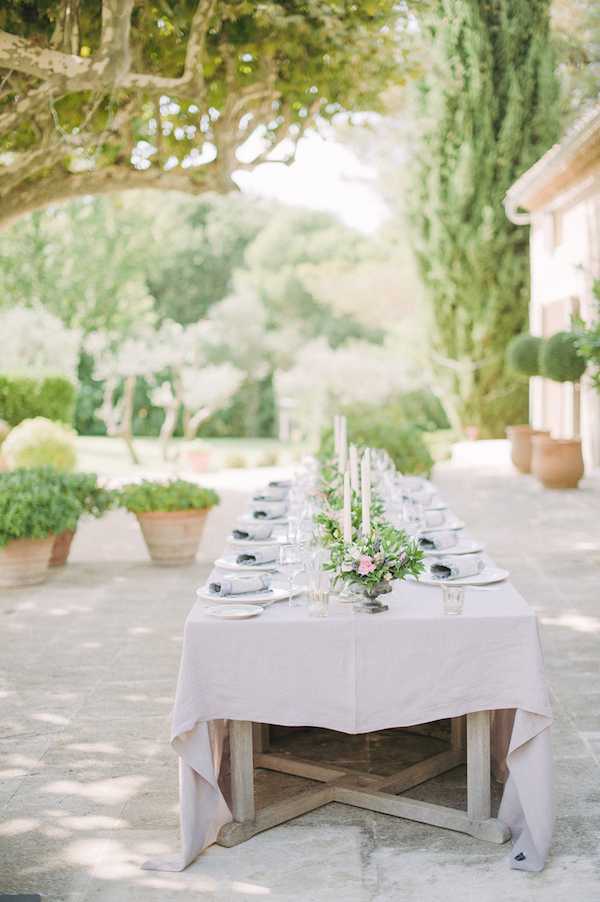 When you got engaged did you dream about planning a hot French summer wedding, one where you guests to enjoying the glorious sunshine whilst celebrating your big day?  Don't worry as Fabienne, owner of Elian Concept Weddings and Events, to explain just how to prepare for a hot French summer wedding so that you and your guests have an enjoyable day!
How to prepare for a hot French summer wedding
The recent heat wave has reminded us that too much sun is not all-good news.
It may be an exceptional and short-term occurrence in the UK and Northern parts of France -we call it 'canicule', but it is common in the Southern regions of the country that temperatures rise above 30 degrees in the summertime.
If you are getting married in France during the summer months, as you should always have prepared a plan B in case of bad weather, you need to take some precautions to prevent the heat spoiling the celebration.
I have compiled some information with the help of wedding professionals to advise brides and grooms how to survive the heat at their summer wedding and to keep their guests comfortable in scorching hot temperatures.
It's a game of plenty. Plenty of sun? Then you are on for 'plenty of water', plenty of sun cream', 'plenty of shade', 'plenty of warning'.
It can be anticipated in the South East, Provence, French Riviera and Languedoc Roussillon. In the other regions, usually more clement it may be a last minute task, but nevertheless necessary.
Dress to stay cool (and composed). You may be choosing your wedding dress in a cooler season, so it could be hard to get the right feel. Before setting your mind up on a particular style of dress, find out what temperatures to expect at your venue at the time of your wedding.  If it is in a region where it could go either way, blazing hot afternoon and cool evening, think outside the box. Light and natural material, multiple layers, a second dress are possible options. Grooms, too, should wear comfortable clothing even if it means forgetting waistcoat and jacket.
Photo credit: Boheme Moon Photography
Photo credit: Boheme Moon Photography
Choose a talented and experienced hair and make up artist who will prepare you for the hot and day ahead. For Carey, Make Up Artist and Hair Stylist from Carey Hawkins Makeup, "the secret to getting your make up to stay put when the temperature soars is all in the preparation. A 'primer' is really the key for make up to last all day.  There are many types available according to skin type but everyone can benefit in the heat by using an anti-shine version which will keep the skin matte."
Photo credit: Suzie Lawrence Photography
Trust your caterer to keep the cold food cool and to suggest a menu suited to summer heat. Select dishes that won't spoil and favour cold starters, ice creams, and plenty of fruits such as melons and watermelons, which is more refreshing. The caterer would also make sure the cake is kept refrigerated. If you are providing it, ensure it can be stored in a cold room or in the fridge. In any case, leave it to be served at the last minute. Not a good idea to expose it too early under sweltering temperatures.
Photo credit: Boheme Moon Photography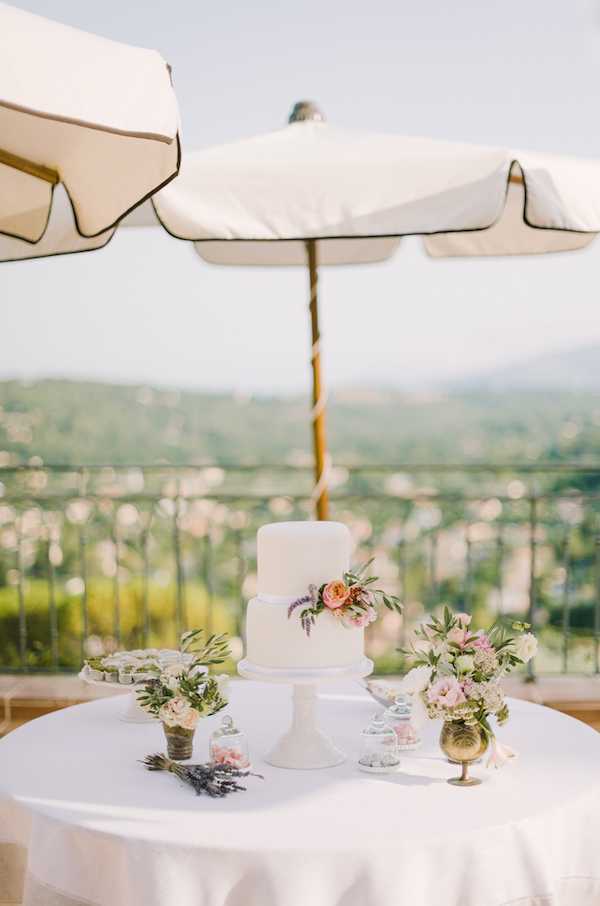 Photo credit: Boheme Moon Photography
Avoid dehydration. Of course have plenty of water available at any time, really plenty, and supply soft drinks and non-alcoholic fruit cocktails. Alcohol and heat is not a good mix. Keep it for later in the afternoon or evening.
Source: Favors and Flowers
Care for your flowers with the help of a professional florist. They know flowers and can give you expert advice on which flowers are good to use or not, and suggest alternative choices. It is their expertise to maximise the life of your flowers on your special day and they will do everything to keep them fresh until the last minute. Hear what Faustine from Fleurs design by Faustine recommends to her summer brides:
"Choose resistant and seasonal flowers. For example, it's best not to ask for peonies in the middle of July or August in the south of France. The hot weather will damage them and you will be disappointed (the ideal season for them is May and June). On the contrary, tropical flowers such as palm leaves, strelitzias, anthuriums, alpinias, heliconias are stronger (and today they are quite trendy). They will survive a very hot day even in a full sun.
Ideally, your venue will have a room with air conditioning or shady outdoor areas to protect the arrangements until they are required. "
Source: Fleurs Design by Faustine
Plenty of shade
Finding shaded areas is a must do. This is something you could have on your checklist when searching for your venue. In the hottest parts of France, it is a absolute necessity. If there is a covered area, or you have a tent as part of your back up plan for rain, it may become a blessing in roasting temperatures.  Do not hesitate to change your ceremony location and keep it brief. It will not be fair on your guests to make them stand in the full sun during the ceremony and it won't be so comfortable for you either.  Hopefully the venue will have plenty of parasols available. If not hire them.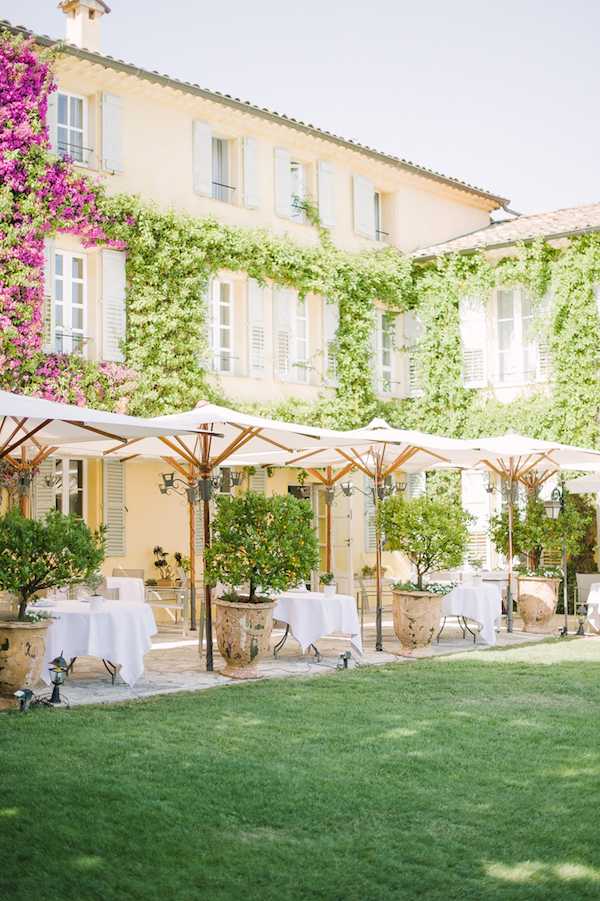 Photo credit: Boheme Moon Photography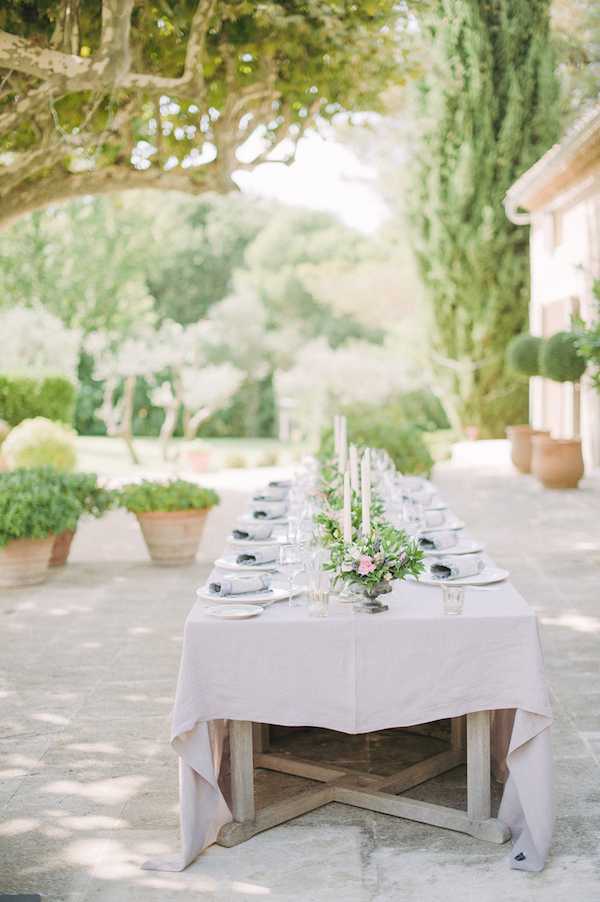 Photo credit: Boheme Moon Photography
To avoid roasting outside, another option is to delay the start of the event and wait for the sun to go down. If it's a last minute occurrence, it does involve reviewing your carefully planned schedule, but believe me, your guests will thank you for this. And not only your guests, but your vendors too as photographer Clara from Boheme Moon Fine Art Wedding Photography rightly pointed out when I asked her which advice she would give her brides and grooms to help cope with heat during their photography session.  Here are her precious recommendations:
"As for your wedding photography on a super hot day, you might be concerned about two things mainly: Shiny skin and exertion.
For the main part, your photographer will be following you around and taking pictures as the day unfolds. Your make-up artist will already have taken care of giving you a great long-lasting foundation, but little touch ups here and there will help you look beautiful in pictures even when it's hot.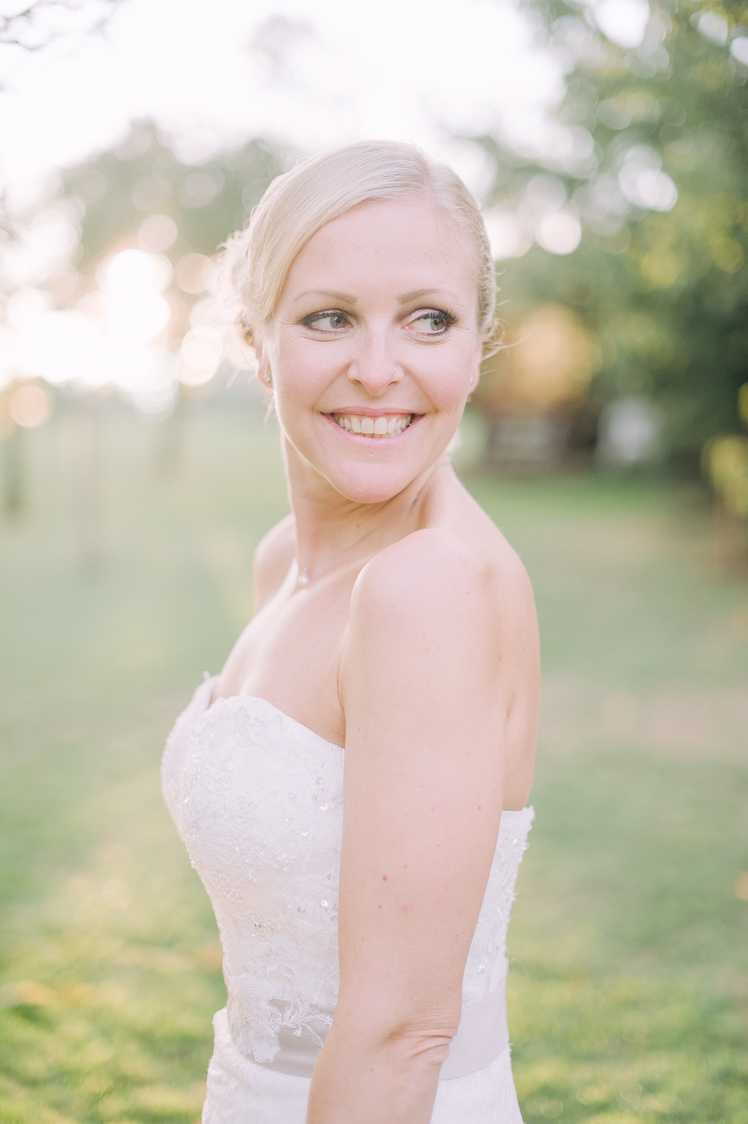 Photo credit: Boheme Moon Photography
If possible, plan your couple session and group portraits for later in the day/early evening – not only will the temperatures be milder, but the light will be more pleasing for portraits as well, and quickly blotting and powdering your face before the session will go a long way.
Your photographer will be taking you to shady or covered areas as well, especially if it's early on and the light is too harsh.
If you cannot have your couple session early evening, consider planning a mini-session of the two of you before sunset. Breaking away from the dinner table for 15 minutes will give you a chance for a few beautiful pictures during cooler temperatures as well as the best light!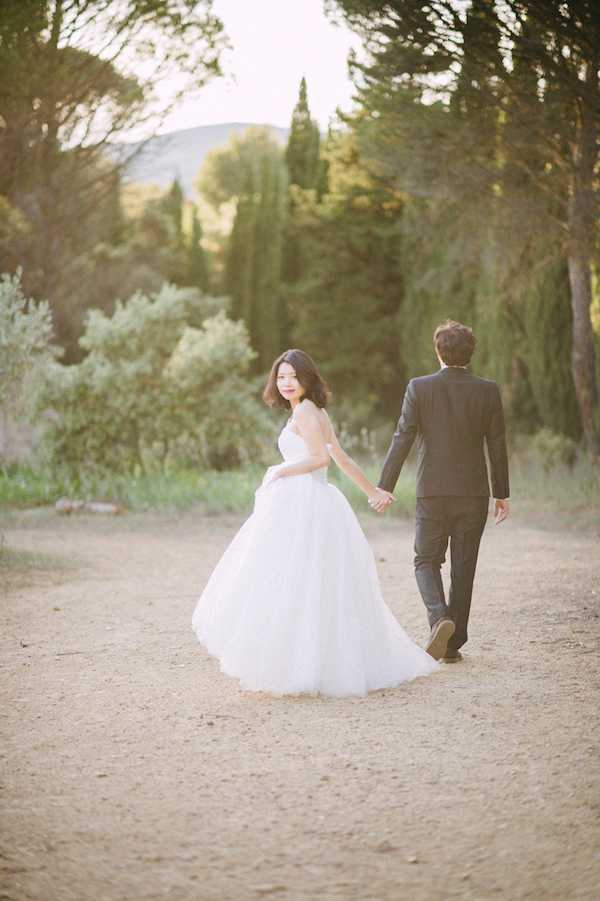 Photo credit: Boheme Moon Photography
Keep your cool !
Your portrait/couple session should feel more like a relaxed enjoyable little walk around some pretty areas of your venue. Go slow when it's hot. Don't worry about anything, even if you think you're not photogenic. Your photographer will most likely guide you a bit and slow down should you feel weak from the heat. Don't be nervous and enjoy – you two will be the most radiant and beautiful people far and wide on your wedding day, no matter how hot it is!
On a little side note, keep in mind that your photographer is probably doing a lot of walking and carrying equipment and may run out of water too, so it's no a bad idea to let them know that they can serve themselves with water as well – you don't want them to faint during your wedding!"
Finally, keep an eye on the weather forecast. It's no point being obsessed as they are usually not accurate until 3 days before, but this is sufficient to take the necessary measures to survive a very hot day, if they have not already been taken. Give plenty of warning to your guests so they can come prepared with appropriate outfits, shoes and summer emergency kit: sun cream, spray mist, umbrella or hat.
Photo credit: Boheme Moon Photography
For more ideas and recommendation, check my Top tips for a guest friendly summer wedding in France.
A big thank you to Carey and Faustine for their contributions and to Clara for her wise words and gorgeous photographs.
FABIENNE IS OWNER OF ELIAN CONCEPT WEDDINGS AND EVENTS, WHO IS A BI-LINGUAL WEDDING PLANNER WHO IS AVAILABLE FOR WEDDINGS THROUGHOUT FRANCE.  FOR MORE INFORMATION VISIT: WWW.ELIANCONCEPTWEDDINGS.COM
Top image by Photo credit: Boheme Moon Photography