French Wedding Style readers in US I have some very exciting news to share with you today as French Bridal Couture hits New York with The Mews!
I am always super proud and happy to support French Wedding Style sponsors, so when the lovely Lauren and Gail from The Mews announced their plans for a new boutique in New York I was delighted to help them spread the news.  It also sent me researching flight prices, as what a wonderful excuse to visit New York again.
If you have somehow missed The Mews as a fabulous destination to find your favourite French wedding dress designers, let me tell you more.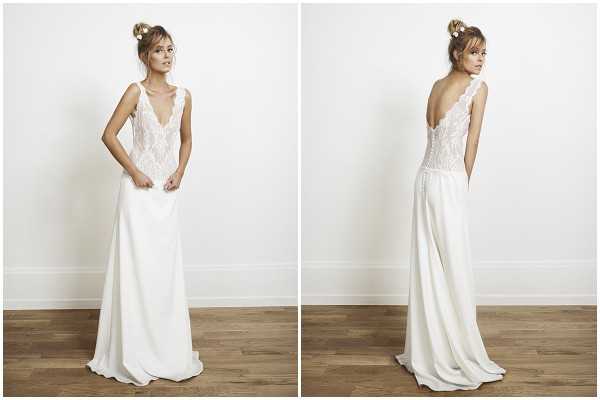 The Mews Bridal Gowns of Notting Hill, specialising in French Bridal Couture.  The Mews exclusively represent four Parisian chic labels; Laure de Sagazan, Rime Arodaky, Stephanie Wolff and Elise Hameau. They provide that certain 'Je ne sais quoi' for the bride that is looking for something unique yet effortlessly beautiful. Bringing a breath of fresh air to the wedding industry, their dresses will make you think bohemian, sleek sophistication with a slight rock and roll edge, keeping the elegance every girl desires on her wedding day.
As the only wedding boutique dedicated to French wedding dress designers, The Mews team often have brides flying in from abroad to try to find their perfect French bridal couture and the mix of bridal ware and fashion; a combination which brides crave!
In the summer of 2015, The Mews team are opening a 'Mews boutique' in New York and would love to invite you to preview our bridal collection at the Gramercy Park in New York from the 5th-12th October 2014.
So start spreading the news and let whole of the US know that The Mews are showing the collection to all brides-to-be and that appointments are limited.
In an exciting addition, one of The Mews exclusive designers, Rime Arodaky, will be with us for a couple of days to launch her 2015 collection.
Gail and Lauren say: "This is a really exciting time for The Mews as we have had so much interest from American brides who are desperate for the effortless look on her wedding day, but struggling to find it in the US. We have already shipped lots of gowns over to US brides, so we thought now is the time to bring the designers to you!
We hope you are as excited about The Mews coming to the US as we are and we look forward to hearing feedback from you soon!"
To find out more about The Mews visit their website www.themewsnottinghill.co.uk or contact The Mews London on 0207 2219613