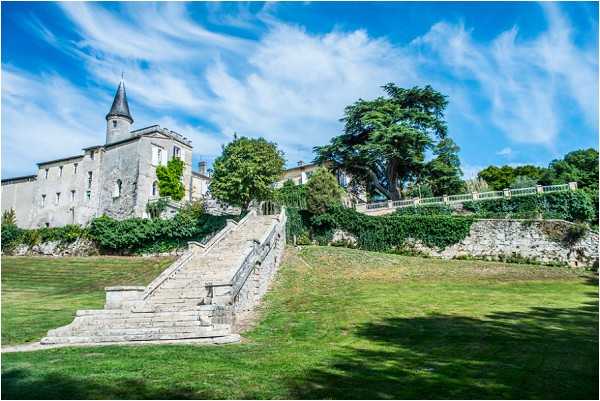 It's time for one of my favourite featured on French Wedding Style, our wedding venue spotlight series when we can get see into some of the most fabulous wedding venues in France and today we are heading to the Fairytale French Chateau of Chateau Lagorce.
Chateau Lagorce is a Multi award winning fairytale French Chateau near Bordeaux and the Dordogne in Aquitaine.   Steeped in history, and although there have been periods of financial ruin over the centuries, Chateau Lagorce has remained one of the most important Chateaux in the Entre Deux Mers region.
Along with this importance came some of our most important features: from the ice house in the woods; to the monumental steps built for Napoleon's visit for the inauguration of the Lord Mayor of Haux.
At Chateau Lagorce you can take advantage of the bespoke wedding packages available,  with your own personal wedding planner Anna Holmes. Chateau Lagorce boasts a versatile option of packages from the more conservative intimate day, to a spectacular large weekend.
Chateau Lagorce is located 25 minutes south east of Bordeaux, in a small village called Haux. As the airport is on the opposite side of Bordeaux they are a conservative 35 minutes from Merignac , and 30 minutes from Bergerac Airport.
In addition to the stunning surrounds of Chateau Lagorce there is also a picture perfect lake.  Apart from the obvious beauty of the lake, with the reflections of the chateau's towers, it has many other uses…
On a wedding day the lake is often used to create some magical photos, along with a tranquil stroll directly after the ceremony, for a bit of 'you' time, before the celebrations begin.
During the stay your guests can experience a fisherman's paradise – a rarely fished lake stocked with a wide variety of fish from small roach to huge carp!
For the actual wedding planning itself, the Chateau and their onsite wedding planner Anna, have been busy planning weddings since 2004 and have overseen over 100 weddings at the Chateau.   The team at Lagorce are used to organising a wide variety of wedding celebrations, and are keen to create the perfect bespoke wedding for you.
At Chateau Lagorce there are 4 options for the location of the ceremony -on the lawn by the lake, on the lawn on the 3rd terrace, in our quaint private chapel, or at the local Catholic church.
There really is an option for every wedding at Chateau Lagorce.
If you think that Chateau Lagorce may be your dream wedding venue,  then visit their website to find out more information.
Contact Details:
Website:  www.frenchweddingchateau.com
Instagram:  chateaulagorce_frenchwedding