Whether you are looking for transport between your wedding venues or looking to arrive at your wedding in style, what are the alternative wedding transport options available if you are looking for some a little unusual or quirky?
In many countries such as the UK and America there are a huge variety of options available for wedding transport from the traditional horse and carriage to vintage cars.  There are options for intimate weddings and red London buses for transporting larger parties, indeed many options to accompany any wedding theme or requirements.
The options for alternative wedding transport France is less than countries such as UK or USA, especially in rural areas, so I was delighted when I was introduced to Virginia.
Virginia is a bright red 1965 Type 2 T1 Volkswagen Kombi Delux microbus with a custom camper conversion owned by James and Rachel  of Belle Vie Campers.  James and Rachel ended up living in Biscarrosse, Landes during the Spring of 2010 as part of a sabbatical from their career lives in London.  This decision was made after some months travelling and volunteering in East Africa where wine, cheese and even bread was scarce!  On their return to Blighty they hot footed it in Virginia (James' beloved split screen) to the sun, sea, and south coast of France, to indulge in their favourite passions for the summer, eating, drinking and surfing. After being amazed by the enormous Dune du Pyla near Arcachon, they settled in Biscarrosse Plage and set up camp for a while.
They decided to rent out Virginia as a way of making a living, and funding their ever growing cheese and wine addiction!  James took up surfing whilst Rachel practised yoga on the beach.  Little did they know back then in May 2010 that Bisca-Plage would charm them so much that they would end up swapping camping for a home, making their sabbatical more permanent so that they could enjoy the good life or "la belle vie!" here in Biscarrosse Plage.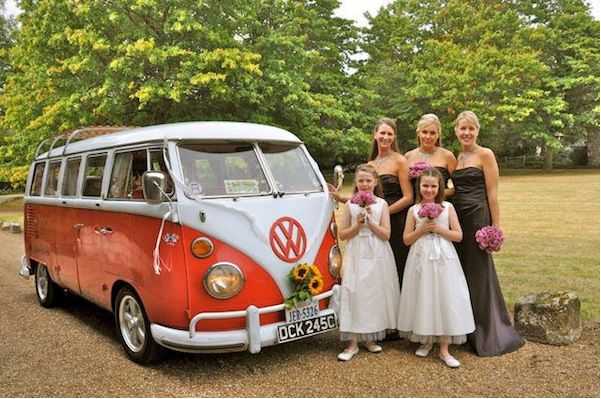 Rachel and James fell so much in love with the area and each other that they got married on Biscarrosse Lake, July 2011.
The VW camper is the sign of peace and love and provides a quirky method of transport for you and your bridal party as well as being extremely photogenic.
The economic gloom did not prevent Virginia from enjoying many successful tours of the region, so much so that she encouraged James to extend the VW Camper family and establish Belle Vie Camper Holidays perfect for a sightseeing honeymoon.  The extended campervan family includes Audrey above and also Lionel, Felicity and Sebastian.
I think Virgina and Audrey would be a wonderful addition especially to a french country wedding and a wonderful treat to transport guests home at the end of the evening.
Huge thanks to James and Rachel for sharing their extended family with us.
Monique x x