After months of planning finally your big day has arrived! But what happens to all of those beautiful decorations, confetti, leftover food and the hundreds of dollars worth of flowers? They end up in the bin. With an estimated 40 million + weddings per year – that is a lot of waste!
For real-life couple Yustiniya & Steve, creating a zero waste wedding was important and Mont Blanc Weddings & Celebrations helped them realise their dream…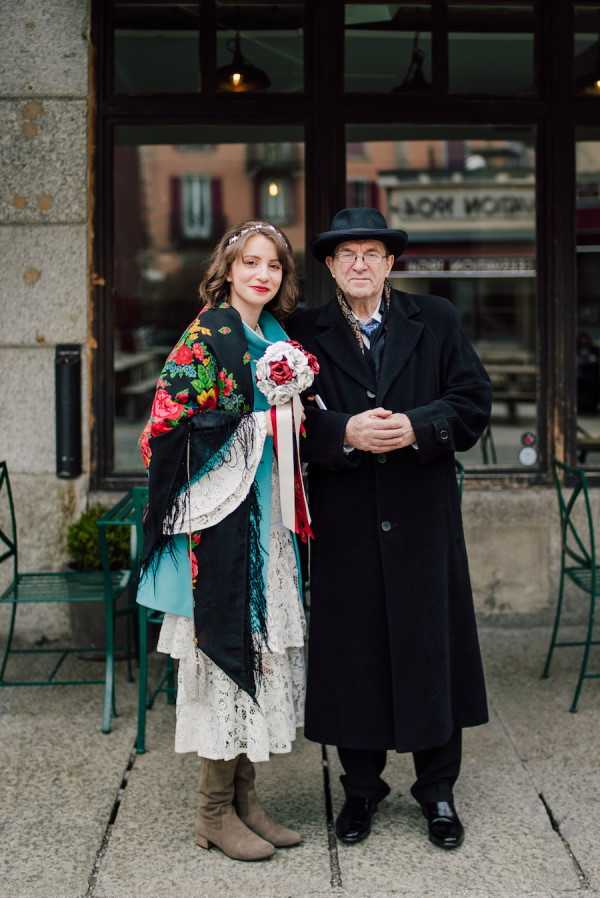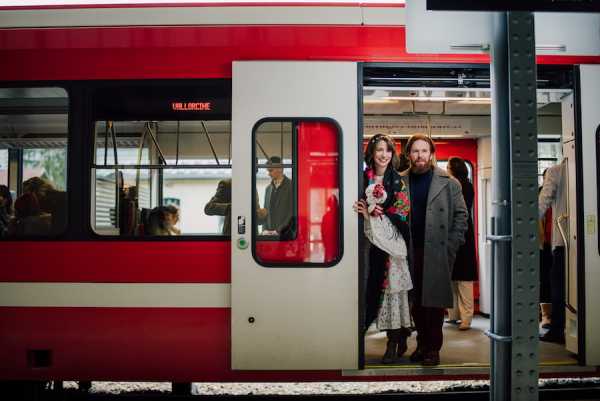 "Yustiniya & Steve, a Russian-Irish couple living in France on the shore of Lake Geneva, contacted us back in 2019 to help them organise their wedding in Chamonix.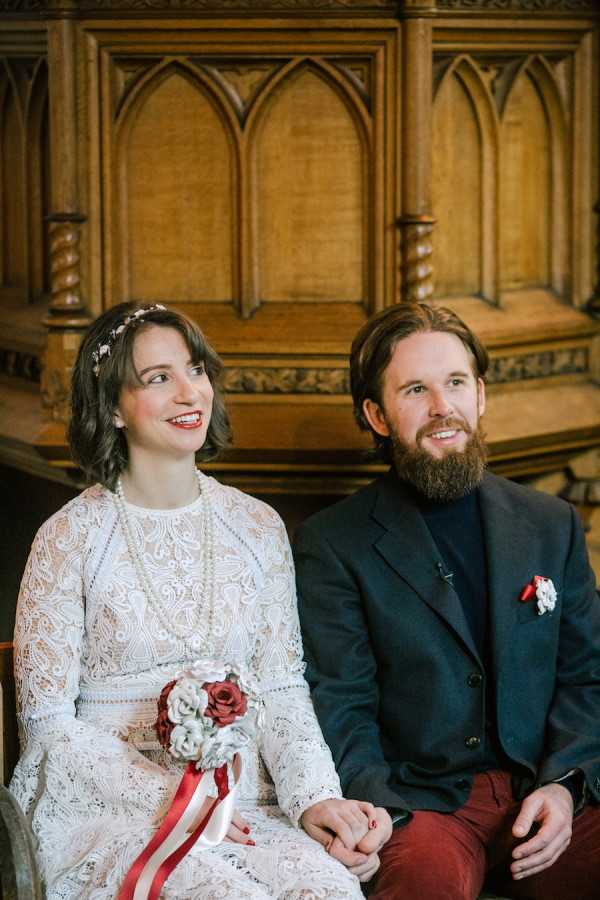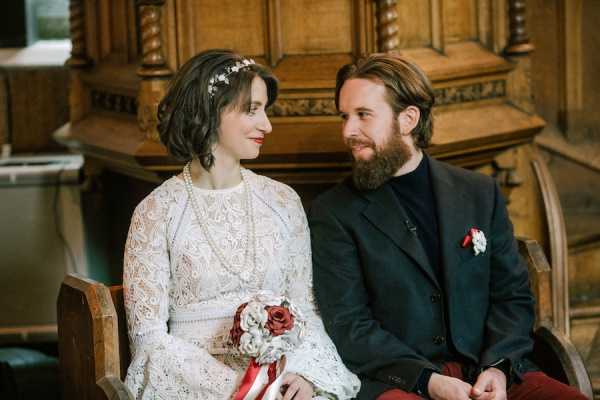 As they both love mountains and skiing, they wanted to share one of their favourite places with friends and relatives and they opted for a winter wedding with snowy landscape for a magical wedding set up.
However, Yustiniya & Steve didn't just want a standard wedding, they wanted to make it zero-waste! It meant we had to look at every aspect of the event to make it as sustainable as possible. We loved the challenge!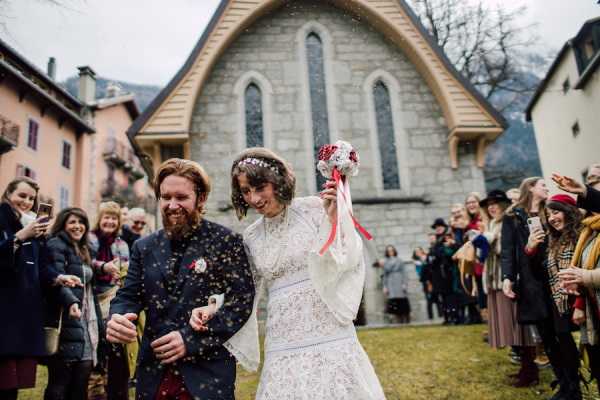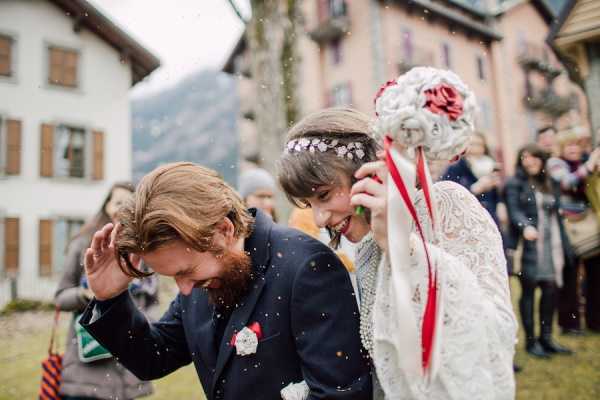 In terms of decoration, the church was so beautiful that any additional decorations were unnecessary.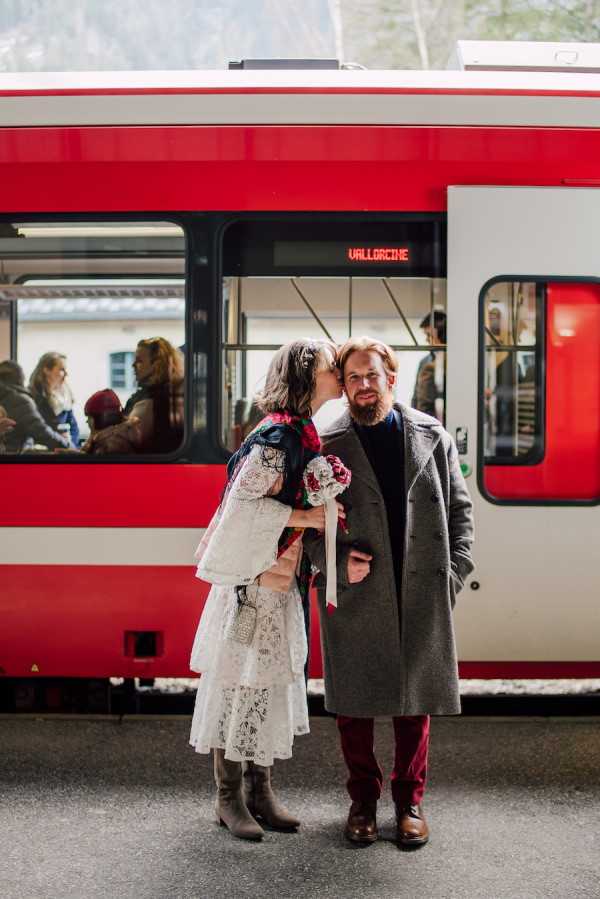 The venue at which dinner and the evening celebration took place was decorated with lovely items the couple brought from home, branches from a tree that had fallen not far from the venue and with an eclectic selection of pretty glass vessels such as wine bottles and garlands.
The red paper roses and potato sack material were sourced from one of their colleagues who had married a few months before them.
Even the welcoming sign was hand-made with a frame that the couple had found thrown out on the street some weeks before the wedding!
The bride's dress for the church ceremony was rented from a clothes rental shop and the groom's jacket and trousers were purchased from a luxury second-hand shop, both based in Geneva Switzerland, close to where the couple lives.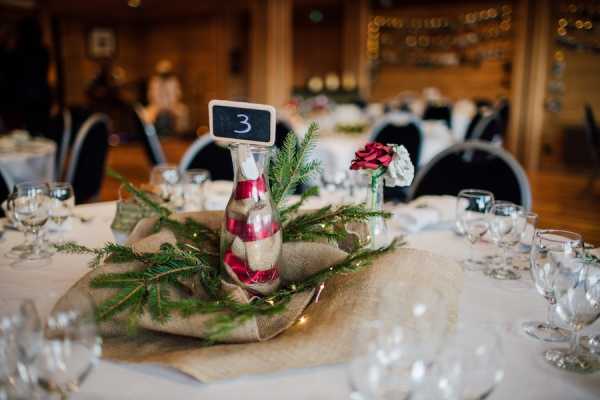 The bride's evening outfit was a custom-design made from used denim and the groom wore an existing outfit.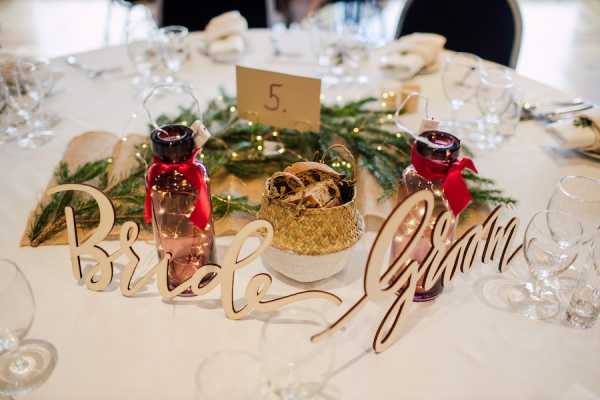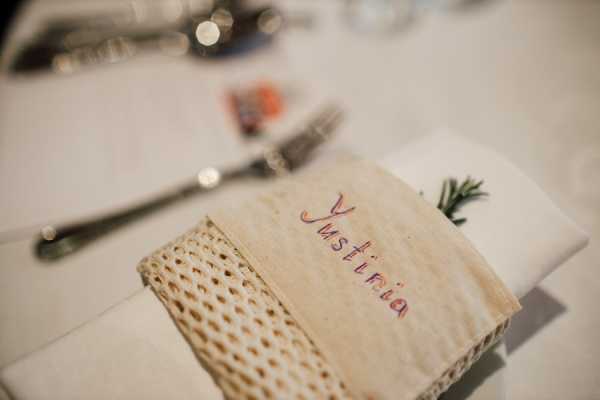 Both bouquet and boutonnière were made from the pages of an English-Russian dictionary found in a waste paper container. The bride's bouquet and the bouquet caught by one of the guests also contained red paper roses that were used as decorations at the wedding of the same colleague who donated some of her other decorative pieces.
It was great to be able to both upcycle and reuse.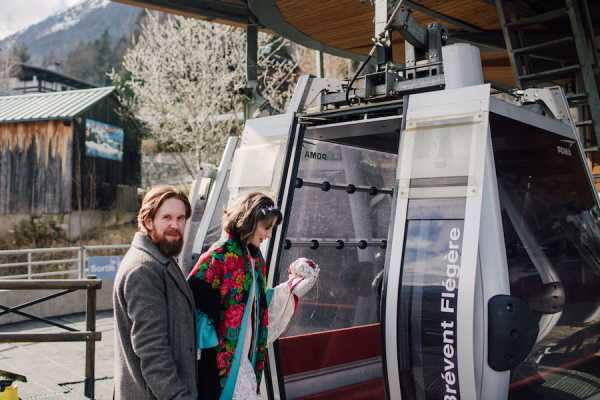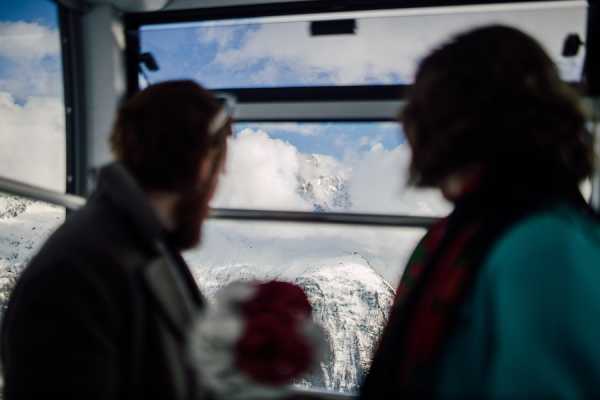 The couple used birdseed from a pet store as confetti rather than traditional paper ones that are difficult to pick up and tend to be left in the natural environment.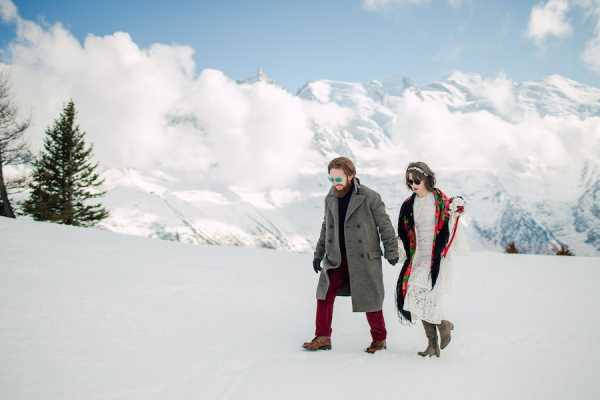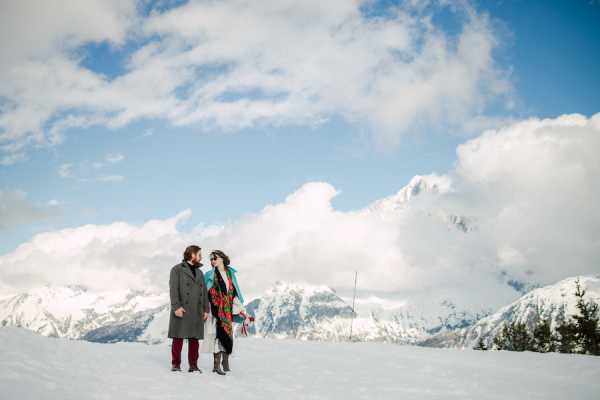 In terms of food, it was agreed that all meals would be vegetarian with a vegan option. Most guests ate cheese fondue at lunch: a typical local dish.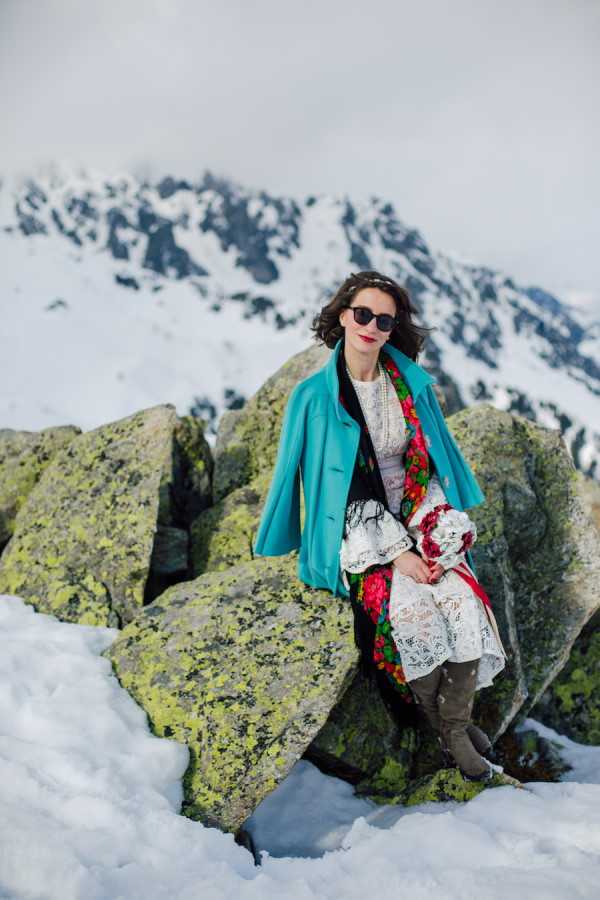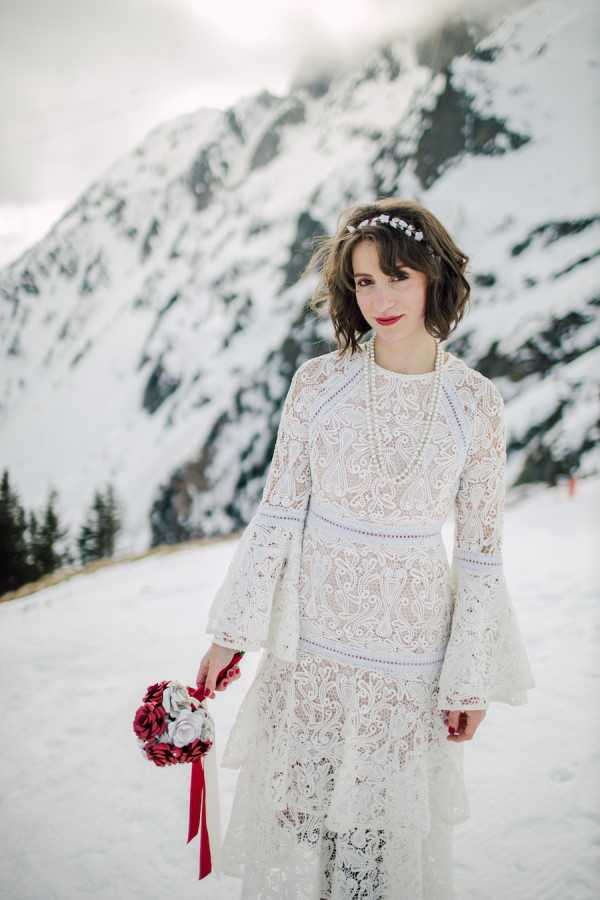 The evening chef embraced the challenge of creating a vegetarian menu including traditional Russian food that was made from locally sourced ingredients.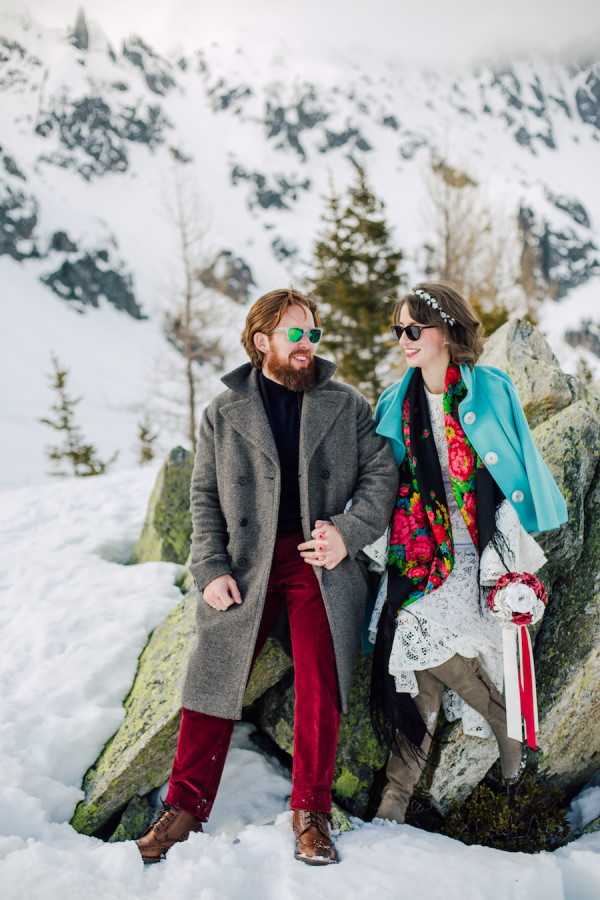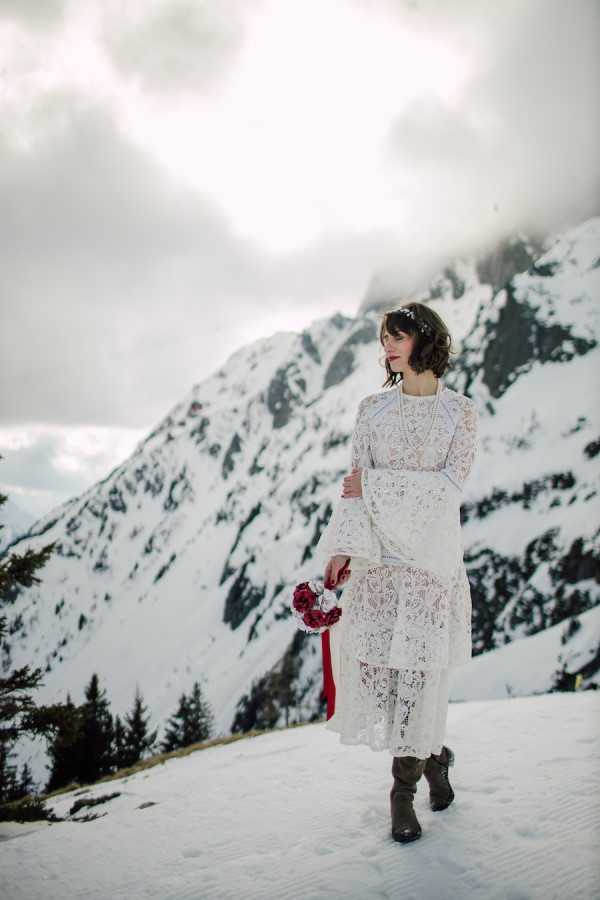 The little that remained on the plates of the guests was sent to one of the nearby farms as food for the pigs.
It was also key to reduce the impact of guests' transportation. Everyone stayed overnight at the venue which offered both accommodation and space for the evening meal & party. Guests were also moved from place to place on the public bus and one of the local trains. Guests who came by car were asked to car pool as far as possible.
As wedding favours, Yustiniya & Steve gave some sunflower seeds harvested from their garden and zero-waste cloth bags that fulfilled a dual role as both presents and place name cards.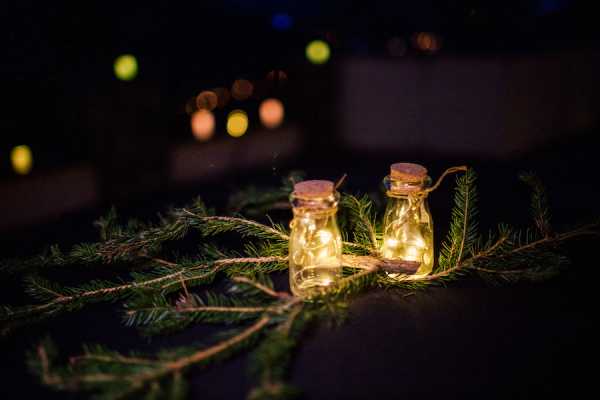 As wedding planners, we loved the concept and we embraced the challenge of this zero-waste wedding which is very much in line with our own company's ethos.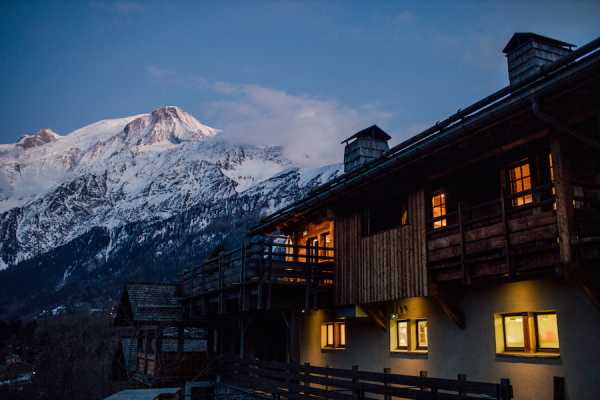 We hope this blog will give inspiration to couples who want to celebrate their union in a more sustainable manner and show them that a wedding can be eco-friendly and still beautiful!"
Zero Waste Wedding in the French Alps Snapshot
Zero Waste Wedding in the French Alps Vendors
Accomodation & Reception Les Granges d'en Haut | Wedding Dress La Garde Robe | Bride's Dress Jean's Revision | Groom's Outfit Downtown Uptown Geneva | Catering Cham Chef | Entertainment Tintamarre | Hair Hair Pur Chamonix | Photograher & Videographer Eight Bells | Transport Mont Blanc Express | Planner Mont Blanc Weddings