Brittany, France is such a beautiful region with so many natural wonders to remind us why we want an eco-friendly wedding. It has it all from beaches to the green countryside and plenty of woodlands. Thibault Bremond gives us his first-hand view from this styled shoot in Aber Beach…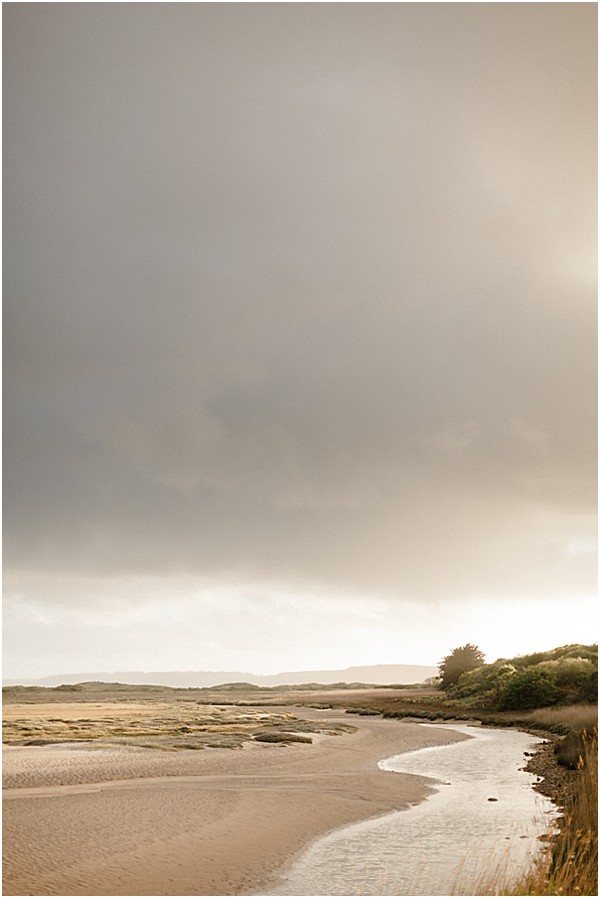 Once upon a time, somewhere in the very west of France, there is a wild and cold land full of beauty, called Brittany.  Somewhere down there, just behind the lovely Aber beach, is a strange kind of sandy land: sometimes full of water and sometimes like a desert. This natural wonder is amazing and we sure felt inspired.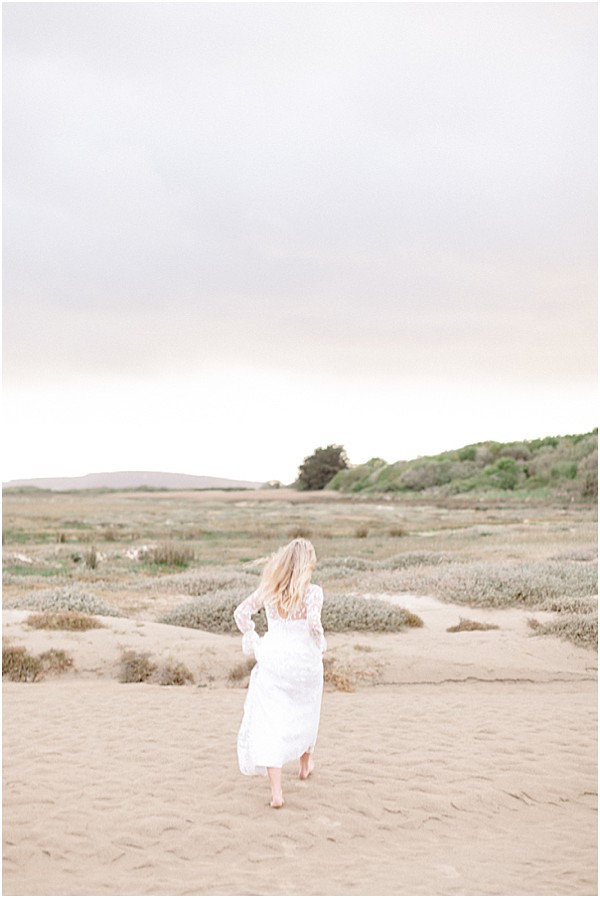 Why not make a photoshoot here? A photo shoot talking about something positive and important, a photo shoot showing how nature is beautiful and we should be honoring it. An environmentally friendly photoshoot showing that we can organise a green wedding!
Paulette à Bicyclette made the rings in an ethical gold with ensured traceability. It means that people working on the extraction of precious metal have a decent wage and there are no employed children – nothing's from conflict zones. All is equitable and ecological all down to the little details.
Mint and Sweet pepper made sure to use seasonal flowers to reduce waste and shipping costs. They can even reuse the metal hoop used for the bouquet!
Mademoiselle C plant dyed her cotton and silk fabrics as naturally as possible. The one used for the tablecloth is dyed with madder. Caroline makes the dye herself and was even trained by Japanese teachers. She loves teaching her passion to anyone who wants to learn how to dye naturally beautiful fabrics. The wedding announcement and table papers are made with recycled paper printed with laser printing by Louise Valentine as well.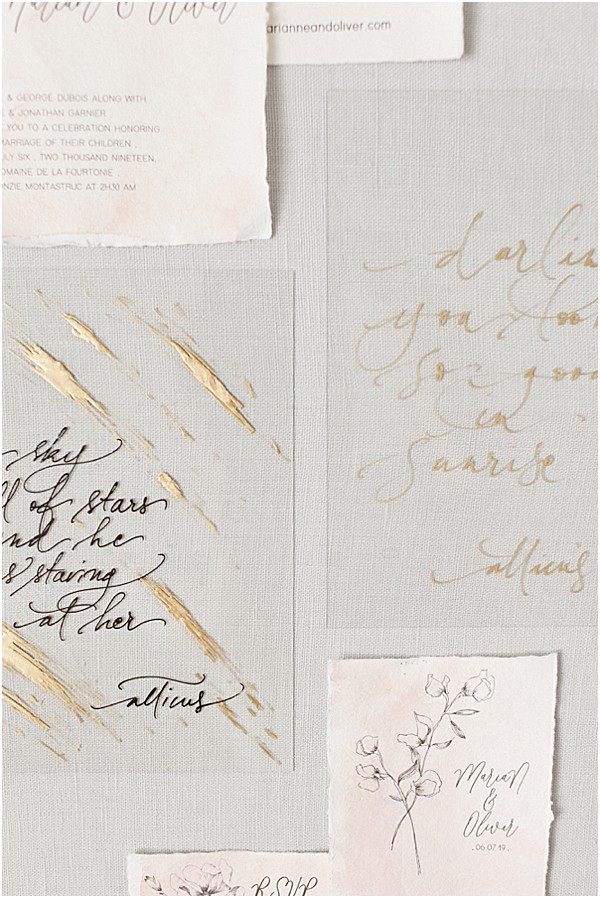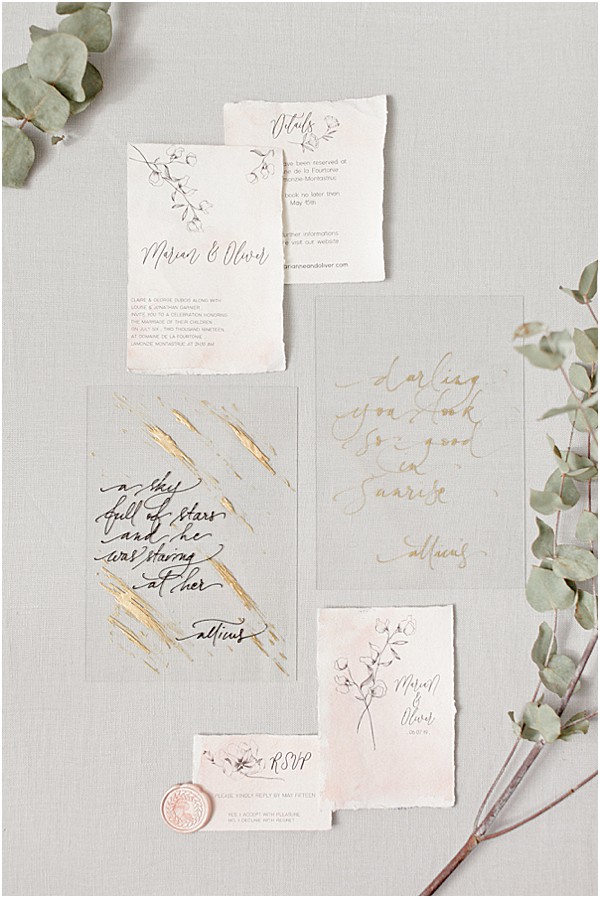 Nora from Nice plume is a talented calligrapher who writes beautifully with natural water-based ink and recycled papers!
Rosyne our model is a blogger who loves speaking about lifestyle. She shares nice vegan and organic recipes made with natural, vegetal and organic ingredients.
Thibault Bremond, the photographer uses recyclable packaging and is sensitive to the animal cause. The harness he uses to hold his cameras is made of cork!
Sarah from Delichouz Cake uses homemade marmalades and seasonal fruits in her dreamy cakes. She makes all of them herself and with some help from her husband. It is a local and family company so these sweets are made with lots of love!
Studio Tendem also uses natural materials for their dishes and all of their products are hand made in France. Vintage Events finds beautiful treasures in flea markets and forbidden attics. The glasses we used for our decoration are old antiques that add so much character. It also gives a new life to old objects, particularly for a wedding which is the beginning of a new life!
The wedding gown was made in France with GOTS and OEKO TEX 100 certified fabrics by Louise Valentine. The fabrics respect our bodies and the environment by not having any pesticides on them. The wedding gown is made for one day, only worn for a few hours… Can you imagine how great it could be if we could wear it again for another occasion? Louise Valentine's dresses give you the opportunity of wearing your dress again! The reversible underdress below the embroidered one and is another color!
Laura-Anne, the make up artist uses makeup that has not been tried on the animals, which is really awesome for our furry friends around the world.
Organizing a green wedding with eco-friendly wedding providers is absolutely possible. You can add beauty to your big day and respect the environment too! A wedding is most of the time a one day party which pollutes for many reasons. If everyone tries to do something to help our planet stay as beautiful as it always has been, then we sure will have some sustainable long term results! These vendors are a group of forward-thinking people in love with weddings. They love their planet and it's beauty – so we who fight to keep it as it is as long as possible!
Not only is it important to find vendors that fit your style and your budget but also your views on important topics like the environment. Ask your vendors what kind of eco-friendly options they have and you might be surprised by the answer!
Eco-Friendly Wedding in Brittany Snapshot :
Eco-Friendly wedding in Brittany Vendors :
| Wedding Dress Louise Valentine | Stationery Nice Plume | Photographer  Thibault Brémond | Cakes Delichouz Cake | Hair and Make Up Lauranne J | Florist  Mint and Sweet pepper | Accessories  L'atelier de Mademoiselle C | Accessories Vintage Event by Me | Accessories Le studio tendem | Accessories Paulette à Bicyclette |