Winter weddings are quite magical. For me it is something about the light and sparkle that comes with darker nights and cooler days. Your make up and hair can reflect these ideas and you can have more fun with colour and texture.
Here are some great winter wedding makeup and hair trends following seasonal and Bridal trends for 2020.
Dewy Skin
Skin needs to bounce and reflect the light for your photos. In winter all our skins are dryer and need more moisture.
Prep skin well before your make up with a hyaluronic acid serum under your moisturiser and apply a moisturising powder like the lovely By Terry Hydra Powder to set make up and stop skin looking flat.
Hyaluronic Hydra-Powder | BY TERRY
Red Lip
A classic idea for a winter wedding but timeless. Spending some time finding the right red and a long lasting colour without transfer will take you straight into your dancing.
Flushed Cheeks
You can really play with this. With paler winter skin it will always look great and will ensure you do not look washed out on your photos.
Try a cream blush or even patting your red lipstick onto the apples and blending well.
Metallic Eyes
Changing of eyeshadow colours for the cooler tones of winter calls for soft greys and silver metallics. The Mini Glam palette from Natasha Dedona has some fabulous colours and are super long lasting too.
Mini Glam Eyeshadow Palette | Natasha Denona
Top Tip – don't forget if you are using a professional make up artist, ask them to take some photos with and without a flash to see how your make up looks and ensure you have nothing too shiny on your face.
Hair Accessories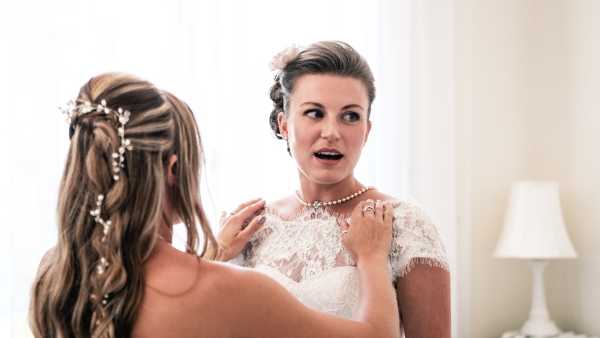 The sparklier the better. Look for jewelled headbands or hair vines that cascade pearls through your style like falling snow.
Ribbons are still very stylish and would look great in jewelled colours for the Bridesmaids.
Hairstyles
Without the heat of summer it is now easier to wear your hair down. Make sure that you use products that will keep humidity at bay (especially if you are moving in and outdoors).
The classic ponytail will help to keep any fly-aways at bay and helps finer hair to look like it has more volume.
Here's to a merry and bright Winter Wedding!
Carey Hawkins is a Make Up Artist and Hairstylist living in France and has worked with brides since 2004 as well as working on a wide range of films and TV.
She is a regular contributor to FWS.
For more information visit: www.careyhawkinsmakeup.com