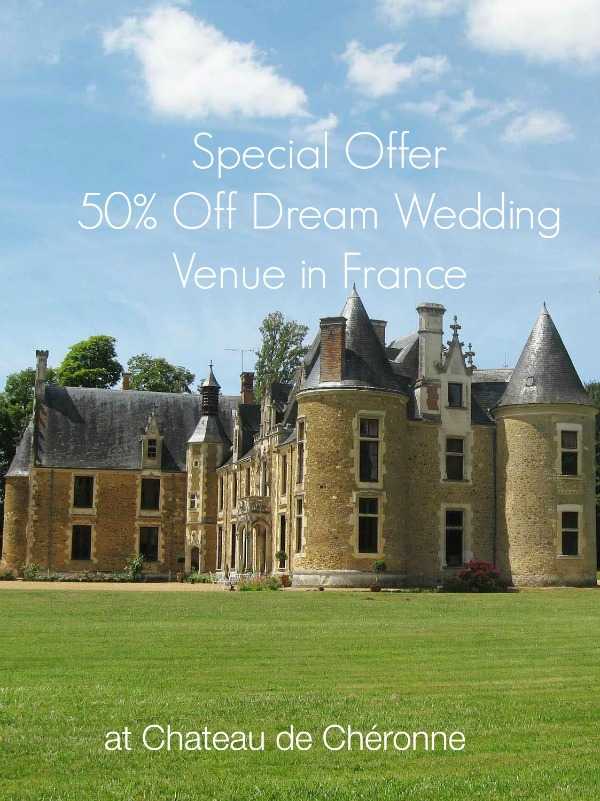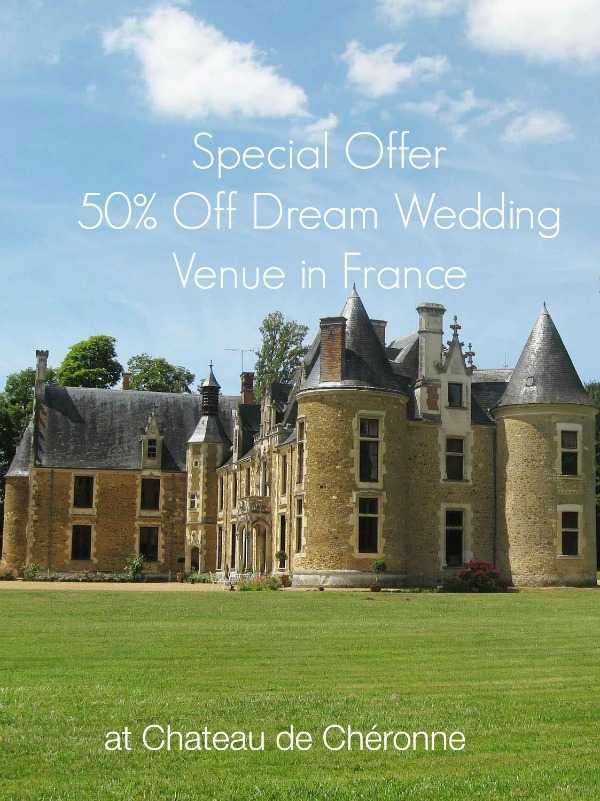 We have the most fabulous special offer to share with you today on a beautiful wedding venue in France – Chateau de Chéronne.  The Chateau is offering French Wedding Style readers the chance to secure exclusive use of the Chateau as your wedding venue, on a weekday for 50% off!
Get married in dream wedding venue Chateau de Chéronne, Monday – Thursday for as little as £1590!!
Situated in the Pays de la Loire region Chateau de Cheronne is a private family estate of 400 hectares, or as the Countess of la Villesbrunne or Grandmother of the family describes it "Paradise on earth" !
Actually a private French historical monument, the Chateau has gone through extensive restoration to provide a magical yet modern wedding venue, to welcome you and your weddings guests.  The family are so dedicated to preserving this slice of paradise that their reasonable wedding packages and all funds are exclusively used for the maintenance and beautification of the Castle.
When it comes to your actual wedding ceremony there are a number of different options including marrying outside with the stunning chateau as a backdrop, a beautiful ceremony room within the chateau or your own wedding services in the Chapel that is within the estate.
At Cheronne the only limit is your imagination as the onsite wedding team can provide all the services below:
Pre wedding tours in Paris
Rehearsal dinner planning
Guest activities include horse riding, Le Mans track days, karting, boating and many more
Hair and make up artist for the wedding day
Transportation including classic cars such as Morgan,  Jaguar,  Rolls  Royce,  MG
Celebrant
Florist and decorations
Hire of tables, chairs and marquee if required for cocktail reception
Day entertainment including magicians, icecream vans or hot air balloon rides
All catering
Evening entertainment, dance floor and DJ or band
Fireworks
Or how about arriving by helicopter!
Exclusive Offer:
50% off the peak season price Mon – Thursday during 2015 & 2016
Exclusive access to a French castle including  (Castle + park + cocktail and reception) for 48 hours
Full support of the wedding team 24 hours a day
What do previous brides say:
"At first I really didn't want to go for my wedding during the week. I thought even my parents won't be able to make it ! But eventually I got married at Chéronne during a nice summer week last July and this was absolutely delicious … And if it would't have been a week price, I probably could't have afford such a venue as the castle of Chéronne anyway."
Suzanna and Stuart, July 2014
"Chéronne is the dream place for a wedding and choosing a week to get married allowed me to have way more choices on the dates and some important discounts an all the other wedding providers (photograph, hair, ceremony master …) as well. I wasn't convinced at first but now definitely recommend it !"
Christina and Peter, September 2014
You can find out more about Chateau de Cheronne in their Wedding Venue Spotlight here or by visiting their website.
The offer is available on a first come first serve basis, so be sure to contact Chateau de Cheronne today!