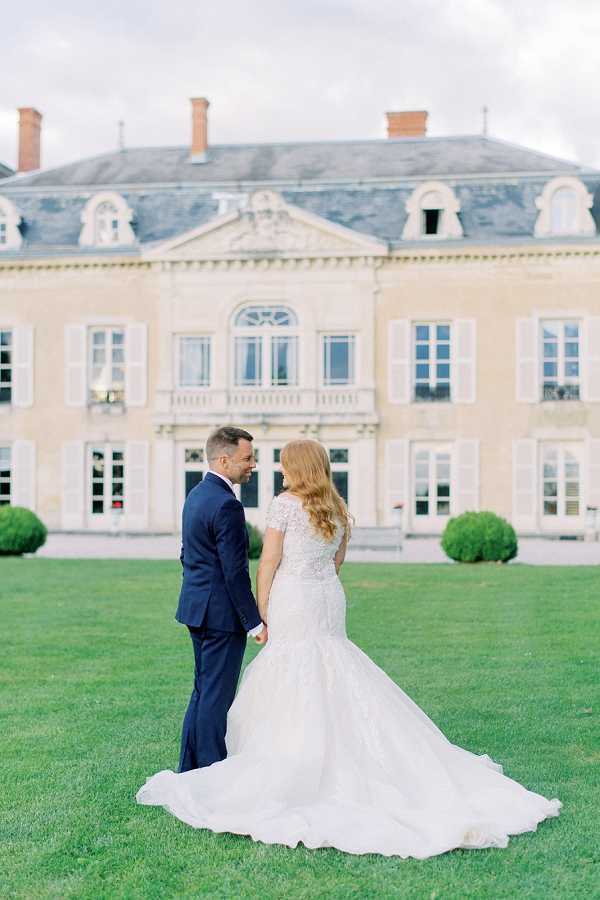 We're off for our second visit already this year to this stunning venue for a Romantic wedding at Château de Varennes. In South East France sits the stylish Chateau de Varennes, the epitome of French elegance. With it's own chapel and endless options for your large or intimate day, Chateau de Varennes is an incredible wedding venue.
Wedding planner extraordinaire
Emily & Mathew's gorgeous day was planned by wedding planner extraordinaire and FWS vendor Celebrate Weddings & Events who did a fabulous job of creating E&M's dream day! There to capture all the love and details was wedding photographer Maïlys Fortune Photography.
We'll now pass you over to our beautiful Pronovias bride Emily who will be walking us through her Romantic wedding at Château de Varennes…
We wanted our wedding to be relaxed and comfortable. We wanted everyone to feel like they were at home and have the best time.
We knew the venue would WOW our guests
We visited six locations in France and we fell in love with the Chateau and its grounds instantly (even though we visited in January). We knew the venue would WOW our guests and we knew that the teams in place would look after us well.
Mathew and I met online in April 2015. We swiped right and arranged a date immediately. That evening, we both went home and knew we had met someone special! In April 2017 Mathew and I went to NYC. Mathew rushed me to Central Park, as soon as we arrived, and we wandered around. At sunset, the sky was pink and purple and he got down on one knee and proposed! We celebrated with champagne at the Top of The Rock!
Ensuring our guests had a good time.
The most important aspect of the wedding for us was ensuring our guests had a good time. We didn't want to drag everyone to France for them not to enjoy themselves. The bit I was worried about the most, was the meal. I desperately wanted to eat under the fairy lights, and we managed it!
Friends and family say it was a lovely wedding. The weather started off cloudy but we had a blue sky by 2pm! Our friends and family came together and it was like everyone knew each other already.
Calm and comfortable colours.
I wanted soft, muted colours – calm and comfortable colours. I wanted my bouquet to look like the florist had gone into a field full of flowers and collected one of each! After speaking to Magali on facetime, she very quickly knew where I was coming from. I definitely wanted peonies and we were concerned we wouldn't be able to get any with it being Mother's Day in France – but Magali managed it!
I loved walking down the stairs with my dad
One of my most memorable moments was throwing my bouquet from the front of the chateau – not many brides can say they have had this princess moment! And I loved walking down the stairs with my dad and seeing the Bridesboys.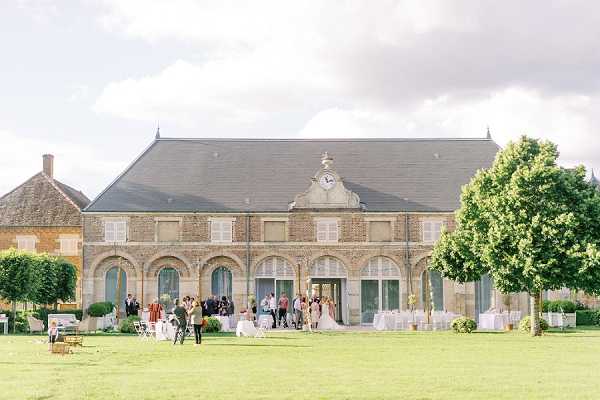 When Mathew and I went and had our photographs taken with Mailys, it was so calm and relaxed. I didn't feel stressed about my make up, or my dress. It was just lovely. It was perfect!
I wouldn't do anything differently other than not put Bertie to bed so late the night before! I loved our wedding day. It was perfect. It was everything I dreamed it would be. My advice to other brides is don't over plan. People don't need fuss at a wedding they want good food and good company (and good wine!) The rest isn't necessary.
Congratulations Emily & Mathew from everyone here at French Wedding Style!
For even more wedding at Château de Varennes check out this:
DESTINATION WEDDING AT CHATEAU DE VARENNES
Romantic wedding at Château de Varennes Snapshot
Wedding Vendors
Planner Celebrate Weddings & Events | Photographer Maïlys Fortune Photography | Venue Château de Varennes | Dress Pronovias | Stationery Feel Good Invites | Brides Shoes Nothing of note | Jewelry Monica Vinader and Boodles Jewellery | Grooms Attire DKNY