When it comes to planning your big day and choosing your wedding venue, at French Wedding Style we are a big fan of actually visiting your venue in person and so today we have put together a list of 20 questions to ask your wedding venue.  As choosing a wedding venue is one of the most exciting parts of your big day planning!
You can start your wedding venue search with French Wedding Style dedicated library to wedding venues or via the French Wedding Directory, the world's largest French Wedding venue directory, sorted by area for ease of use.
Then book in an appointment with the venue to go and visit, viva la France!
Here are the 20 questions to ask your wedding venue:
1. Can you book the wedding for a single day or is there a minimum requirement?
2. Which dates are available during our chosen wedding month?
3. What is the capacity of the venue for the ceremony, reception and accommodation of guests?
4. Do you have a dedicated space for the wedding ceremony that previous couples have used?
5. Can we use our own suppliers or do you have a recommended list we have to choose from?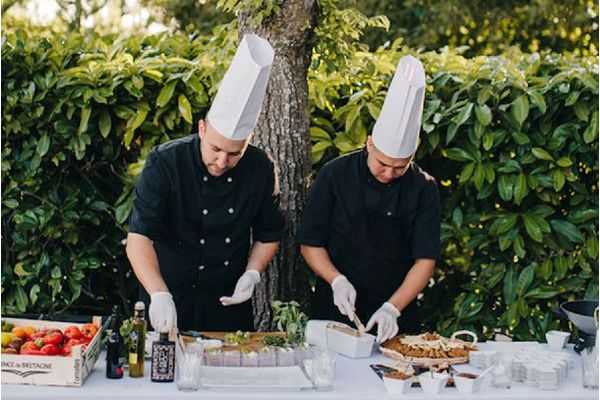 Food Station – Photo credit: M & J Photos
6. What are the set up and breakdown arrangements for the wedding day?
7. What is included within the fee for the wedding, such as tablecloths, chairs, cutlery, glasses etc?
8. What are your specifications for decorations and entertainment?
Flowers by Paula Rooney Floral Design
9. Is it exclusive use or will you be hosting any other weddings at the same time as ours?
10. Can we source our own alcohol and if yes, do you charge corkage?
11. Can you cater for disabled guests?
12. How do the fees work, and when do we need to pay the deposit by and when is the balance due?
13. Are there any refurbishments or renovations planned between now and our wedding?
14. Do you have a wedding coordinator and if so would they be there on the day?
15. If all our guests can't be accommodated on the venue, where is the nearest accommodation you can recommend?
16. Does your venue have the appropriate liability insurance?
17. If you require, do you allow for dry hire or full hire only?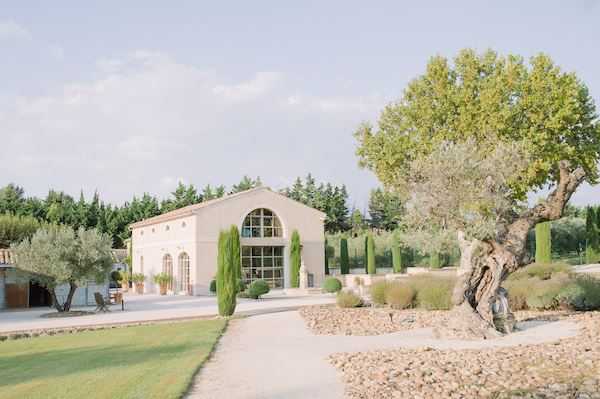 Provence Luxury Farmhouse Venue – Photo credit: Boheme Moon Photography
18. What are your bad weather options?
19. How many restrooms are available?
20. Do you have any signage or other aids to direct guests to our wedding?
Note – if your wedding is in a rural French Chateau it can be easy for guests to get lost!
Top Photo Credit: Bordeaux Wedding Photographer of Chateau Lagorce
Not done asking questions?  Then come and sign up for our weekly newsletter with exclusive offers, more wedding venues and wedding planning tips.