Today's pastel and burgundy wedding inspiration shoot has us dreaming of crisp autumn days. From the modern wedding ceremony decor to our grooms Chris Von Martial burgundy suit each detail has been thought of with care and offers some unique style inspiration.
We'll now pass you over to Nadège from Un Jour Pétillant who will be walking us through this pastel and burgundy wedding inspiration shoot…
The place called "Les Bonnes Joies" was the trigger to set up this beautiful project. An unusual and industrial place, which I fell in love with very quickly. All objects have found a second life, and I continued along the same lines, for example by creating an arch for the secular ceremony with copper plumbing tubes, and by adding a revisited can of oil. Who says ark, says flower, you mix everything and this gives an original and magnificent result. Mixing styles was a nice challenge.
The second ingredient of this shoot was the choice of colors. The shades of burgundy which are for me radiant colors. The whole allowing to realize a magnificent contrast. The sceneography also involves the choice of flowers. Find beautiful colors, light and different textures for an assured unstructured effect. A chic design and bursting with energy, that's great, our newlyweds are the same. The most important is a wedding that looks like you.
A bride at the same time delicate with her soft makeup, and her elegant and fluid dress. But also, rebel with a braid revisited rock style and his black perfecto. As for the groom, the cut of the suit in burgundy tones takes on its full meaning. To this, you add some Converse and it's off to dance the night away.
I go on with a harmonious table like our newlyweds. For the temper, a raw wood table, and crockery with an affirmed appearance. For the sweetness, a neat and light stationery, and a multitude of flowers for the table runner. Follow our newlyweds throughout their day, from dreamy set ups in the place's unusual rooms to a colorful cake and a delirious evening, including photos of couples filled with emotion.
For even more from this pastel & burgundy wedding inspiration shoot check out Alchemia Wedding film:
Pastel & Burgundy wedding Inspiration Snapshot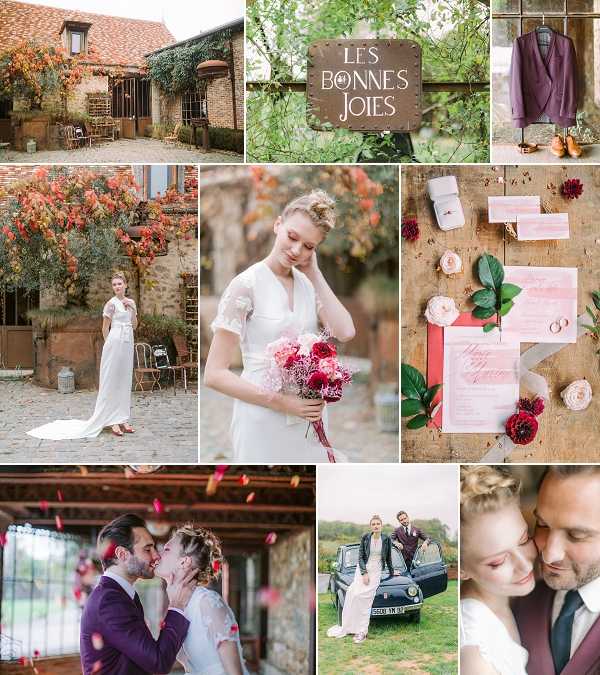 Wedding Vendors
Venue Les Bonnes Joies | Planner Un Jour Pétillant | Decoration Un Jour Pétillant | Florist Un Jour Pétillant | Photographer Gigi Fine Art | Videographer Alchemia Wedding | Stationery Atelier Preszburger | Brides Dress Rahre | Grooms Outfit Chris Von Martial | Cakes Wedding Cakes and Co | Make Up Antalya Make Up Designer | Accessories Djoline Joalliers | Accessories Paulette à Bicyclette | Shoes Dessine-moi un soulier | Accessories Cléophina | Hire Big Day Bazaar | Hire Vaisselle Vintage | Hire Options | Jewels Djoline Joalliers | Jewels Paulette à Bicyclette