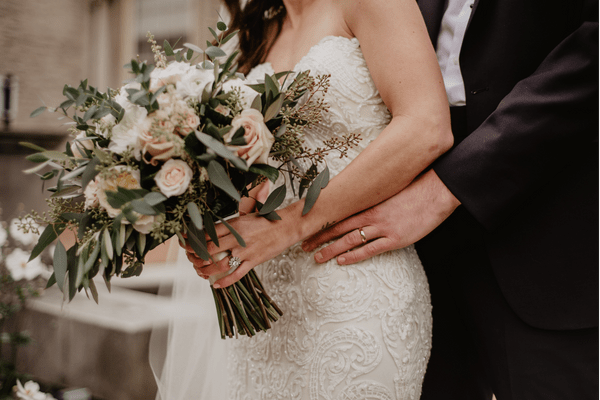 Our readers come from all over the world, so we've teamed with international name change experts Easy Name Change to present our 5 part series on changing names after marriage!
Easy Name Change is an Australian name change company that also services Canada, USA and the UK! Some welcome news for Australian newlyweds – you only need your official marriage certificate to get started!
Meet The Pro
Genevieve Dennis co-founded Easy Name Change in 2008. They provide ready to send forms, letters and emails along with fully researched company instructions. The company has helped over 1 million people transition to their new name.
Getting Started
Sounds silly, but this is often the hardest part of changing names! Just blocking the time out to get started and knowing what to do first. It's no surprise changing names can be overwhelming as it's something you'll only do once in your lifetime. Here's what you need to get started:
Your official marriage certificate from Births, Deaths and Marriages (not the ceremonial certificate issued on the day of your wedding).
Knowing what your new name will be. The marriage certificate allows you to take only your spouse's surname. This can be either in addition to the surname you have now, or in its place.
A massive chunk of time. Allow 8 hours. That's 5 hours for the research and then another 3 hours to write letters & emails and complete forms. This is often spread over several weeks while you wait for companies to confirm information with you. If you're smart you can totally skip this part with a name change kit.
An Easy Name Change kit. You don't have to buy one, you can do your own calling around and document preparation if you prefer, but for $35 we think it's a wise investment in your sanity.
1. Get your marriage certificate
That cursive marriage certificate you got on your wedding day? No one really knows what to do with it. You carry it around all day then it sits in a filing cabinet for the next 30 years as it has no official purpose.
Check with the person who conducted the wedding ceremony as most offer to order the official marriage certificate from Births Deaths and Marriages (BDM) as part of their service. If your celebrant or minister didn't order this then check your state BDM office website as most have online certificate ordering. Your marriage certificate is generally available 2 weeks after your ceremony, plus time for postage.
2. Name change updates done in person
This is the most hated part of changing names. There's usually 2 places everyone has to visit during business hours. That's your state road authority for your driver's license and your bank. These places want to see your original BDM issued marriage certificate and license. They also want to record your signature on file. If you're with a smaller bank that does not have branches then chances are you can mail in a form instead.
3. Sending off your notifications
Assuming you've purchased a name change kit, the attach photocopies or certified copies to the necessary forms, letters and emails and send off. If you've decided to do your own research and administration then you'll be sending off your letters and forms a few weeks later once you've had the chance to confirm all the various name change policies from your various companies.
Our most popular married name questions…
Easy Name Change have helped millions of people all over the world change names! Here are some of the most frequently asked questions from Australians when it comes to changing names after marriage
How long does it take to change names?
That's really up to you! Some people get all their name change paperwork sent off within a day, some drag it out for months or even years! Despite what it may say on your state driver's licence form, there is no mandated time to get your name changed from marriage. You could decide to change names 5 years after you get married! For most people though, they get their wedding certificate 2 weeks after their wedding, then have all their notifications sent in the following 2 weeks. Companies will update your name within a few business days from when they receive your request. Some places like the passports office or replacement citizenship certificates can take months, so if it's urgent, check with the company directly.
How much does it cost to take my spouse's surname?
Assuming you already have your marriage certificate there is generally no further charge. A replacement passport is free if you have at least 2 years remaining on your current passport. WA charge a small replacement license fee. If you need a new credential issued, like a legal credential or certificate or a photo ID card, there could be a small replacement fee.
Am I able to use my maiden name in some settings?
Yes! Your married name is known as an assumed name. That means your name never legally changes and your Australian birth certificate does not change. In effect, you are able to continue using your birth name, even if you have updated all your records and identification into your married name! You may need to prove your identity if you resume using your former name and don't have ID handy, but then you can show your BDM issued birth and marriage certificates to prove your former name, if its ever required.
Changing your name 5 part series