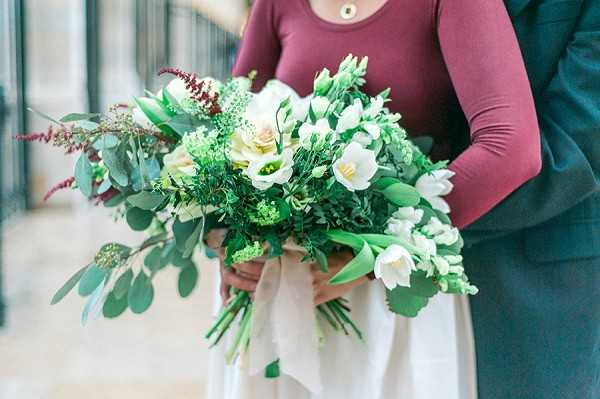 Good morning folks, today we are heading off to the romantic city of lights for a rather lovely Le Palais Royal Paris anniversary shoot.
Terrie and Steve decided to celebrate their 16th wedding anniversary in one of the world's most romantic cities and boy was it beautiful. They both looked fabulous in their carefully chosen outfits which included hints of burgundy throughout. Terrie wore a gorgeous maxi skirt with silk bodysuit with a touch of burgundy lippy! Terrie completed her romantic look with a beautiful relaxed fine art bouquet created by Blooms by Breesa Lee.
They enjoyed a stroll around Le Palais Royal and Les Jardins du Palais Royal which was perfectly captured by Anna Grinets Photography before heading off to spend the last few nights in the French city of Versailles. We are taking notes for our hubby's for future anniversaries 😉 ….
"Terrie and Steve's wedding vow renewal photo shoot took place at the beautiful and historic Le Palais Royal. Danielle with Classically Lovely Events wanted the photo shoot to reflect the couple's affection for each other. We wanted to focus on emotions and happiness of the couple. The sounds and look of rain added a romantic effect to a true Parisian surrounding."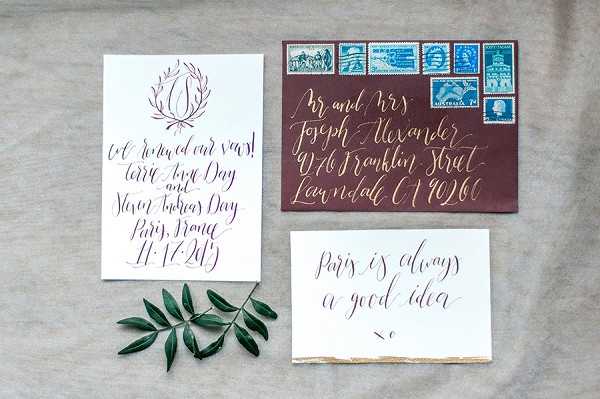 "Gorgeous, loose, and romantic florals by Breesa at Blooms by Breesa Lee, wrapped with silk ribbon from Bellame Ribbon Co. was a perfect touch to Terrie and Steve's special day."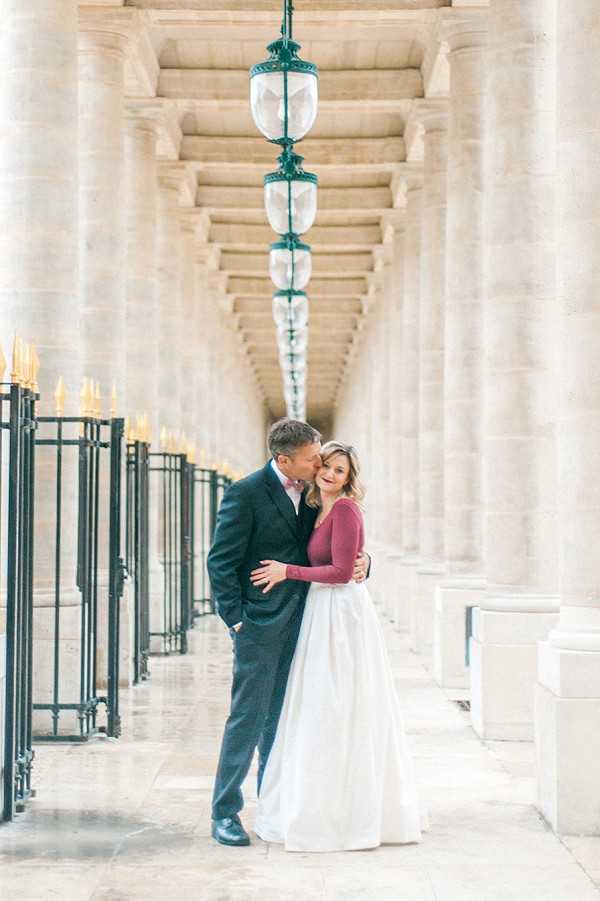 "Modern and beautiful calligraphy and stationary was provided by Four Things Paper. An international wedding photographer, Anna of Anna Grinets Photography, captured the couple's happiness and special moments in a soft and romantic style."
"Sadly leaving their 3 charmingly sweet daughters at home with grandma in Southern Oregon, Terrie and Steve decided to celebrate their 16 years of marriage in the dreamy city of Paris. Although they had travelled many times to Europe, this was the first time without the girls in tow and their first time to the City of Lights. Terrie and Steve's wedding vow renewal took place at the historic Le Palais Royal."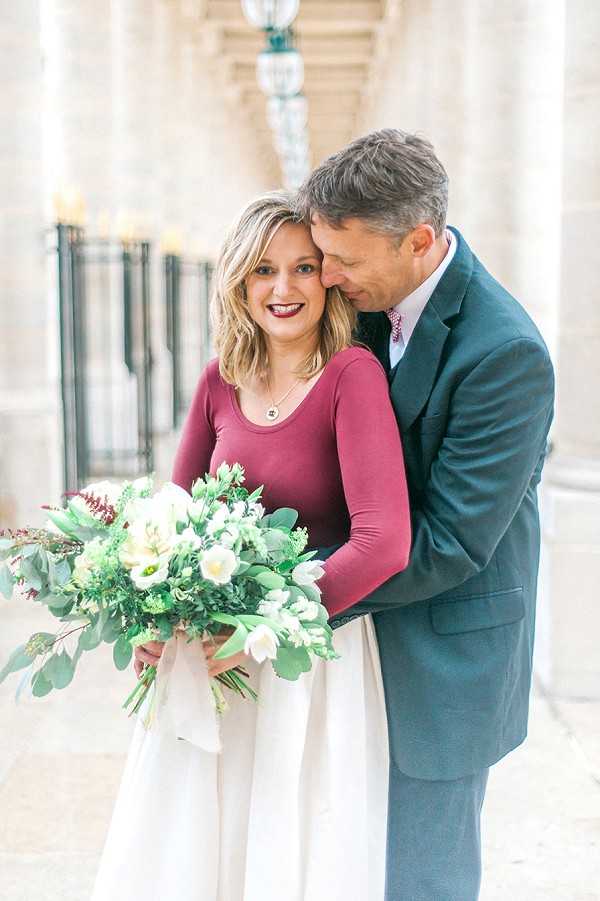 "The couples attire was carefully selected by Terrie to reflect the simplicity of her style and not detract from the beautiful Parisian setting. Terrie chose a white Ball gown skirt from White House Black Market and a Merlot silk bodysuit. To keep warm, a delicate cream knit wrap by Joyfolie was worn over her shoulders. Keeping with her fun sense of style and a very rainy day, Terrie couldn't resist wearing her black combat boots which was in keeping with her choice for her wedding day shoes 16 years ago! Yes, that's right, she wore combat boots under her fluffy layers of white tulle on her wedding day. Only being seen on the dance floor when Steve would end the dance with a dip."
"For Steve, she chose a classic suit with a linen checked Merlot bow tie from Etsy and an umbrella, of course. Terrie's hair and makeup were classically styled by Marina Gandrey, Marina G Makeup, in a beautiful Parisian apartment overlooking Juliet balconies lined with creamy pairs of french doors. Following this lovely vow renewal, the couple were whisked away to spend the last few nights in the French city of Versailles."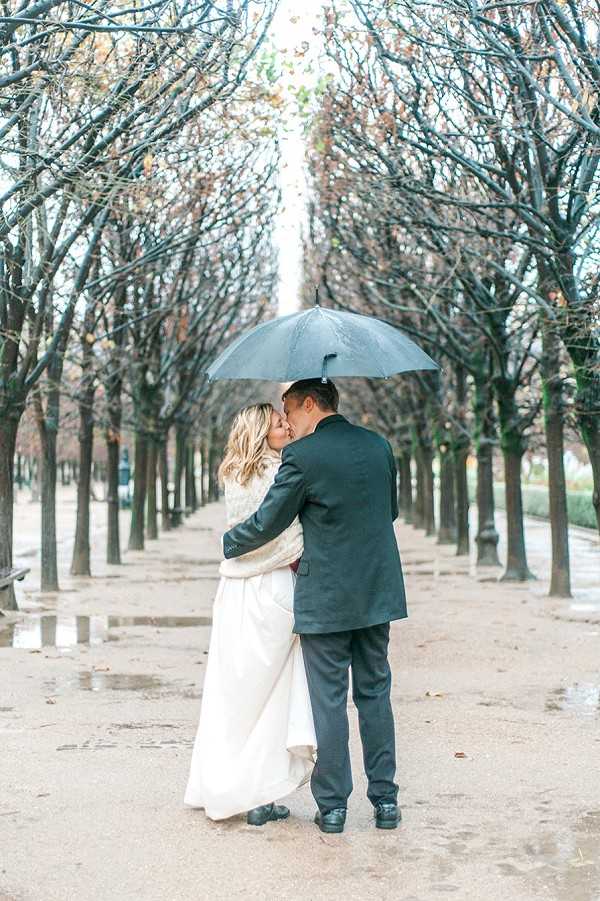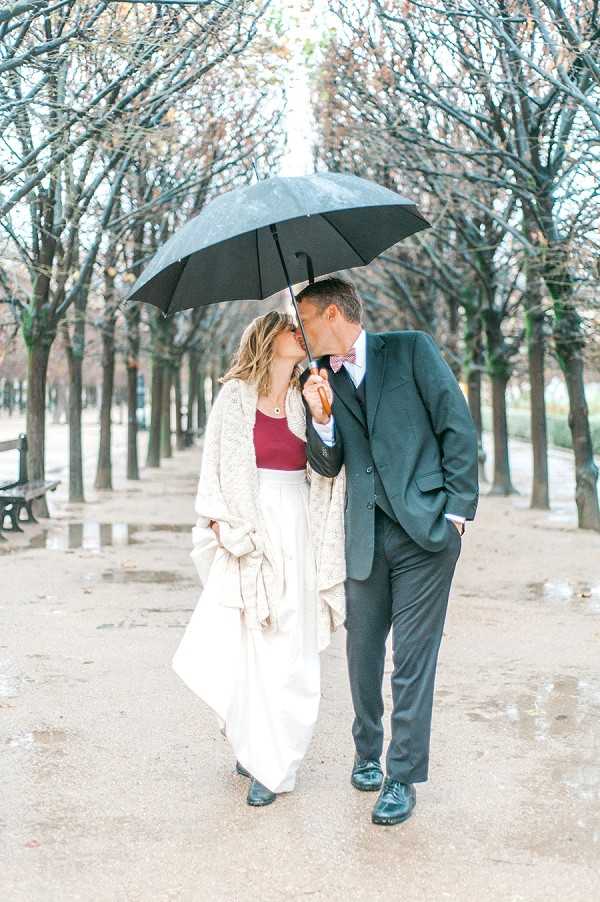 Are you planning your very own Paris anniversary session? If so why not check out this glamorous Paris Anniversary Session by Sophie Epton Photography.
Le Palais Royal Paris Anniversary Shoot Snapshot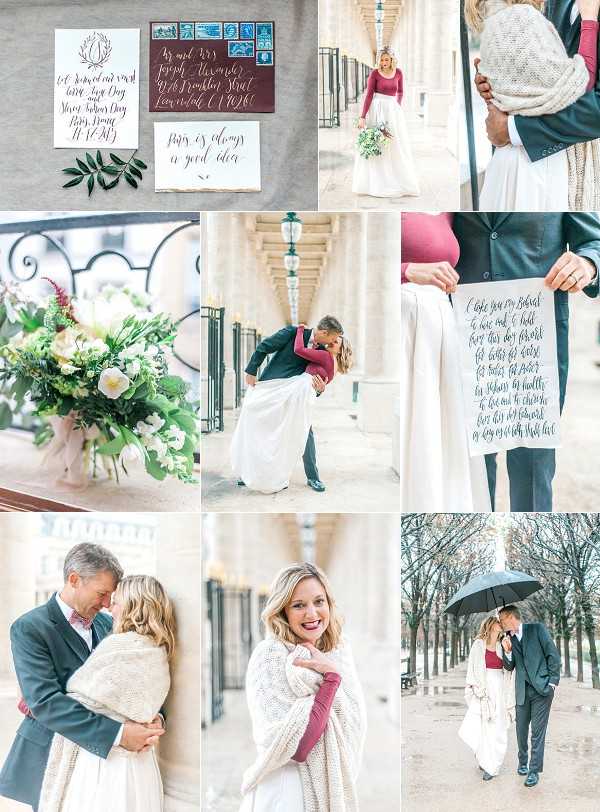 Wedding Vendors
Photographer: Anna Grinets Photography | Planner: Classically Lovely Events | Florist: Blooms by Breesa Lee | Venue: Le Palais Royal and Les Jardins du Palais Royal | Stationery: Four Things Paper | Hair and Make Up: Marina G. Makeup | Decoration: Bellame Ribbon Co. | Ball Gown Skirt: White House Black Market | Cream Knit Wrap: Joyfolie | Bow Tie: Etsy
Save
Save