Today we head to the snowy mountains of the French Alps for the romantic vow renewal of Laura and Rudy. From stunning mountain backdrops and chunky knits to Persian rugs and lanterns in the snow. This is the winter wedding dreams are made of… over to Simply Lovely Photo & Film to tell us more…
"Laura and Rudy are a real and lovely couple who got married in 2019. We did the photos and film for them at their wedding. The same day of the wedding, Laura told us that she would love to make a photo shoot in the snow.
Laura and Rudy are two passionate and adventurous souls. They wanted to renew their engagement in a very special way, something that matches their personalities, so we came up with this idea of a couple's photo shoot/vow renewal in the French Alps.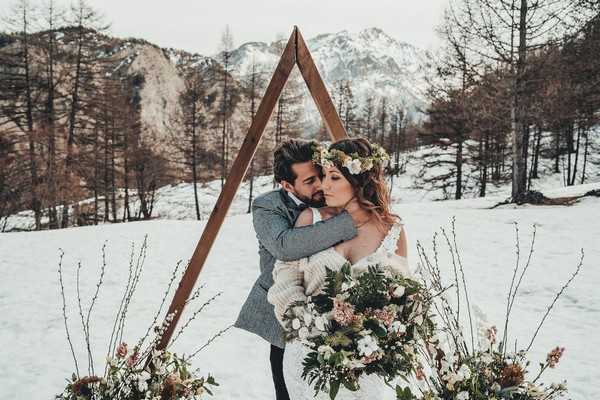 Mountains in winter have a special atmosphere, romantic and wild at the same time. But as ideal as it may seem, setting up a photo shoot at 2000 meters high in the snow is a bit tricky. We chose a day with a good weather forecast, and so it was, or at least the first part of the day.
We started setting up the ceremony while Laura had her make-up and hair done by the talented Cathy and Valerie. Rita brought beautiful decorations and ornaments, we used earth tones and texture to create a warm atmosphere matching the snow and mountains.
We found a clear location for the ceremony at La Condamine, but because of the snow we had to carry everything by ourselves without the car. It was hard but the result was exactly as we had imagined.
Once Laura and Rudy were ready we started shooting. Everything went perfectly and they created a peaceful and romantic moment. When we look at the pictures, we can truly feel their love in every single image.
Once part one of the shoot was finished, we headed to Col de Larche on the border between France and Italy. During the ceremony we had good weather but that changed and we were surprised by a snowstorm. Laura and Rudy were ready for it, so we carried on with the photoshoot. We hiked through the snow for 20 minutes, and it was cold and windy, but we did it. We all really enjoyed this part of the day.
To finish the photoshoot, Rita set up a beautiful table with the lovely stationery from Zeste d'amour and wedding cake from Monsieur Chou."
Snowy Vow Renewal In The French Alps Snapshot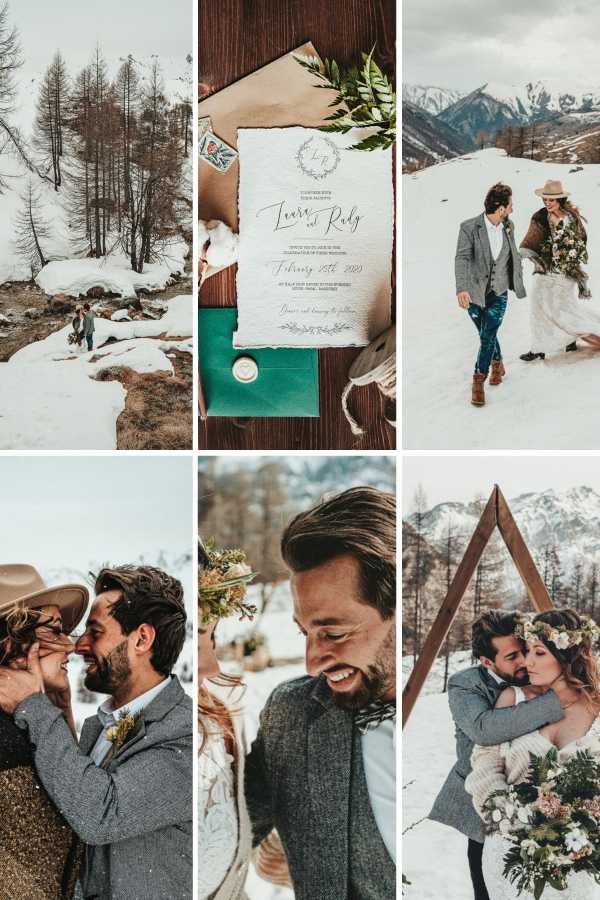 Snowy Vow Renewal In The French Alps Vendors
Photographer Simply Lovely Photo & Film | Videographer Simply Lovely Photo & Film | Decoration Okiss Wedding Design | Florist Okiss Wedding Design | Hair Cathy Sanchez | Make Up Institut Rose Poudré | Stationery Zeste d'amour | Cakes Monsieur Chou