Bonjour tout le monde, we hope your week is going great! It's all about anniversaries today here at FWS, we feel any anniversary is special and certainly worth celebrating as our lovely couple have in this snowy Pyrenees 10 year wedding anniversary shoot.
Are you due to celebrate a big anniversary? If so we hope today's romantic feature inspires you.
Our lovely couple decided to celebrate their 10 year wedding anniversary with a private vow renewal in the Pyrenees mountains where our lovely bride wore her dress from her wedding 10 years previous (so sweet isn't it?!) they also wrote personalised vows to each other which was a touching moment for them.
We hear of couples renewing their vows on certain milestones or heading to Paris for a lovely couple shoot to mark 5 years of marital bliss. We think celebrating your 1st year of marriage with a couple session at a destination of your choice is the perfect symbol of paper (which is the 1st year anniversary gift if you didn't know already).
We will now pass you over to Awardweddings who will be walking us through this sweet wedding anniversary…
"Gigi and Antoine celebrated their 10-year wedding anniversary and for the occasion, wanted to renew their vows. In all intimacy, they went for a secret trip to the Pyrenees, to be photographed by FWS vendor, Mark Ward from Awardweddings."

"The couple wanted to re-live some of the magical moments of their big day and really celebrate their love for each other. Gigi wore the wedding dress she had 10 years ago, it was really special to put it on again. She bought a few more accessories to brave the cold as their wedding was in May."
"The couple lived in Canada for a few years, they loved the snow and wanted to celebrate in the mountains. On the day, the road to the top of the mountain was unfortunately blocked and they had to improvise half-way up the mountain! They found a lovely hidden place and settled amongst the trees with a picnic set to toast the event."
"It was a lot of fun, the couple played in the snow, had to avoid snow falling from the branches. Gigi had planned a lot of details into the ceremony, including something old (her dress), borrowed (her snow boots!) and blue (the bouquet ribbon)."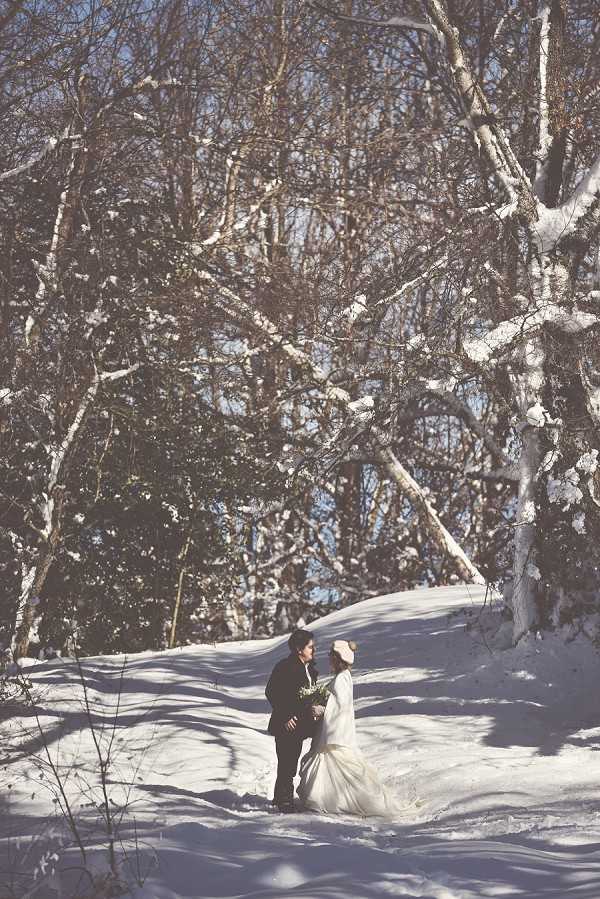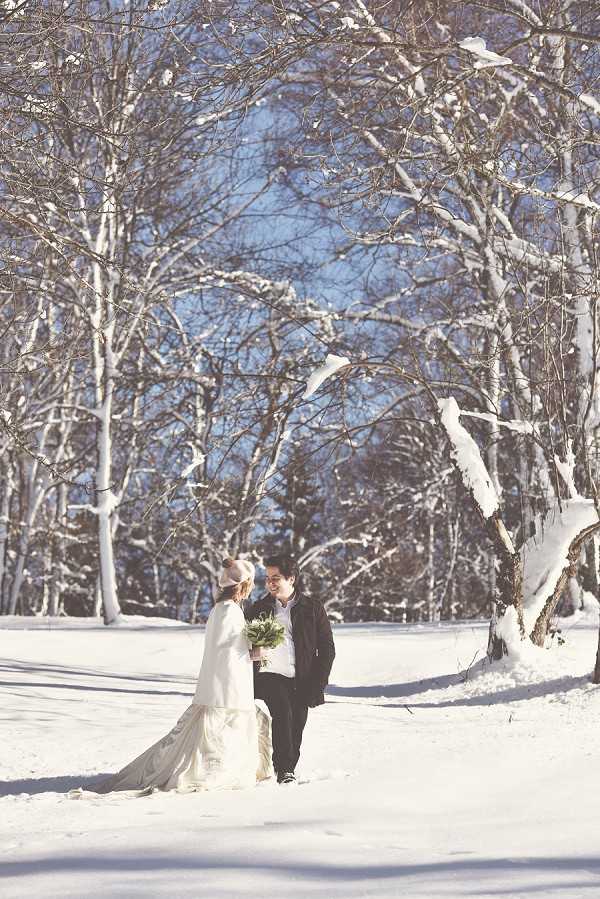 "Renewing their vows was a really emotional moment. The couple actually wrote their own vows to say in all intimacy, and even if Mark was far enough to give them some privacy, he got teary!"
"I've always admired Mark's work. Unfortunately I was already married when I discovered him. But when my husband and I decided to renew our vows for our 10-year anniversary, we naturally thought of asking Mark to photograph the event. The result was as wonderful as we expected: magnificent shots that show the emotion and magic of the day. Clémentine and Mark organized this day perfectly, full of little surprises." says the bride.
Happy Anniversary Gigi and Antoine from everyone here at French Wedding Style!
For even more Anniversary ideas check out this lovely Le Palais Royal Paris anniversary shoot.
Snowy Pyrenees 10 Year Wedding Anniversary Snapshot
Wedding Vendors
Location: Plateau de Beille, Pyrenees | Photographer: Mark Ward – Awardweddings | Dress: Pronuptia | Suit: Armand Thiery and RW&Co | Accessories: Galeries Lafayette and Naf Naf | Flowers: Jardinerie Franquine
Save