Today we have expert Paula Rooney telling us everything we need to know on how to create a floral entrance at your luxury wedding. If you are considering a luxury wedding, then a floral installation is a must. It adds a complete wow factor to any French venue transformation and can really get your guests talking. Paula, one of FWS very own approved suppliers had many years of experience in creating these. Paula can create bespoke design pieces that reflect your wedding design, she can work her magic on your wedding day.
Paula says "Whether it be arches or columns, walkways or flower walls, the entrance to your wedding can set the tone of the entire day.  Enticing and exciting guests, stunning entrance installations are the first and last impressions that encapsulate the world of your wedding inside.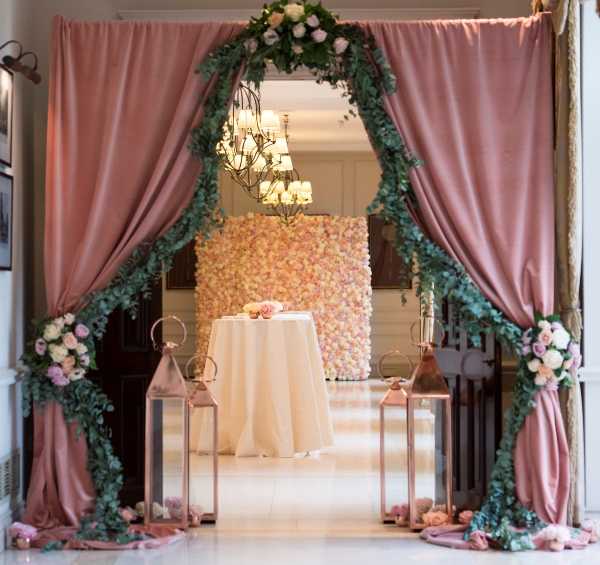 Image by Carey Sheffield 
There are many different styles to consider when creating a beautiful entrance so it's important to think about how your day is going to work, visualizing your guests' journey.  If your entrance is to be used just once as guests arrive and not utilized again I would always advise my couples to have designs with the possibility of moving them elsewhere to enjoy in a different location later in the day. 
Image by Robert Shack Photography
This does not mean the luxury has to be compromised, far from it in fact. Texture and depth of colour in stunning urns or presented on modern Perspex plinths highlighted with an abundance of lanterns and flickering candlelight are an elegant start to the story of the day.
Image by Fiona Kelly
For entrances that are integral to the day and may be used as a back drop for photography, the sky really is the limit! If creating an imposing look, arches and columns work beautifully, providing striking floral towers on either side of your entrance.  These could be in an abundance of colours that reflect the design of the rest of the wedding or could be more muted with only hints of what is to follow.
Image by Amy O'Boyle Photography
Image by Lucy Davenport Photography
I love designing a story and introducing a new aspect of that design at each part of the day leading up to a crescendo in the main event space.  Whilst straight columns are classic I also love columns with shape in them.  These work beautifully with flowers placed in an ombre effect for an epic visual treat.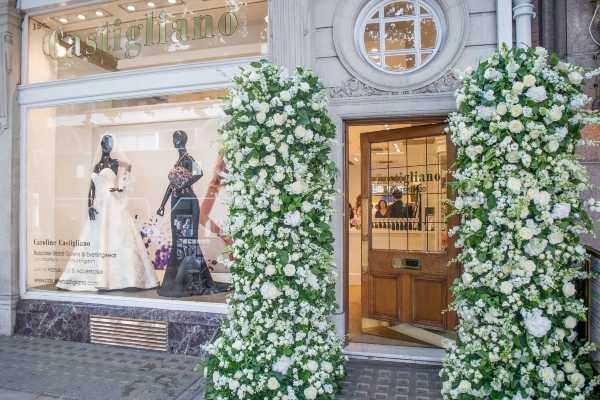 Image by Andy Mac Photography
Walkways extend the magic for guests as they enter an event. Often for outdoor weddings the aisle also acts as the entrance and can provide an impactful welcome. Lining walkways with trees or architectural styles of flowers creates luxury grandeur that frames what is to come.
Image by Carey Sheffield 
For complete luxury my favourite touch is for our couples to either choose their favourite scent or have one created especially for them. Spraying it around the entrance and then throughout the internal wedding spaces, with the exception of the wedding breakfast, I then advise them to keep it for the next 12 months, only spraying it again on their wedding anniversary.  This instantly transports couples back to their special day with all the emotions that accompanied them first setting eyes on their stunning floral entrance.
Image by Carey Sheffield 
There are so many epic designs to choose from but creating a magical luxury floral entrance is all about igniting the senses and bringing joy to those who are welcomed by it."
Thank you for sharing this with us Paula. We especially love the idea around the floral scents for your wedding, that definitely adds something personal and luxurious to your wedding design.
Paula Rooney is luxury floral design working on destination weddings in France, UK and throughout Europe. For more information visit paularooney.co.uk