Happy Friday! Not only do I have a delightful session of honeymoon portraits in Paris by Claire Morris Photography to share with you, but the romantic proposal story of Priscilla and Kenney.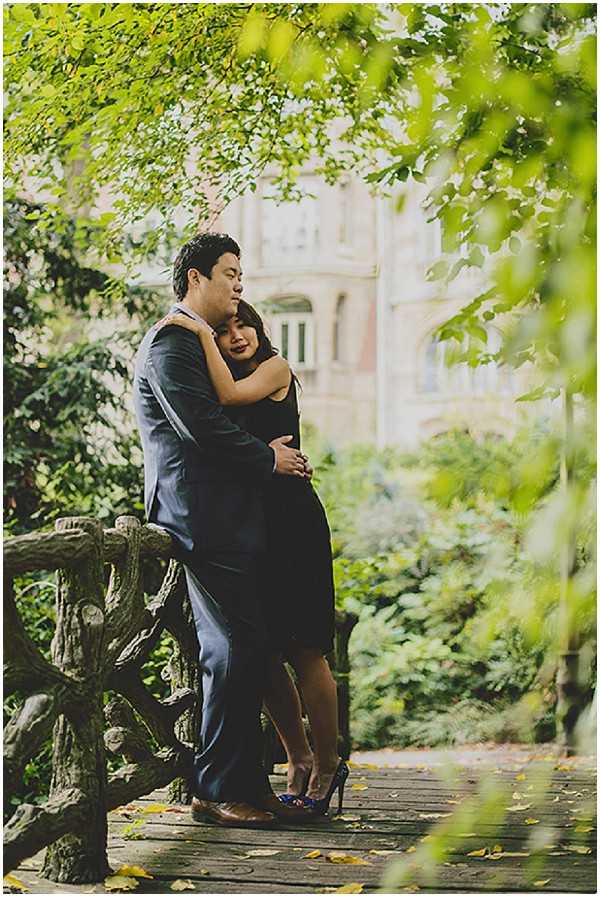 The couple sayed at Hotel Europe St. Severin during their honeymoon, enjoyed a lovely lunch at Septime and partook in a 4 hour bike ride around Paris.  Check out the bottom of the post to find out more about their outfits and activities in Paris.
Priscilla and Kenney take us through their proposal story – "Once upon a time, there was a boy named Kenny.  He was in love with a girl named Priscilla.  After a year of dating, he was ready, and, hopefully, so was she!  He asked her parents for her hand, and he asked both his and her friends for advice on the proposal. 
French Wedding Style – Photography © Claire Morris Photography
He picked out the perfect ring, found the perfect container (she loved triangles!) for it, and arranged for a special house visit with their agent.  He got there early, spread the petals, put up the photos, lit the candles, and placed his friends.  He then told Priscilla that he would be late, but to start the house visit without him.
Everything was go. She arrived!  Peeved that Kenny was "late," she walked up to the house.  Something was off, though.  She walked up– candles?  Petals?  What?" And the rest they says is history!
During their honeymoon trip that included Paris, the couple enlisted the talents of Claire Morris Photography to capture their honeymoon experience in the city of love.
Photographer contact details:
Claire Morris Photography Website: www.clairemorrisphotography.co.uk
Facebook: www.facebook.com/clairemorrisphotographer
Email: [email protected]
UK: +44 782175761 France: +33 645814477
Priscilla and Kenney's Paris honeymoon:
Accommodation: Hotel Europe St. Severin
Favourite restaurant: Septime
Activities: 4 hour bike tour, Blue Bike Tours provide similar activities
Outfits:
Dress – Theia
Suit – Calvin Klein
Shoes – Oscar de la Renta