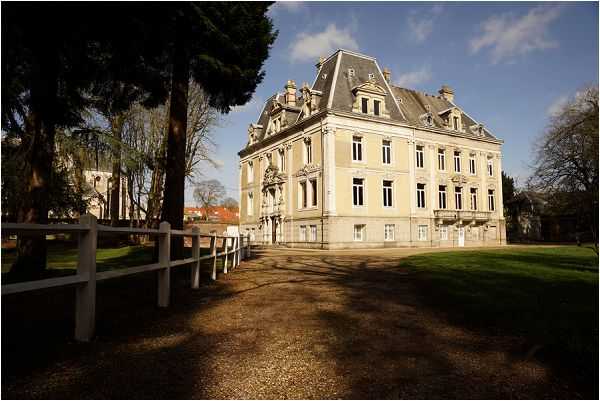 When it comes to choosing a wedding venue in France there can be so many factors to deciding as to whether it is the right venue for you.  Today we've invited Chateau d'Hallines onto the blog as they are sharing their 10 Point wedding venue Checklist to see if their beautiful venue is right for you.
The Chateau d'Hallines 10 Point Checklist
How much time do you want to spend travelling to your wedding venue?
Our chateau is astonishingly easy to reach from the UK. Once through the Channel Tunnel, we are just half an hour away. This means that your guests will arrive feeling relaxed – and can spend more time with you. It often seems to be the case that wedding invitations come along in groups – and your guests might appreciate that they won't need to take lots of time off work for travelling, or to catch expensive flights.
Do you want to wake up on your wedding day in a fabulous chateau that is worthy of the occasion?
Our chateau was built one hundred and fifty years ago by a very wealthy family. It was designed as a wonderful, large family home, but also to make a statement. It is grand – and will do justice to your plans.
Our stable block has recently been renovated to be a wedding venue. It is not a modern annexe, but a beautiful building in its own right, just twenty-five metres from the chateau.
Do you want to prepare for your wedding in a house that can accommodate the wedding party?
The chateau sleeps twenty-six, and four more can stay in our cottage. That means that those vital to the occasion can all be on site and either enjoying themselves, or being put to work to prepare things exactly as you want them!
Your other guests will be delighted that the nearest hotel is a five-minute drive away, and that taxis can be booked to ferry them to and fro.
Do you want to host a dinner to welcome family and friends on the evening before the wedding?
Some houses with many bedrooms lack reception rooms big enough for everyone to get together – which is the whole point of a wedding! Our dining room seats thirty, around a single magnificent table. We can arrange for caterers to prepare a wonderful, private dinner that will allow the wedding party to relax and get to know each other.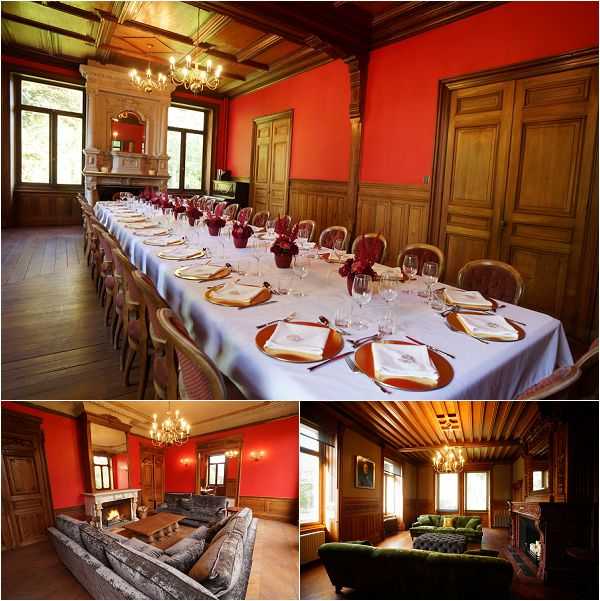 Are there options for the service?
Hallines has a large, very beautiful village church. It is a one-minute walk away, and can be hired for blessings. Alternatively, an outdoor service can be held anywhere in the gardens.
Would you like your wedding breakfast to be inside or outside?
While we love the idea of eating outside, there is always the issue of the weather to consider. The worry of rain ruining things – or of guests getting frazzled by the sun – can add an element of stress to the day. Equally, if it's a nice day, it seems a pity to force everyone indoors for the majority of the occasion. At Chateau d'Hallines we think we have the best of both worlds.
Our stable block is a covered area, but it can be completely open at one end if the weather is great, or closed if necessary. The clear roof provides wonderful soft light during the day. In the evening, the stables are lit by 25,000 fairy lights.
Is the venue self-contained?
We have converted the entire stables to be the focus of the wedding and to provide everything you might want. The main space is large enough to seat 120 guests. Around that, the rooms of the ground floor have all been adapted. The two large rooms that once housed the chateau's carriages have now become a bar and dance area. The tack room is now the toilets, and there is a large kitchen and plating-up area, as well as storage rooms for the food and drinks. Your guests will feel like they are part of something very special.
Are there sufficient grounds?
The chateau lawns are ideal for drinks receptions and photographs, and guests are welcome to wander through our ten acres of parkland. The sun in Northern France is just like that in Southern England – not the oppressive heat of the South of France – and the gardens offer a mix of sunny areas and shade. We also have a dedicated area for wedding guests to park, keeping cars away from the chateau, ensuring the safety of your guests and the beauty of the venue.
How flexible do you want your venue to be?
At Chateau d'Hallines you can choose the length of stay – from a minimum of three nights. You can use our list of recommended local suppliers, or choose your own. You can get blessed in the wonderful church, or somewhere in our garden. You can hire Amanda as a wedding planner, or to translate – as much or as little help as you need. Our stables will be yours to use throughout your time at the chateau, and that means your guests are welcome to return to the chateau on the day after the wedding – perhaps for a buffet lunch before they return home.
How important is the carbon footprint of your wedding?
From the UK, your guests will either come by train, or by car through the Eurotunnel or ferry. This is much more environmentally friendly than flying. In addition, the house and stables are naturally cool in the summer and require no air-conditioning. We recycle all glass and plastic. Food and wine can be sourced locally.