Today we are taking you to the South West of France with our long standing FWS members, Mark and Clémentine Ward from Awardweddings.
Estelle and Jordan tied the knot in a charming old abbey in the South West of France called Domaine du Beyssac, last September 2021.
The Day
Estelle and Jordan had a lovely ceremony on the grounds of the chateau with view on the impressive old building. They celebrants were close friends of them, which made the ceremony so much more intimate and special.
They then enjoyed a cocktail reception by the pool with delicious canapes and drinks on the sound of live jazz music.
The dinner took place under the wooden hall with views of the abbey and garden. They enjoyed an exquisite French meal.
The couple brought their guests under the festoon lights outdoors for a family tradition song, the champagne tower and their first dance. The party carried on until late!
Their Outfits
Estelle looked gorgeous in her dress by Aire Barcelona. She completed her look with golden and pearl earrings, shoes from Gucci and perfume from Chanel. She chose a natural look for her hair and make up.
Her bridesmaids wore dark green dresses from Chi Chi London.
Jordan looked handsome in a light grey suit from Paul Smith. The groomsmen wore suits from Marks & Spencer.
The Wedding Styling
Estelle and Jordan chose a timeless, fresh and elegant styling. For her bouquet and the ceremony flowers, Estelle had white only flowers. For the bridesmaids bouquets and all the other arrangements, she added touches of pink, purple and blue colours.
Special Touches
The couple incorporated lots of personal touches throughout the day. The sweetest was the ribbon on Estelle's bouquet, as it came from the very first bunch of flowers that Jordan bought her.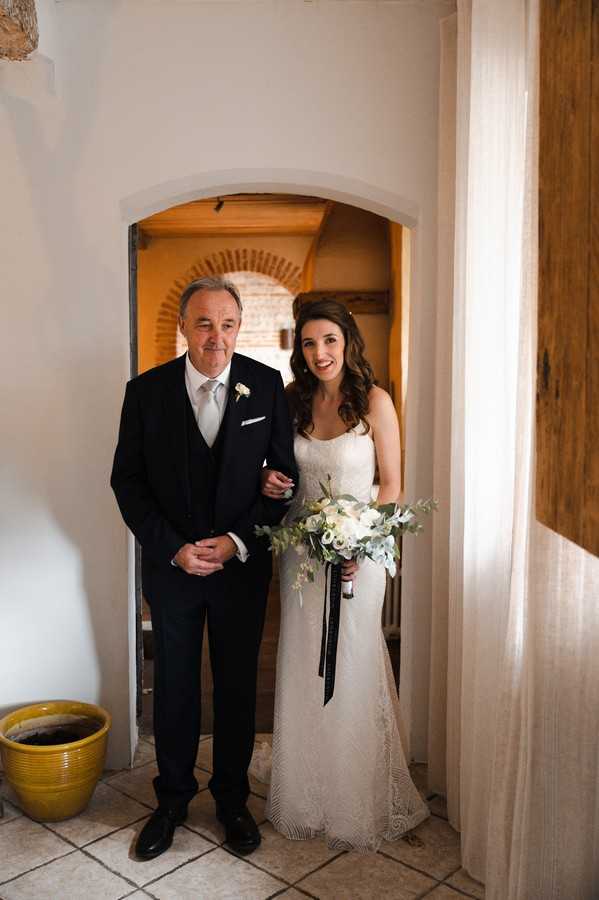 They also sang a traditional French family song after dinner where everyone joined in. This was followed by a champagne tower, a great little event on the night, very trendy this year!
They didn't forget to add touches of humour throughout the day to accompany the romance. We laughed lots when as Estelle tossed her bouquet, Jordan joined a bunch of celery!
A Timeless Affair In The South West Of France Snapshot
A Timeless Affair In The South West Of France Vendors
Venue Domaine du Beyssac | Planning Clémentine Ward from Awardweddings | Photography Mark Ward from Awardweddings | Florist Lily & Confettis | Catering Laurent Cieutat Traiteur | Live Band Clapswing | Hairdresser Sandrine Hair | Make up Artist Mademoiselle L | Decorations Rentals Clémentine Ward from Awardweddings | Chairs Imexia