In addition to the Croquembouche, macarons are another french delicacy that have been gaining popularity across the world.  Part of this popularity and awareness for wedding macarons and celebrations has been their inclusion in baking programmes such as The Great British Bake Off and Masterchef.
French Wedding Style have been lucky enough to catch up with winner of BBC2's The Great British Bake Off, Ed Kimber to find out about his love of macarons and what he is cooking up following The Great British Bake Off.
Q. When did you first start making macarons?
Around 4 years ago, I had visited Paris and fell in love with them, they are so versatile and so cute but of course they are most importantly absolutely delicious! 
Q. In your opinion what is it about macarons that makes them so enjoyable for weddings and celebrations?
It's the sharing aspect, If you have a tower of macarons everyone has one (or two!) made just for them, but aside from that a tower can look absolutely stunning making a big statement on your big day. 
Q. What would be your top tip to achieving the perfect macaron?
Practice makes perfect. They take time and effort to get right so get in the kitchen and have a go. If the worst happens and they turn out like you want they will still taste delicious.
Q. What is your favourite flavour macaron?
Salted Caramel and Dark chocolate could be my have to be my favourite, that sweet and salty combination is definitely a winner with me.
Q. What trends have you noticed in macaron towers for weddings and celebrations?
Well simply put that is the trend, a couple of years ago it would have been rare to see a macaron tower in the UK but they definitely seem to be in vogue at the moment. 
Q.  What is the most ambitious macaron tower you have made?
I would probably say the one I made on BBCs The Great British Wedding Cake earlier this year, not because it was complicated or over the top but mainly because I was making it in such a short period of time and under such pressure.
Q. Following on from The Great British Bake Off what is next for Edd Kimber?
I have just released my first cookbook called The Boy Who Bakes and im very busy promoting that at the moment, but as for the future who knows. I would like to do more writing but eventually I want to fulfill my dream of opening a little bakery but it may take me a little while longer to get there.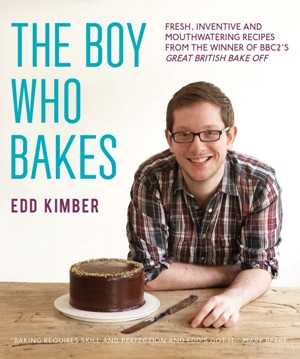 The Boy Who Bakes by Edd Kimber  (Kyle Books, £16.99) Photography: Yuki Sugiura.
For all those DIY brides and grooms out there, macarons can be a fantastic solution to creating your own wedding edible centrepiece and Edd has shared with us one of his macaron recipes from his book:
Rose and Raspberry Macarons
Rose is often thought of as an old-fashioned and soapy flavour, but if you use rose syrup rather than rose water and you are careful with the amount used, it is absolutely delicious.
Makes about 30
 170g icing sugar
160g ground almonds
120ml egg whites from about 4 medium eggs, divided into two equal batches
160g granulated sugar
1 teaspoon red powdered food colouring
For the rose buttercream
100g sugar
3 egg yolks
225g butter, at room temperature, cut into small pieces
2 tablespoons rose syrup, or to taste
75g raspberry jam
Preheat the oven to 170°C (150°C fan oven) gas mark 3 and line two baking trays with baking parchment. Put the icing sugar and ground almonds into the bowl of a food processor and pulse until fully combined. Sift this mixture into a large bowl, discarding any small particles that stay in the sieve.
Add the first batch of egg whites to the almond mixture, mix together to form a thick paste, then set aside.
Put 50ml water and the granulated sugar in a small pan set over medium heat. Bring to the boil and have a sugar thermometer ready. Meanwhile, put the second batch of egg whites into a clean, grease-free bowl (this is best done using a freestanding electric mixer) and whisk them on medium.
Start whisking the whites on high speed when the syrup in the pan reaches about 110°C on the sugar thermometer. Cook the syrup until it registers 118°C. Pour the syrup slowly down the side of the bowl with the whites, avoiding the beaters.
Continue to whisk the meringue on high until the mixture has cooled slightly and the bowl is no longer hot to the touch but is still warm. Add the food colouring and whisk to combine.
Scrape the meringue onto the almond mixture and gently fold together. It is important at this stage not to overmix the batter. The batter should fall in a thick ribbon from the spatula, fading back into the batter within about 30 seconds. If it doesn't, fold a few more times.
Add the batter to a piping bag fitted with a 1cm wide plain piping nozzle. Pipe rounds about 2.5cm in diameter onto the prepared baking trays. Leave to rest for 30 minutes or until the macarons have developed a skin and are no longer sticky, then bake for 12 minutes. Immediately slide the parchment onto the work surface and allow the macarons to cool for a few minutes before gently peeling them off the paper.
To make the rose buttercream, put the sugar and 2 tablespoons water into a small pan set over medium heat and bring to the boil. Cook until the syrup reaches 120°C. As the syrup nears the desired temperature, whisk the eggs yolks in a clean bowl until pale and increased in volume. With the mixer still on high, carefully pour the syrup into the eggs, avoiding the beaters. Whisk on high speed until cooled. Beat in the butter a few pieces at a time until silky and smooth. Add the rose syrup and mix to combine.
Fill a piping bag fitted with a small piping nozzle with the buttercream and pipe around the outside edge of half the macarons. Fill the centre with jam and sandwich with another macaron. Chill overnight before serving, allowing the macarons to come to room temperature first.
Thanks to Edd for sharing his recipe with us and don't forget his book is now available to buy on Amazon and you can find more recipes and follow Edd's adventures on The Boy Who Bakes Blog.
Have fun trying the recipe and please feel free to share your macaron baking efforts.