Your Dream Boho Wedding Cake
Celebrating the start of your life as a married couple begins right after exchanging vows. And what better way to celebrate this momentous occasion than with cake? In this post, French Wedding Style will give you some pointers on choosing a boho wedding cake that isn't just beautiful — it's tasty, too!
Join us as we delve into Part 2 of our Boho Wedding Series, and let us help you find the right cake for what is perhaps the most important day of your life.
We hope you brought an appetite!
Boho Wedding Cake Ideas
Boho wedding cakes typically have one thing in common: simplicity. But don't make the mistake of confusing simple with boring. On the contrary, boho-influenced cakes create a maximum effect out of understated elements. For instance, cakes in this style might use just one or two colours, such as white, brown, light purple, dusty rose, or even pale blue. Embellishments inspired by nature give the cake an enchanting touch.
The flavor of cake is completely up to you. Dark, rich chocolate cakes evoke an earthy vibe, while strawberry wedding cakes have a folksy feel. Other popular choices include vanilla and raspberry. You can even incorporate fresh fruit for a simple (and healthy) addition.
If you're having a hard time deciding on one flavor, some couples even mix up tradition by offering cupcakes instead. This way, you can choose as many flavors as you like, and there's something for everyone!
Consider a Rustic Boho Wedding Cake
One popular choice is a rustic boho wedding cake, a very subtle style of cake. You won't see any hot pinks, neon blues, or loud oranges here. Instead, colours are typically muted. The added touches to the cake are understated and can include:
Dried flowers and feathers for delicate decorations
A large wood slice as a cake stand to provide an outdoorsy touch
Candied or dried orange slices for a homey feel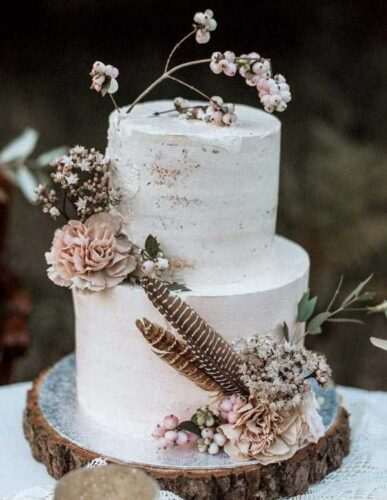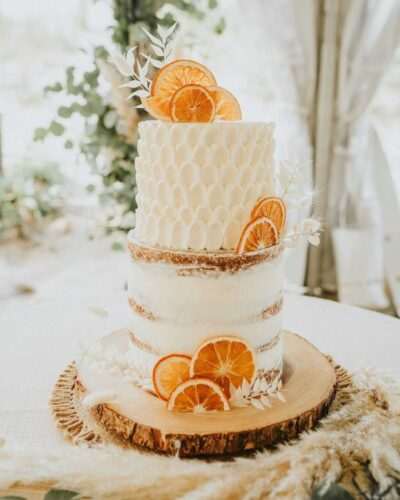 Nature-Inspired Boho Wedding Cakes
Some of the prettiest boho wedding cakes are inspired directly by nature. These types of cakes often utilise fresh plants, including beautiful white, pale pink, or light lavender roses. Other options for nature vibes include:
Greenery such as sage, olive branches, or rosemary
Dainty flowers like baby's breath and wild flowers
Flower pressed on cakes is the latest trend decoration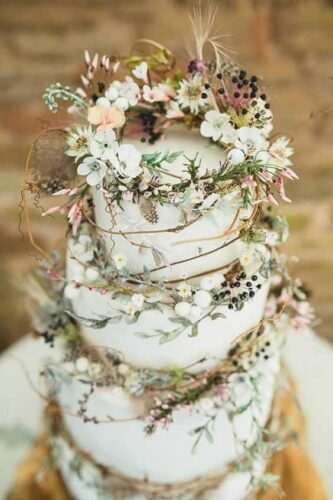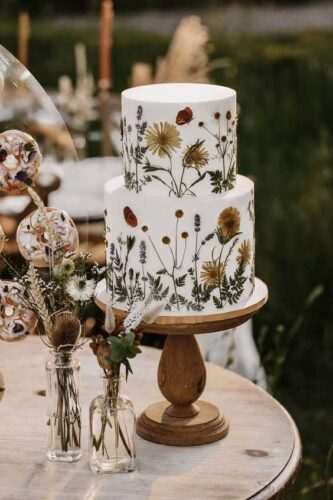 Boho Wedding Cakes With Metallic Touches or Macrame decoration
Another lovely option for boho wedding cakes is a low-key, metallic leaf design. Edible bronze, gold, or silver leaf details add a boho chic touch to your cake without being over the top. Small amounts of silver icing drizzled over an otherwise white cake can have a similar effect.
Macrame has made its come back from the 70's and it is now the best styling idea to bring the boho theme to next level. Believe us, Macrame decoration on your wedding cake will be the perfect ultimate boho touch.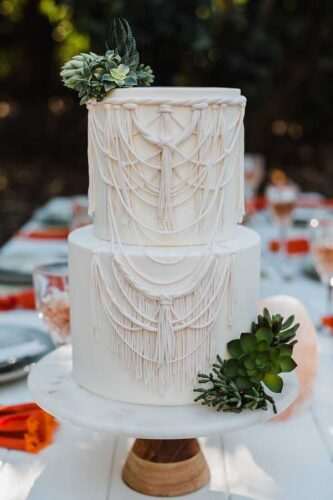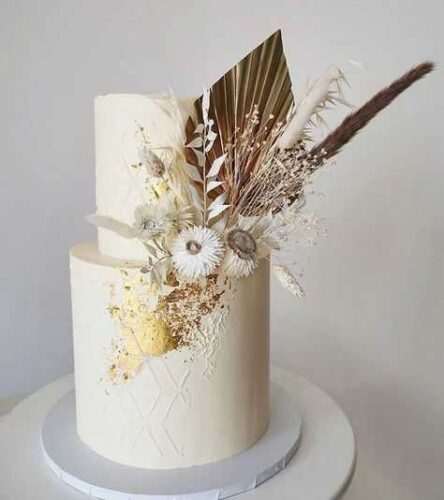 Boho Wedding Cake Toppers
Of course, you don't want to forget the finishing touch on your cake: a boho wedding cake topper! The sky's the limit here, really. You can be as ornate or as understated as you like, but for an especially charming bohemian look, consider:
A crescent moon topper with your and your partner's initials
A wooden, engraved cake topper for a rustic feel
A cake topper that includes shells, feathers, and other natural features
A handcrafted wooden cake topper designed to look like you and your spouse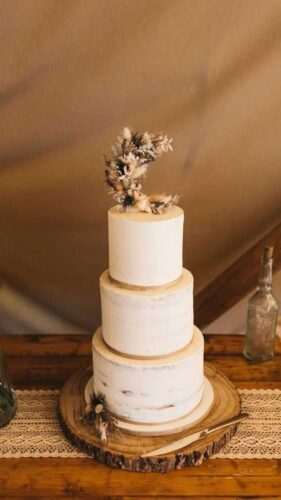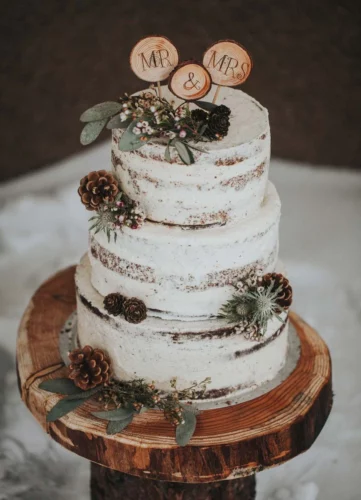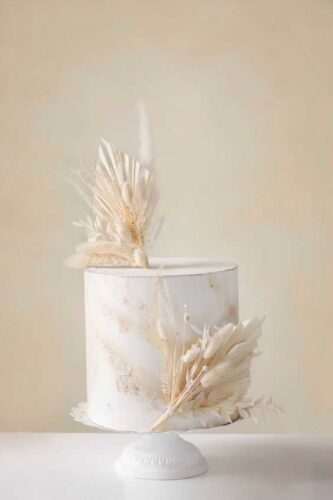 Conclusion
When you're choosing a cake for your wedding, you want to make sure it's in line with the rest of your wedding decoration. Treat yourself to a beautiful and yummy boho wedding cake that will be a sweet way to celebrate your new marriage!
Next week we'll be providing tips on finding all the right boho wedding décor to match that dream wedding cake.
Boho Wedding Series
Check out some more FWS Boho Wedding Styles HERE