Boho Wedding Décor
Today, we bring you Part 3 of our Boho Wedding Series. In our previous post, we covered what you need when it comes to finding that perfect boho wedding cake. Now, it's time to talk décor! Boho wedding décor is all about earthy tones naturel materials and vintage flourishes. And there's a lot of fun to be had with creating a romantic, natural setting for your wedding with these elements.
Keep reading for boho wedding décor ideas that will help you and your spouse-to-be get in tune with nature and your free-spirited side.
Boho Chic Wedding Decorations
There's something so timeless about a wedding that incorporates boho touches. Often, these types of weddings take place outside to maximize the natural feel, making use of the abundant sunshine and green scenery.
As a matter of fact, boho wedding décor even draws inspiration from nature itself. Fresh and dried flowers, eucalyptus garlands, and pampas grass are just a few natural items that help set a cozy, whimsical scene for your wedding.
Below, we discuss some specific examples of boho decorations to get the wheels turning. Let your imagination run wild!

Consider These Boho Wedding Altars
If you're after the boho look, you are probably willing to stray from tradition when it comes to planning your nuptials. A great way to craft your own look at the wedding is through your altar. This is where you and your loved one will be exchanging vows and making your commitment official.
Instead of a traditional arch, you can try:
A macrame design. These altars are the perfect boho touch.
Rattan armchairs. Rattan is a classic material used to create the best boho style furniture.
A tree limb. Boho nature lovers can transform an everyday tree limb into a beautiful, natural arch with flowers, gauzy fabrics, and fairy lights.

Boho Wedding Aisle Décor Ideas
The aisle plays a big role in just about every wedding. The area frames you and your partner as you walk down the aisle together as a married couple for the first time. Of course, you want this area to look fantastic. Fortunately, boho wedding aisle décor is simple and affordable. Here are some looks you can consider:
Place clear glass vase filled with pretty flowers in your colour scheme.
Set plants at the end of each aisle. Some plants that evoke the boho chic feel are roses, pampas grass, and dusty blue eucalyptus. Don't forget about wildflowers, which are an exceptionally budget-friendly option that add a splash of homey, cottage vibes.
Choose a gorgeous aisle runner in a boho hue and even floor cushions. consider layering a variety of different rugs down the length of your aisle, this will bring your boho décor to next level.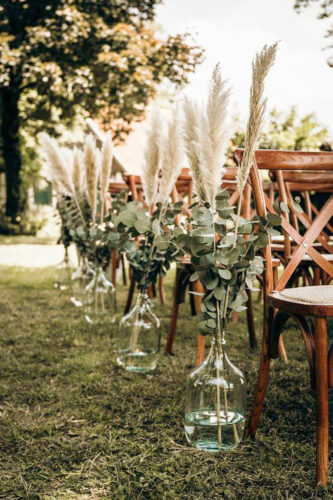 Tips for Boho Wedding Table Décor
Another important element of a wedding's look is the table design. Selecting the right boho wedding table décor can make your reception area look just as lovely as your altar and aisle. These decorations can enhance your guests' enjoyment of the meal.
Need ideas for table settings?
Incorporate lots of greenery. Part of the boho look's popularity is its focus on natural elements. Spread greenery like succulents, eucalyptus, cacti, ferns, and willow leaves across the table for a plant-inspired motif.
Use natural materials. Rattan is a type of palm that's commonly used for handicrafts. This material adds neutral, eco-friendly fibers to your tables. Its subdued tone balances out any more colorful decorations.
Select a great table runner. Vintage, macrame, or natural linen materials are all staple elements of the boho style. A runner with these components will tie your table's look together and help even a simple, wooden table appear stunning.
 Candles and lanterns. Lots of them for a magical effect!
Amber glass bottles. they are perfect to create a vintage boho look.
Mismatched chairs. Mismatched dining chairs gives a gloriously eclectic design.
Cushions is another option for seating idea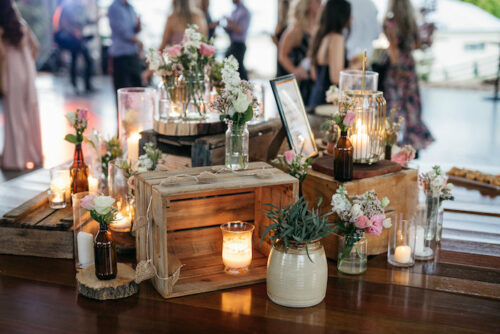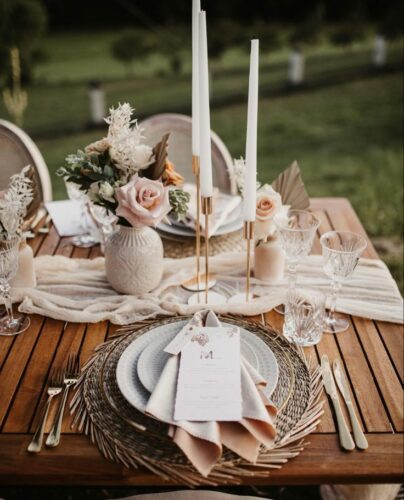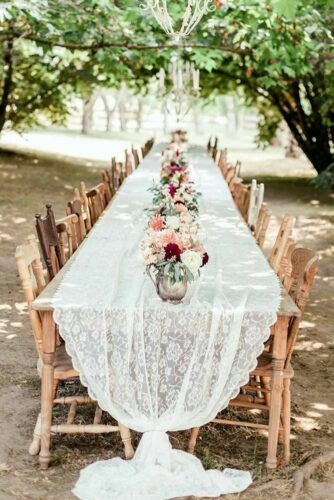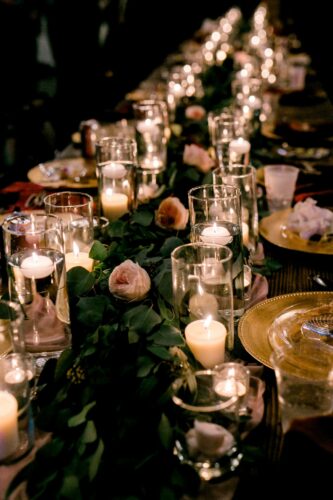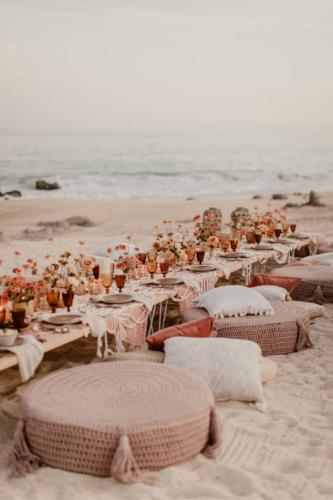 Conclusion
Boho wedding décor can help you plan the wedding of your dreams! Visit French Wedding Style next week for Part 4 of our series on boho weddings. We'll make sure to cover everything you need to know about getting a look you'll love. Our next topic is choosing a boho wedding hair style.

Boho Wedding Series
Check out some more FWS Boho Wedding Styles HERE