Classic Boho Wedding Hair Ideas
Welcome to our final post in the Boho Wedding Series! Over the past few weeks, French Wedding Style has covered the basics of the boho look. From dresses to décor, we've introduced the key elements of cultivating a lovely, bohemian-inspired look for your special day. Today, we're here to talk about that last step of your preparations: your boho wedding hair!
Whether you prefer a simple, carefree hairstyle or a look that evokes elegance and charm, there are endless styles to choose from. Let's take a look!
Wedding Hair: Boho Looks You'll Love
Short hair, long hair — we've got you covered. The nice part of the boho look is that you can make it your own. The boho culture celebrates individuality and remaining true to yourself, so there's plenty of opportunities to play with cuts, colours, textures, and accessories.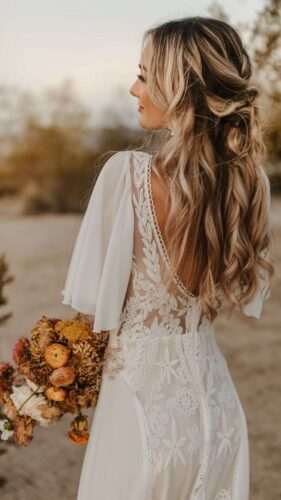 For example, if your hair is blonde or features lighter highlights, you may favour a wavy, beachy look that emphasises your sun-kissed locks. Of course, you can rock the beach waves even if you're not blonde! There are countless options for styling boho wedding hair for brunettes, redheads, raven-haired beauties, and everyone in between.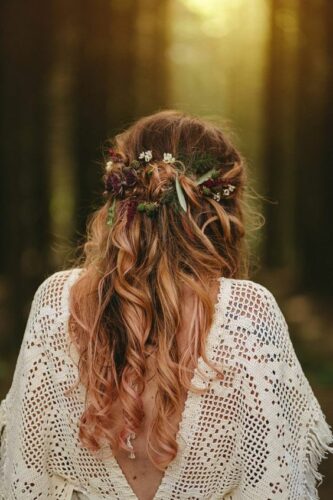 No matter which hairstyle you choose, you'll want to have all the details picked out well before your wedding. Take care of any cuts, dye jobs, and hair treatments well in advance. That way, your stylist can show you exactly what you'll look like on your wedding day. No one wants a surprise hair mishap the day of.
Romantic Half-Up Boho Wedding Hair Ideas
For many brides, a half-updo is the perfect combination of sophistication and informality. These hairstyles are often deceivingly simple to create. You can gather the top portion of your hair back in a classy chignon, delicate twists, or even boho braids. Wedding hair doesn't have to be complicated to be exquisite! Some of our favourite braids for the boho wedding look include fishtail, box, halo, and of course, French braids.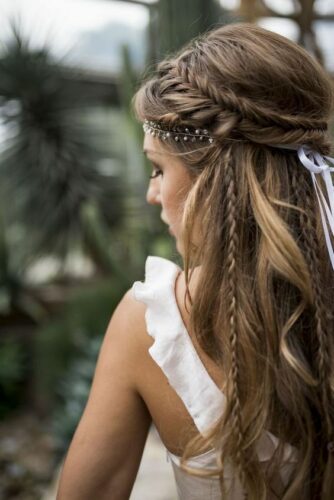 Beautiful Boho Wedding Hair Updos
A boho wedding hair updo usually takes a little more skill to get right. But a regal, off-the-shoulder style can really look stunning. To get the boho effect, you'll focus less on creating severe parts and picture-perfect curls. Instead, these styles are usually a little looser and carefree.
Some good options include crown braids, low side buns, and relaxed chignons that incorporate wispy tendrils.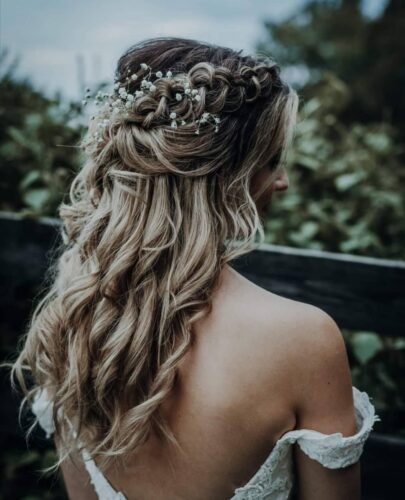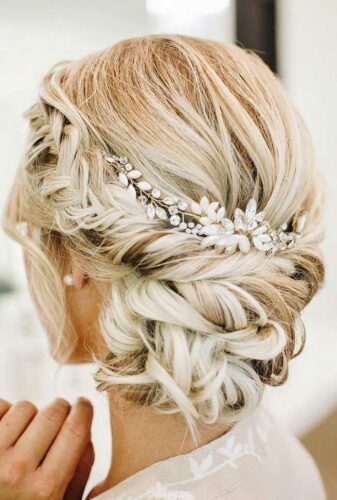 Boho Wedding Looks for Short Hair
Think that boho, forest princess look is just for people with long hair? Think again! You can style your short hair to get a playful, fun-loving look, too. Short finger waves, a loose middle bun, a flirty pixie cut, and graceful, loose waves are all great choices.
You can try experimenting with parting your hair differently, getting subtle (or dramatic!) highlights, or using hair pieces and flowers.
Boho Wedding Hair Pieces
Sometimes, we just don't have time to grow our hair out before the big day. Or maybe you want a fuller hairstyle than your thinner hair can provide. Or perhaps you simply don't want to commit to a new hairstyle (i.e., bangs), but you love the look they create. We get it. A free-spirited person like yourself is always looking to mix and match styles!
Boho wedding hair pieces are convenient tricks to change up the look of your hair, and no one will be the wiser. Try some of these last-minute fixes when you want to craft your new look:
Clip-in bangs: Bangs, fringe… No matter what you call this cut, the hairstyle is a big commitment, almost as big as your vows (not really, of course). If you want the sweet, boho look of bangs on your wedding day but don't want to take the plunge, you can buy clip-in bangs. These hair pieces are a subtle way to frame your face without having to chop off your hair.
Hair extensions: These days, hair extensions are easier than ever to find. Many can be clipped, taped, or even sewn directly into your hair for a quick, simple way to get thicker and longer hair that gives off extra earthy and hippie vibes.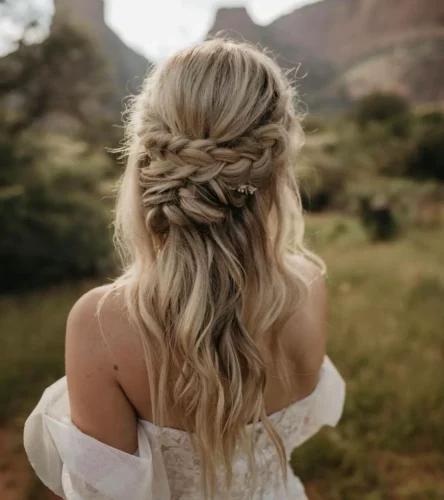 Boho Wedding Hair Accessories
Once you've settled on your favourite hairstyle for your wedding, you can add an extra touch of charm with boho wedding hair accessories. This is where you can get really creative. To stay in line with that nature mood, choose pieces that incorporate pearls, feathers, flowers, or metals. Rhinestone accessories, while not natural, add some fun sparkle!
Some options are:
Hair clips
Headbands
Hair drapes
Hair combs
Hairpins
Veils (such as birdcage and Juliet cap veils)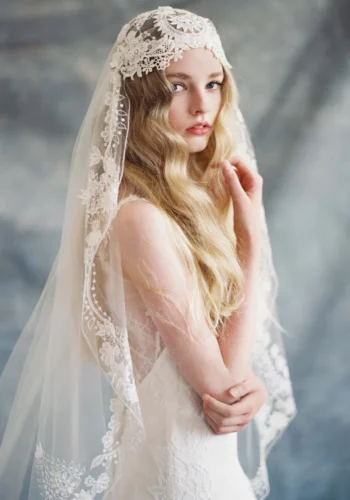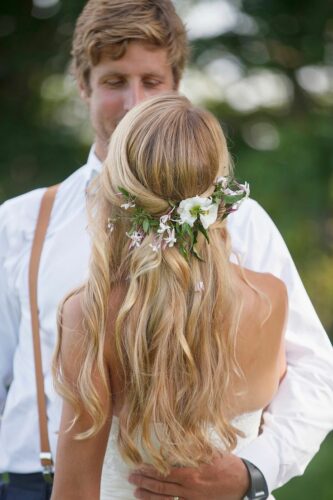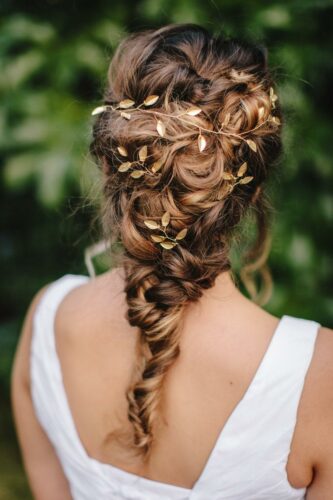 Conclusion
There are pretty boho wedding hair options for people with hair of all lengths, textures, and colours. Focus on a style that makes you feel confident and special on your big day, and you'll be ready to shine alongside your sweetheart!
Boho Wedding Series
Part 4: Classic Boho Wedding Hair Ideas
Check out some more FWS Boho Wedding Styles HERE