Engagement & Proposal Cake Ideas
A lovely afternoon treat for you today as we discuss engagement and proposal cakes!  But before I begin, just incase the date has passed you by, it is Valentine's Day tomorrow so if you haven't already, be sure to spoil your love one tomorrow.
Nothing says love like a delicious cake with pretty decorations.  Today with the help of our Resident Cake Guest Blogger Cakes by Beth, she is going to look into how cakes can feature in not only your wedding, but also your engagement and even your proposal!
*****
In my opinion, no celebration is complete without a fabulous cake as a centrepiece, and engagement parties are no different. Couples can find it difficult to distinguish a cake to celebrate their engagement with the kind of cake that they would like for their wedding, and the two can be very similar, but here are some ideas for wow factor engagement cakes.
Firstly, the main difference between your engagement cake and your wedding cake could be the size that you choose. At a wedding, you may want to cater for every single guest, but for your engagement party, things are likely to be a little less formal. A two tier cake could serve approximately 45 guests and when placed on a pretty cake stand, will really stand out in a crowd.
Image: Mark Tattersall
Theme and Style
Determine the overall theme or style of your engagement party and align the cake design accordingly. Whether it's a formal affair, a casual gathering, or a themed event, the cake should harmonize with the overall ambiance and aesthetic.
Size and Serving
Consider the number of guests you'll be hosting at the engagement party. Opt for a cake size that can comfortably serve the expected number of attendees. A two-tier cake is often a suitable choice for engagement parties, accommodating around 45 guests while still making a statement.
Design Simplicity
If you prefer a clean and refined look, go for a simple engagement cake design. Minimalistic decorations, smooth frosting, and subtle embellishments can convey elegance and sophistication. This style allows the cake to stand out without overwhelming the overall visual appeal.
Bold colours
There is definitely a big movement towards the use of bold and bright colours in a big way for wedding cakes, but you might want to keep your wedding cake a little bit more traditional. Therefore, if you love bold colours, why not have a bright cake at your engagement party? Red is the colour of love and by using it all over your cake, the design is kept simple yet striking.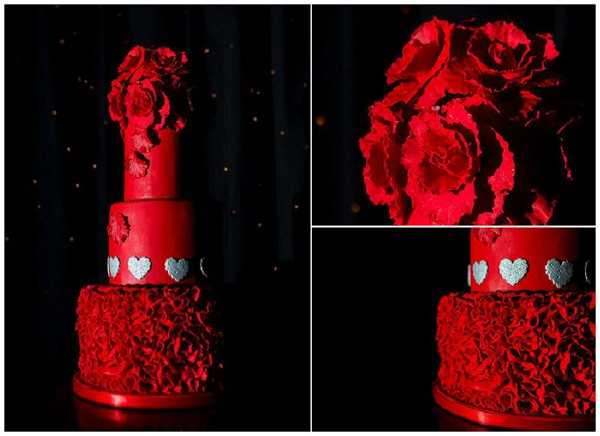 Image: Neil Redfern
Personalisation
I always try to use unique and personal elements in my wedding cake designs but often couples want to bring in elements from their wedding theme and colour scheme, the flowers, the bride's gown, so really personal elements may not fit in with the overall look that they want to achieve. However, your engagement party may not be constrained by these different elements and so the cake could really say something about you as a couple. How about celebrating where you met, your heritage or a favourite holiday?
Flowers by: Laurel Weddings
Unique Elements
To make your engagement cake truly memorable, explore unique elements or unconventional designs. Think outside the box and consider incorporating whimsical decorations, custom cake toppers, or creative arrangements that symbolize your love story or shared interests. Let your imagination guide you to create a cake that stands out from the rest.
Cupcakes and treats
Instead of a formal cake, why not have a pretty display of desserts that guests can help themselves to? This works really well if you are having a buffet as it will be a centrepiece for the food but without a cake cutting moment. This cupcake tower also features cake pops in individual bags for guests to take home with them.
Something a little different for fun
You might both like a film or a sport, or have different hobbies that are a big part of your lives together so this can be a great subject for your cake. It's all about having fun and celebrating your love so your engagement cake doesn't have to be serious.
Bringing cake into the proposal itself
In this situation, it is likely to be just the two of you so you don't want anything too big. When I think of proposals, Paris immediately springs to mind, and when I think of Paris, I think macarons. Here, I have decorated a perfect sharing-sized cake with macarons…and a very special one in the centre. Your other half may think that they are just red macarons, but when they lift the top one up, they will see that it is actually an edible jewellery box. With such a sweet surprise, they will be sure to say yes!
Flavors and Dietary Restrictions
Take into account the preferences and dietary restrictions of your guests. Ensure there are options available to accommodate various tastes, such as different cake flavors, fillings, and frosting choices. If some guests have dietary restrictions or allergies, consider offering alternative options to cater to their needs.
Professional Baker
Choose a reputable and experienced baker who specializes in creating engagement cakes. Look for recommendations, read reviews, and browse through portfolios to ensure the baker's style aligns with your vision. Collaborating with a skilled professional will ensure the cake is not only visually stunning but also delicious.