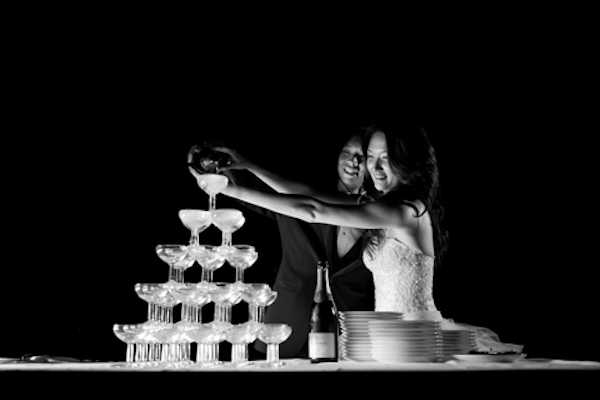 There are so many fun things to do when planning your wedding day and today with the help of Elian Concept Weddings and Events we turn to organising drinks for your French Wedding.
Drinks are one of the key components of a wedding day and it's hard to imagine a wedding reception without them. Starting with the traditional flute of bubbly to relax during the preparations with closest friends and family all the way to the final evening glass, drinks will be part of the enjoyment of your wedding.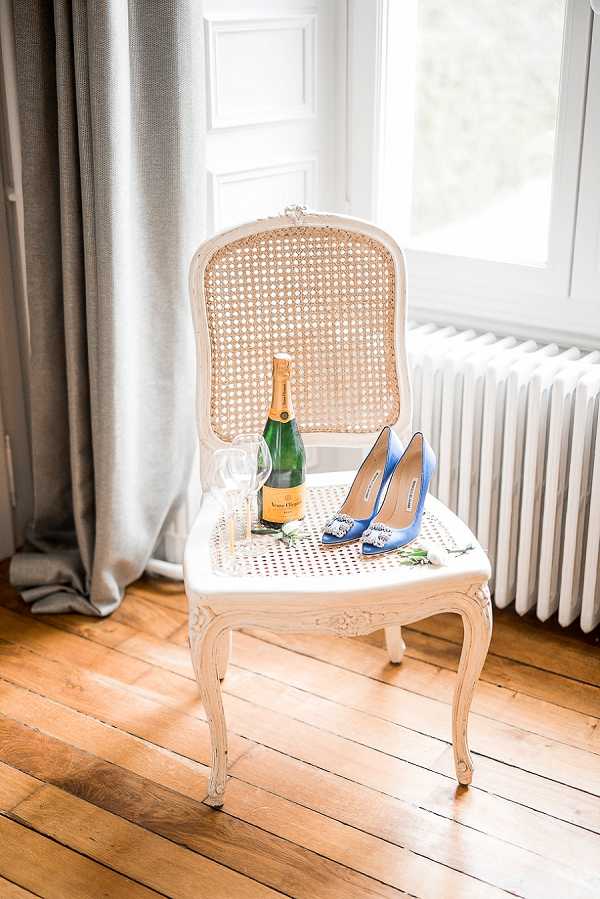 Photo credit: Cedric Klein
When considering drinks I guess most of you will rightly understand alcoholic beverage, and yes, this is what will be expected at the majority of weddings. It goes without saying that if you are getting married in France, then on this point as well as for the food, you will be spoiled for choice. Most French regions have vineyards and you may even be having your wedding reception at or near one of them.
Photo credit: Claire Penn
So how do you choose your French wedding drinks? Let me guide you through this task which may seem daunting at first, but with some thoughts and advance planning may even turn out to be very enjoyable. Think wine tasting!
The question of what beverage to serve at your wedding will likely come up when discussing and choosing your wedding menu and at this stage there will be two options.
First option: Your caterer will be in charge of providing the drinks, from the cocktail reception, known as 'vin d'honneur' in French to the evening party. It's without doubt the easiest option, as they can advise which types of wines best accompany your wedding food, suggest drinks for the other parts of the day and accommodate your preferences and special wishes. They will work out the necessary quantities for your guest count, based on all of the above. You will also be able to try the wines along with the food if you attend a tasting session. It might cost you a bit more than if you were purchasing the drinks yourself, but it will have the major advantage to save you time and worry over quantities, delivery and storage.
If you choose this option, it will be useful to check:
What drinks are included in the package. Check specifically for water and soft drinks.
Can they provide special drinks such as your signature cocktail(s) and if not could you potentially provide the ingredients to make them.
How you would like to manage the quantities consumed, i.e. keeping an eye on the amount of wine served as the day goes on.
Who will manage the bar in the evening?
Will they have suitable glassware for special drinks if you have them e.g. martini glass, shot glass etc.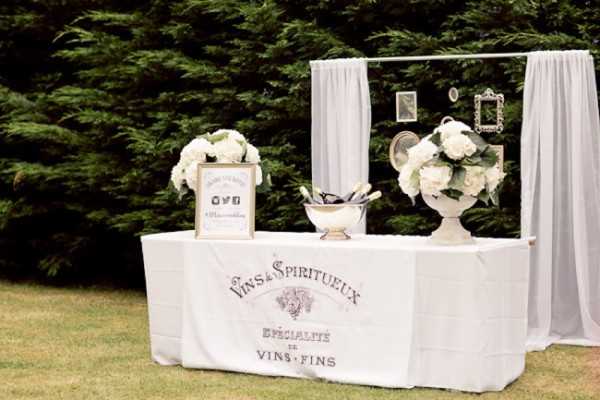 Photo credit: Love as Art
Second option: You want to be in charge of purchasing the drinks for your wedding day. In that case, what should you be considering?
1- Check if your caterer takes a corkage fee and how much it will be.
2- Look at your guest list to decide what kind of drinks to serve and better estimate quantities. You can appreciate if they are beer drinkers, Champagne lovers, heavy or light drinkers as well as the need for non-alcoholic options. This step is essential and also applies if the caterer is in charge.
3- Take into account the season when you are getting married. During hot summer months some drinks may be more appropriate than others. For example rosé wine is often overlooked. It might not be an obvious choice when looking from home in the winter. However it's a very pleasant and refreshing drink in the summer and is proving very popular with guests at outdoor events.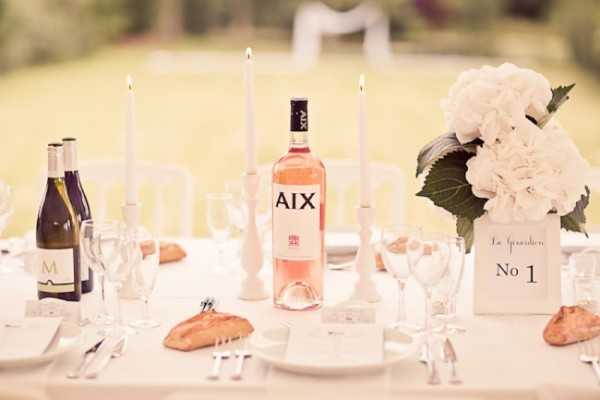 Photo credit: Love as Art
4-Take advantage of the location of your wedding by choosing wines or other beverages from the region, if applicable. This is a great opportunity to be local. It is also likely you will get better value for money when sourcing at local vineyards as well as a perfect occasion to enjoy a wine tasting tour.
5-List your needs based on your budget and what's happening during your wedding day. Usually you will have:
Welcome drinks
-This is optional, but on a hot day it is a good idea to offer water and soft drinks (preferably no alcohol) to your guests as they arrive for the ceremony
Photo source: French Wedding Style
Cocktail reception to follow the ceremony, where canapés will be served:
Do you want Champagne as the first drink to start the festivities? Or another sparkling wine? There are excellent sparkling wines produced with the same method as Champagne in some regions of France. For example a very good Vouvray will always be better than a bad Champagne and much more cost effective.
Will you serve wine instead or as well? Rosé is an option in the summer as mentioned previously.
Do you want to have a signature cocktail?
If you are having beer, will it be in cans or kegs? The later will work out cheaper (and there is no need to have extra cooling as they come with their own system), but requires more logistic.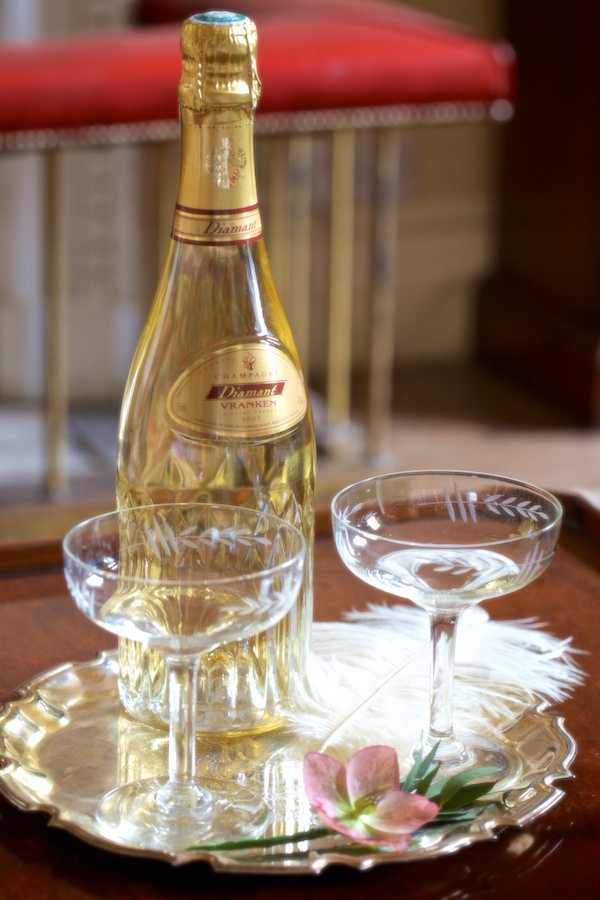 Photo credit: Mike Benjamin
Wedding dinner
Decide based on your wedding menu, type and number of dishes. Even if you purchase the wine yourself ask your caterer for advice.
A mix of reds and whites is the most popular, red wine traditionally goes with meat dishes and white wine with seafood and fish. Both can be served with cheese. Unless you go for a gourmet meal, my advice is to keep it simple with one choice of each.
However you could decide to also serve a sweet white wine if you have foie gras as a starter or with dessert, which can be an additional local touch.
Of course, rosé can be part of the choice especially if you had it served during the cocktail hours.
Toasts and wedding cake
Traditionally Champagne is served. To keep it simple go with whatever you have chosen for your cocktail reception.
Would you like a Champagne tower? A pyramid of Champagne glasses always looks stunning and will impress your guests. Just check that whoever is setting it up and serving it knows what they are doing.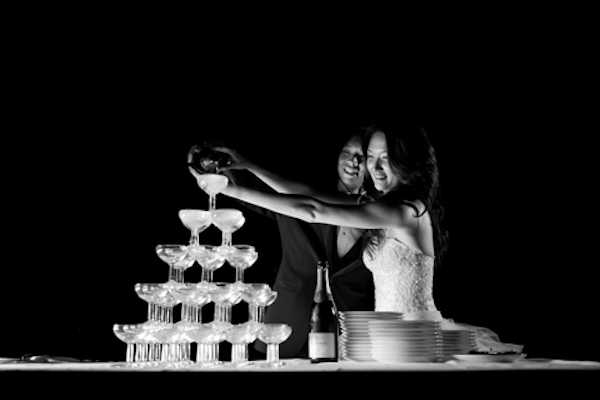 Photo credit: Studio Cabrelli
Evening party
You can continue with whatever was served at dinner
Or you may introduce liquors and cocktails. In this case, it is wise to have a bartender or a dedicated member of the catering staff to make them. Don't forget to include the other ingredients for the mixers on your list. Probably best to limit the choice to a few favourites, make sure the staff know how to make them and inform the guests by putting a sign on the bar showing the cocktails available.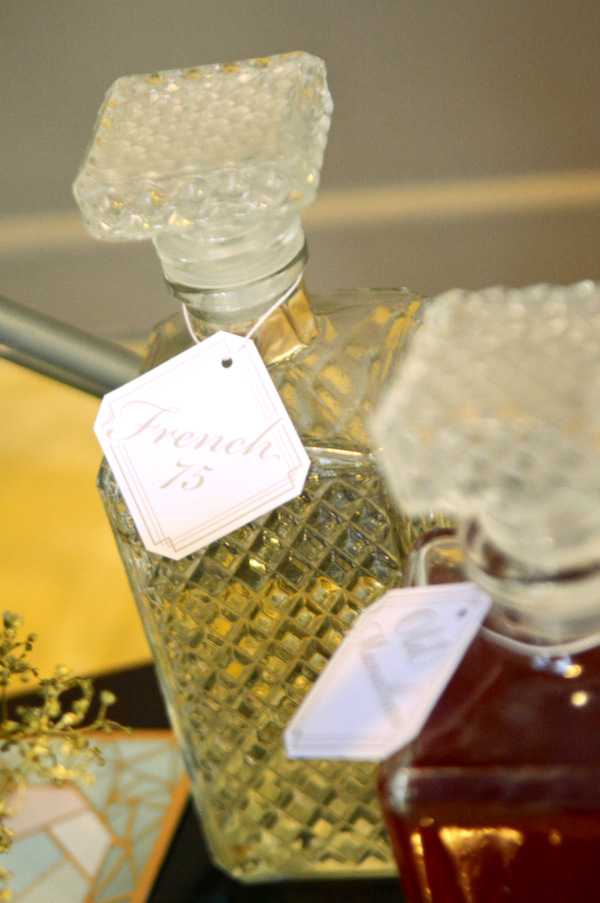 Photo credit: Authentic Love Photography
Once you have listed the types of drinks you would like to serve, calculate the quantities per type of drink. For this, your caterer may help or the wine specialist shop. You can also find online calculators for example look at majestic.co.uk.
6- Where to buy drinks for your wedding?
Supermarkets
Local vineyards, which is a great for tasting before making a decision
Wine specialist shops, which offer a wide selection, including beers and liquors
Online wine retailers
'Foire aux vins' (wine fairs). They take place several time a year, usually in the fall and spring seasons.
It is recommended to look at several places to have an idea of prices and include delivery costs to see what works best for your budget. It is worth checking for storage requirements (volume and temperature).
If you are worried about quantities, and it sure is a tricky point as it is important to ensure you have more than enough on hand for the whole wedding festivities, the ideal option is to buy on a 'sale or return' basis. With a destination wedding you may not want to be left with too many boxes of wines to take back home. So if you know this will be an issue, check the return policies before committing to any quantities.
Photo credit: Boheme Moon Studio
7- Things to remember
Check delivery requirements with your venue i.e. place, date/time, accessibility.
Check storage area(s) with the venue and inform the caterer so the staff do not waste time looking for the drinks when they arrive.
Check your venue capacity to keep drinks at the right temperatures that will be fridges for Champagne, sparkling, white and rosé wines but potential cool storage area for red wines on hot days. Does your caterer have a refrigerated truck? Or will you need to hire extra fridge space?
You may need to get ice, which you can find at local supermarkets or hire an icemaker, not to forget ice containers.
Inform your caterer if you have drinks that require specific glasses e.g. beer, martini or shot glass. If you are in charge of renting the glassware, take it into account and remember also that for each type of drinks you need to get more glasses than the number of guests.
Ask somebody to keep an eye on the quantities during the event, and decide of a strategy in advance if the stock becomes low.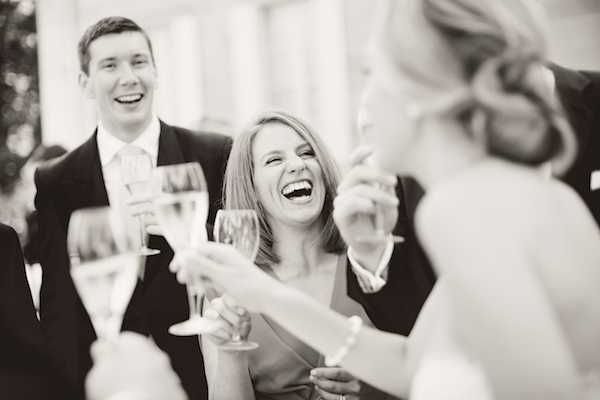 Photo credit: Erika Gerdemark
At a wedding everybody wants to have a good time and drinks contribute to this. However responsible drinking plays an active part to ensure this remains the case.
Finally although this post is predominantly about alcoholic drinks, many of the points discussed will also apply to alcohol free weddings, which some of you may decide to have whatever the reasons (health, religion or you don't drink alcohol).
FABIENNE IS OWNER OF ELIAN CONCEPT WEDDINGS AND EVENTS, WHO IS A BI-LINGUAL WEDDING PLANNER AND IS AVAILABLE FOR WEDDINGS THROUGHOUT FRANCE.  FOR MORE INFORMATION VISIT: WWW.ELIANCONCEPTWEDDINGS.COM
Top Image : Studio Cabrelli