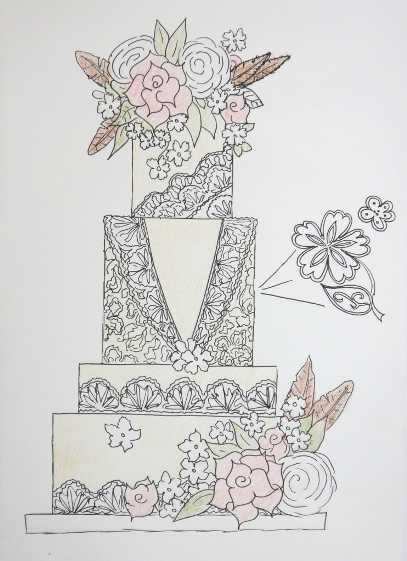 Hello Trulovers and I do so love when it is cake time of the month with Cakes by Beth!  As apart of the recent #teamamour shoot, Beth created some simply beautiful pieces for the shoot and wanted to delve into the mind of a cake designer with today's piece.
I will hand the blog straight over today to Beth as we go behind the buttercream and find out how you go from an email from me, to a iconic wedding cake and transporting wedding cakes long distance.
*****
Beth: "It was a very exciting moment when I received Monique's email about the plans for her very first French Wedding Style Blog shoot…she wanted me to create a wedding cake and complimentary desserts, and work with her on location at my very favourite chateau. Yes please! My mind always races when I receive outline briefs for shoots and weddings.
The key elements that stood out for me were the mention of delicate lace, soft pink florals and green foliage, and a very outdoorsy feel. A couple of French wedding dress designers were also key inspirations for the brief, especially Laure de Sagazan. Her backless dresses and feather-light lace details are absolutely to die for!
Chateau Challain is a fantastic blend of austere neogothic architecture and quirky decorative details and so I used this as a starting point for the main cake structure. I wanted the cake to have a traditional, elegant feel but be something a little more unusual. Therefore, I decided to vary the tier heights, especially adding an extra tall tier to create a tall, narrow silhouette. I was particularly inspired by the structure of my Red & Gold Modern Elegance wedding cake, which I felt had just the right overall feel.
Lace was an absolute must and so I decided to use this as the main decoration all over the cake. I wanted to recreate the same barely there look as for the wedding dresses so hand-piped all the lace details, rather than using moulded edible lace or sugar appliqué details. With a soft ivory base, the pure white lace stood out but the overall look remained very soft and feminine. I also used the backless dress shape as the main focus for the dramatically tall second tier.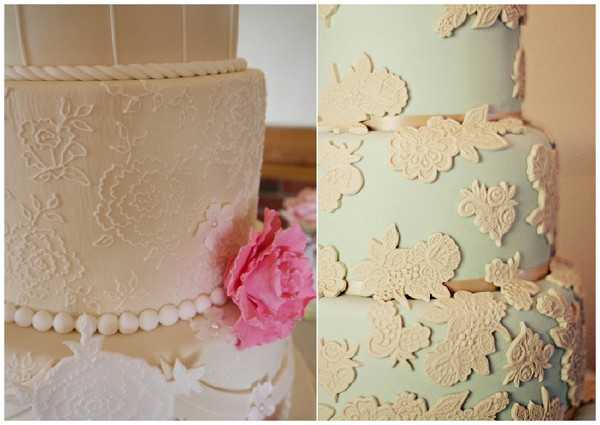 Finally, no elegant French chateau wedding cake would be complete without beautiful floral arrangements. I decided to focus on roses, bringing in some colour with shades of pale pink, soft mocha and splashes of fresh green foliage, toned down with white blossoms and translucent rice paper buds. I wanted the cake to have something a little different about it, something that you don't often see, but I wasn't sure what. Then during the planning process, I saw that Monique had pinned an image of a cluster of brown feathers in a groom's pocket. That was it, feathers! I therefore recreated the look of brown feathers using airbrushed rice paper, and scattered these amongst the flowers.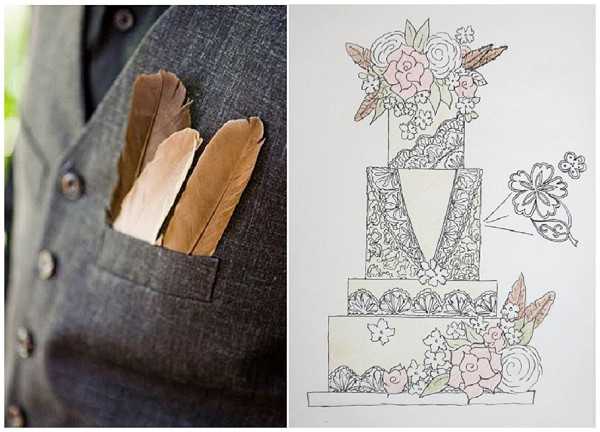 My finishing touches were to trim the cake with caramel ribbon to tie in with the feathers, edge the board in sparkling gold and to pair the cake with a quintessentially French macaron tower in complimentary shades.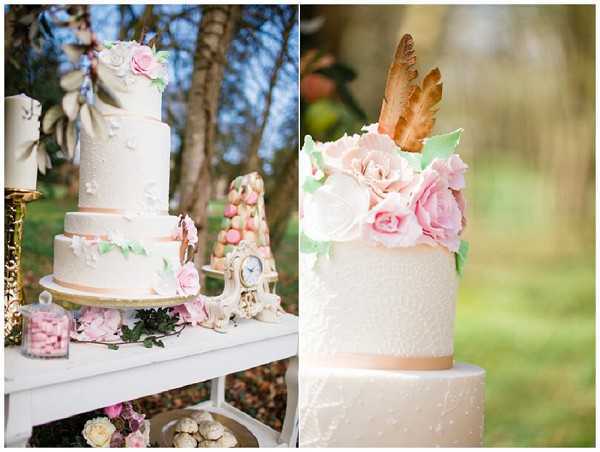 Transporting wedding cakes
A major consideration with creating wedding cakes for weddings in another country is how to transport the cake to its location. This is an aspect that I researched, planned and contemplated a great deal before I offered a French wedding cake service from my UK cake studio. I regularly transport wedding cakes over quite long distances in the UK and so am well equipped for long distance deliveries, but journey times are doubled or tripled by crossing the channel.
Therefore, the cakes are transported in separate tiers, each secured in place in the boot of my "cakemobile", surrounded with ice blocks to keep the overall environment cool on hot journeys, and with delicate decorations stored separately to ensure that they too arrive in perfect condition. By constructing the cake on site, I ensure that the distance in no way affects the quality of the cake that I present to the couple and their guests.
The components of my cakes are also chosen for not only their taste but their contribution to creating a flawless structure. Two key aspects are my buttercream, which is my own meringue buttercream recipe, not too sweet, sets firm and stays air whipped (no sinking layers or bulging sides!), and my ganached sides to keep everything straight, solid and sharp.
If you get the basics right, doing something as seemingly challenging as transporting a delicate wedding cake across hundreds of miles will be stress and problem-free, and it has allowed me to venture into the exciting world of offering English-style wedding cakes to couples marrying in France."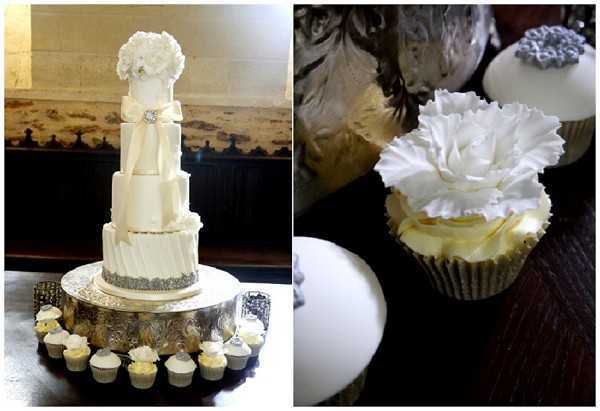 To view more of Beth's stunning cake designs visit www.cakesbybeth.co.uk which are available for weddings across UK and France.