Hello lovelies, we hope you're enjoying a gorgeous summer! To make it even better, today we are heading to The French Riviera for a Luxury Saint Tropez Wedding Inspiration Shoot.
Provence with its beautiful coastline, stunning scenery and amazing weather (not forgetting those famous lavender fields of course) means it's a go-to area for destination weddings. Today we are going to be showing you what the stylish town of St Tropez can offer you with the help of wedding planner Marion of Riviera Exclusive Weddings (Riviera Weddings on Instagram).
Are you planning a destination wedding? Having an experienced wedding planner on hand to help you plan your dream wedding can be a huge help and take much of the planning stress away from you, especially when planning from afar. Marion has collaborated with a number of talented vendors to bring to you some beautiful inspiration, our favourite part has to be the boat ride! How utterly romantic!
Now it is time to leave you in the capable hands of Marion from Riviera Exclusive Weddings who will be taking us through this Luxury Saint Tropez Wedding Inspiration Shoot…
"I am Marion from Riviera Exclusive Weddings, director & wedding planner and I wanted to create this photo shoot to show how I am able to propose to my future clients."
"La Villa Marie Saint Tropez by Maison et Hôtel Sibuet was the best place for the preparations and first look photos because it is a typical Provencal and exclusive venue, It is luxury, cosy, quiet and private. We also took some photos on a boat as well for the fun part of this shoot. Then I wanted a beach for the ceremony and the diner because that is what we want to have if we get married in Saint-Tropez."
"The main thing was to have a real couple to take photos with emotions and kindness in the looks of one and other. We did the preparation in two different bedrooms of La Villa Marie Saint Tropez so they could not see each other before the first look outside, which was really exciting for them because they are not married."
"I wanted sophisticated but natural hair and make up for the bride. Audrey GZ and Carole Nortes did that very well with a little floral composition in the hair that makes the difference."
"For the design and flowers it was something natural with pastel colors and wood. Simplicity is the best. All the venues were very beautiful so they did not need lot of decorations."
"I am in a partnership with La Maison Lavaquerie for the wedding rings. His service is unique in France as he does bespoke rings and is mobile in the world to propose diamonds and gold wedding rings. I choose them two rings in grey gold and diamond. I wanted a videographer because it is a different aspect of the shooting, with sound and movements…"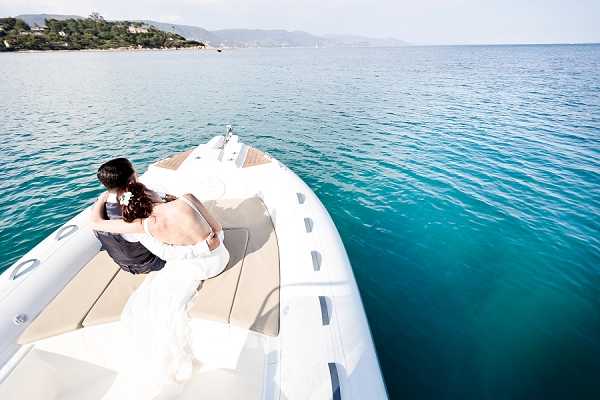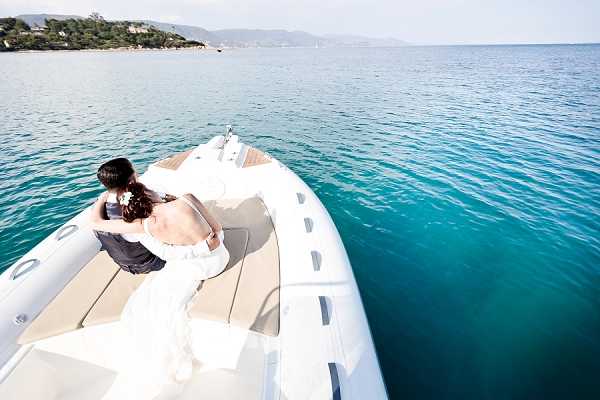 If you want to see more exquisite detail from this shoot, then take a look at the video below by Videographer Julien Rogue:
How do you fancy St Tropez for your destination wedding? Read more about this stunning location here as part of our wanderlust series.
Luxury Saint Tropez Wedding Inspiration Shoot Snapshot
Wedding Vendors
Venue: La Villa Marie Saint Tropez | Photographer: Lawrence Banahan | Photographer: PL Studio Photographie | Videographer: Julien Rogue | Wedding Planner: Riviera Exclusive Weddings (Riviera Weddings on Instagram) | Wedding Dress: La Villa Elisa | Wedding Dress: Marie & Vous | Makeup Artist: Carole Nortes | Hairstylist: Audrey GZ | Design & Flowers: Sweet Com & Events | Wedding Suit: Marie & Vous | Wedding Rings: La Maison Lavaquerie | Model: Lora Bernabo | Model: Romain Salvador | Boat Captain: Axel C-Sernieclaes | DJ: DA SYNCRO