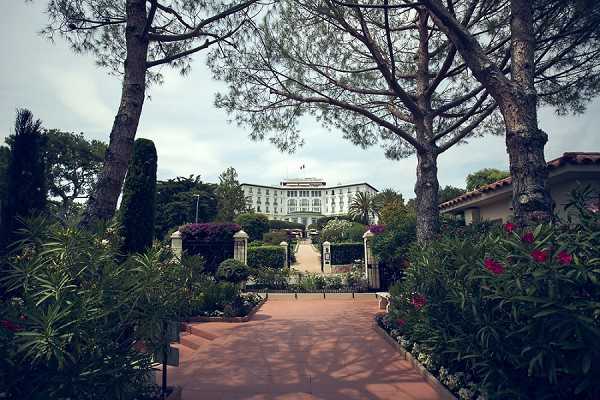 Good morning folks, we are heading to one of our favourite spots in France today… Cap Ferrat! Have you ever visited this chic resort on The French Riviera? If not you must check out this unspoiled destination here in our wanderlust post: Exploring Saint Jean Cap Ferrat.
"Nature and the sea are the real attractions to the area, I know it's this that brings back celebrities and normal visitors alike year after year. If you want a gorgeous location to relax, unwind and connect this is your heaven."
Today's glamorous wedding was held at the Grand Hotel du Cap Ferrat where our bride and groom Paola and Marc tied the knot in an outdoor wedding ceremony overlooking the ocean. Paola wore a stunning lace gown from Wedding Room Sposa with Yves Saint Laurent heels which perfectly matched the elegant theme of the day.
Not only are we in love with the stunning scenery, the grand hotel and extravagant floral arch but also the beautifully decorated Restaurant Le Club Dauphin. We love Paola and Marc's classic colour scheme which perfectly compliments their day. All the little touches and emotions of the day were captured beautifully by FWS vendor and talented wedding photographer Independent Pictures.
We'll now pass you over to wedding planner Caterina Reviglio Sonnino who will be walking us through this Grand Hotel du Cap Ferrat International Wedding…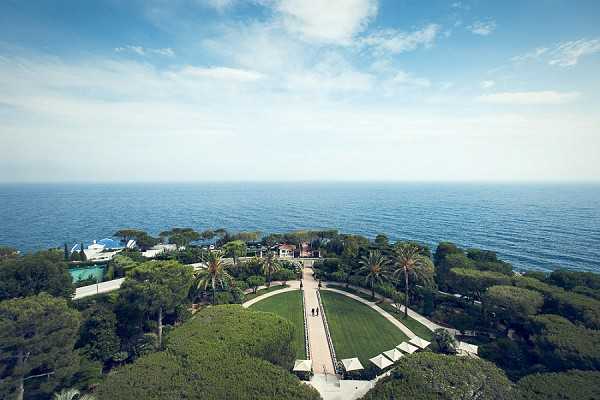 "Marc and Paola are an amazing couple who decided to get married with a symbolic ceremony on a terrace at Grand Hotel du Cap Ferrat, Fourseasons. The day before they had got married in Principality of Monaco town hall."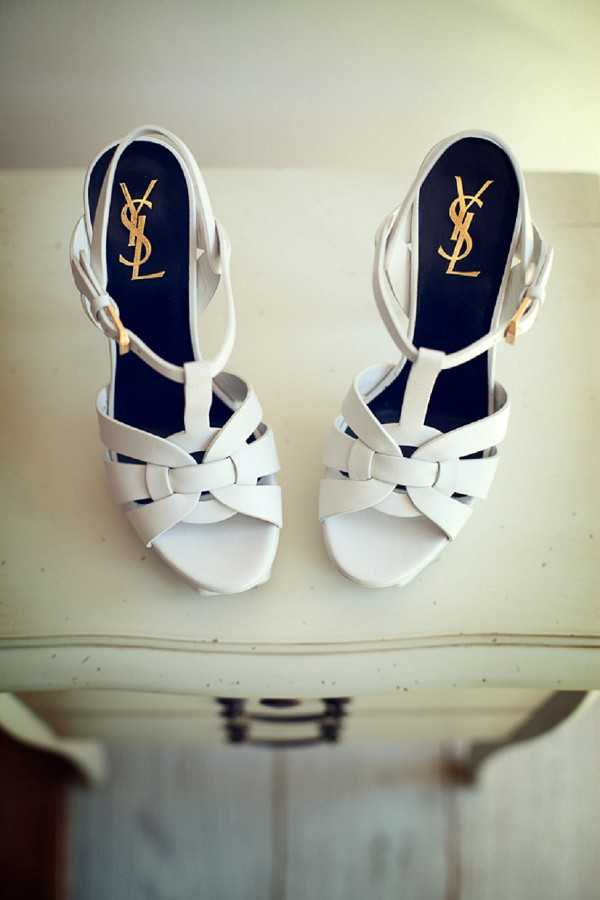 "Paola, the bride, is a beautiful Italian girl and Marc, the groom, is English, actually he has Italian origin but he doesn't speak Italian at all. Paola is a professional horse rider winning many international horse jumping obstacles, she loves horses."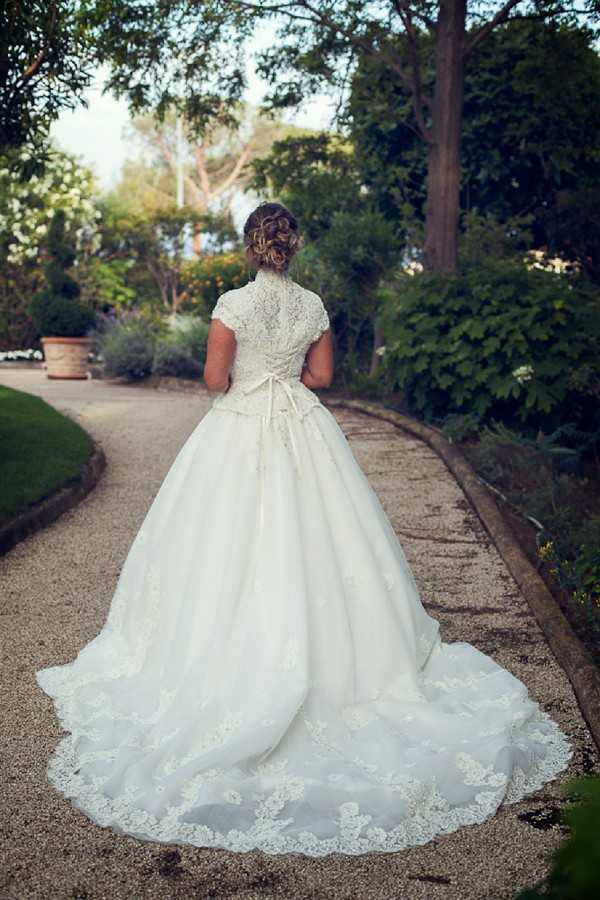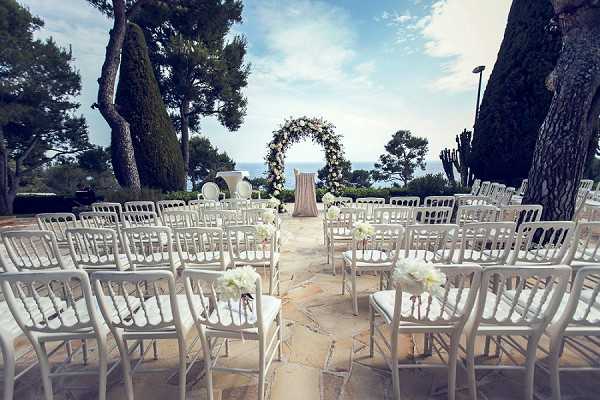 "Paola chose bouquets and flowers with white and pink nuance created by Mariella Aprosio France, she had two white wedding gowns, one for the ceremony and another one for reception and blush bridesmaids dresses from Details Torino."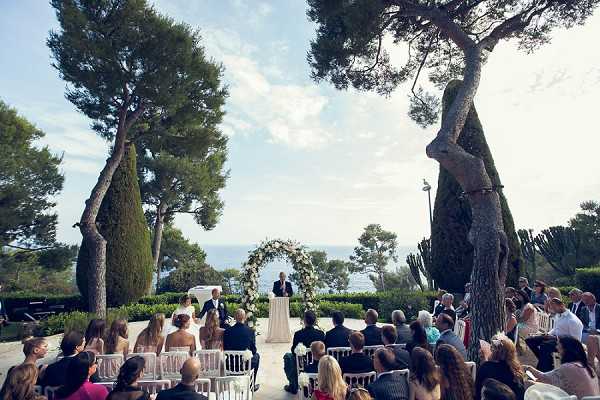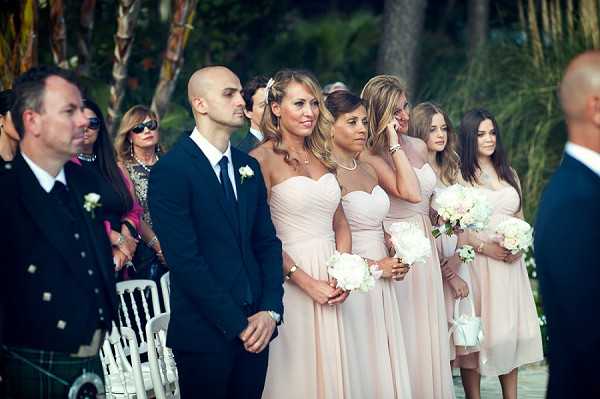 "Guests came from all over the world English, Italian, Scottish, French, Australian and so on. It was a fantastic and sunny day. Paola got ready with bridesmaids at the wedding venue and Marc at home. The ceremony was held on a beautiful terrace overlooking the sea of The French Riviera and after the ceremony was served aperitif and canapés beside the terrace at the hotel garden. In the meantime photographers took pictures of the bride and groom alone and some group photos."
"Then everybody moved to the Restaurant Le Club Dauphin, it's on another level of the hotel just by the pool with such an amazing view of the Mediterranean sea."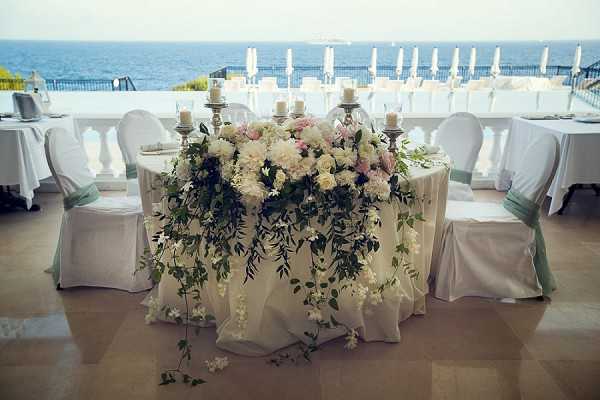 "During the dinner, between courses, four very talented musicians played unplugged music around guests tables and everybody enjoyed the music."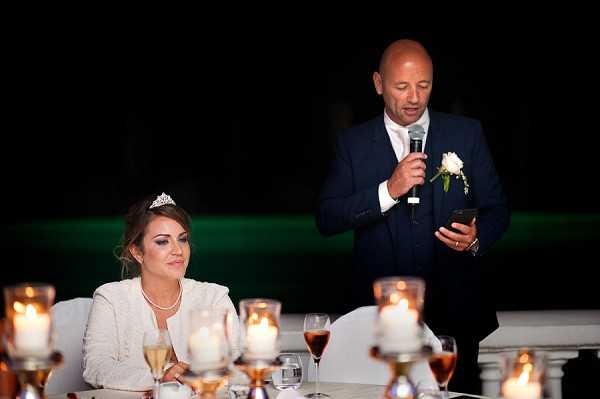 "At the blue hour the newly weds had a few pictures with photographers just by the pool. After dinner a very special guest arrived, he is Umberto Tozzi a very famous Italian singer, "Gloria" is one of his best songs and Paola and Marc had their first dance. During his little concert everybody enjoyed the dance floor and the after party continued with a dj set and a lot of champagne."

Congratulations Paola and Marc from everyone here at French Wedding Style!
For even more south of France wedding inspiration check out this Chateau Eza Wedding here.
Grand Hotel du Cap Ferrat International Wedding Snapshot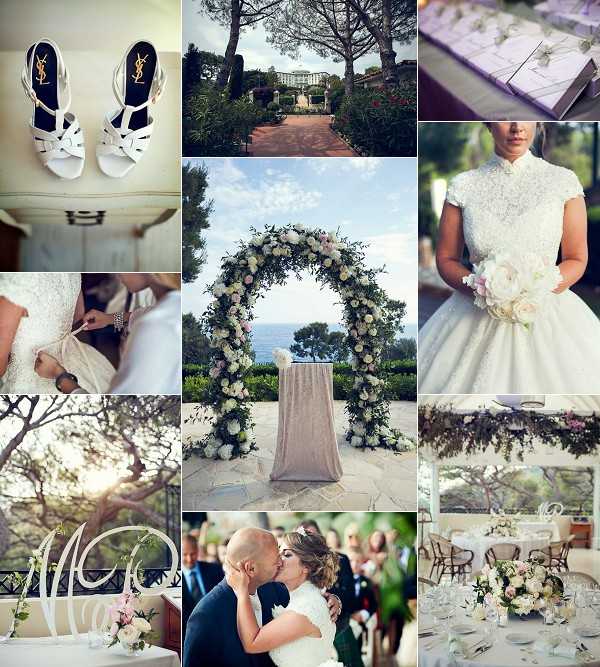 Wedding Vendors
Photographer: Independent Pictures | Planner: Caterina Reviglio Sonnino | Ceremony Venue: Grand Hotel du Cap Ferrat | Reception Venue: Restaurant Le Club Dauphin | Brides Dress: Wedding Room Sposa | Shoes: Yves Saint Laurent | Grooms Outfit: Dolce and Gabbana | Bridesmaids Dress: Details Torino | Florist: Mariella Aprosio France | Make Up: Joe Ghannam
Save