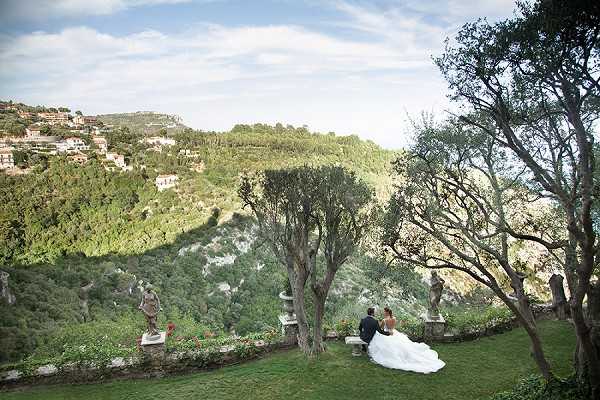 Happy Monday everyone. I hope you are all well and happy and ready for a fun packed week ahead. We have a gorgeous week planned for you on the blog starting off with this fabulous South of France wedding at Chateau Eza and Chateau de la Chèvre d'Or from Philip Andrukhovich.
This stunning venue is based in Èze, a commune in the Alpes-Maritimes department in southeastern France. The 400-year-old chateau overlooking the Mediterranean Sea is a lavish boutique hotel just 8km from Monaco and 20km from the Italian border at Ponte San Ludovico. The beautiful bride and grom also had a photo session in Chateau de la Chèvre d'Or as pictured in the image above.
Our beautiful bride Sarah wears a stunning backless Pronovias wedding gown for her hill top ceremony, I'm sure you'll agree the views are just breathtaking, what a perfect spot to say I Do!
So grab a glass of something cool and lets head off to the French sunshine for a few moments…
Sarah and Pedro wanted a small wedding with just a few family and friends attending. As they lived in Nice a few years ago it made perfect sense to go back to this beautiful area. Eze village was their first choice because on visiting they fell head over heels in love with the area. They quickly contacted the venue who were very well prepared allowing Sarah and Pedro to proceed with their wedding plans right away.
The couple explained how everything went perfectly and that it would be impossible to choose a favourite moment out of their day! It's safe to say they had a magical time on the French Riviera.
Our bride Sarah shares her advice to other couples planning their wedding en France…
"We were very lucky, because in just three months we organized the wedding with the hotel. If other couples wish to marry in Eze, I highly recommend the hotel Chateau Eza. They gave us all the information needed from the florist to the photographer (I recommend both). I did not want my hair done in the room, so I went to the village salon… my hair stayed better than I had imagined. The dinner at the hotel was fabulous. Also, I'd recommend to put on background music for your guests on the terrace during the cocktail hour."
Photographer Philip Andrukhovich shares a few of his memories from the day…
"Eze village is one of the most beautiful places for a wedding on the French Riviera. There are old streets, wooden doors and stone walls. Around every corner you can find a new story, a new picture. A beautiful couple in wedding attire harmoniously and easily fits into the scenery."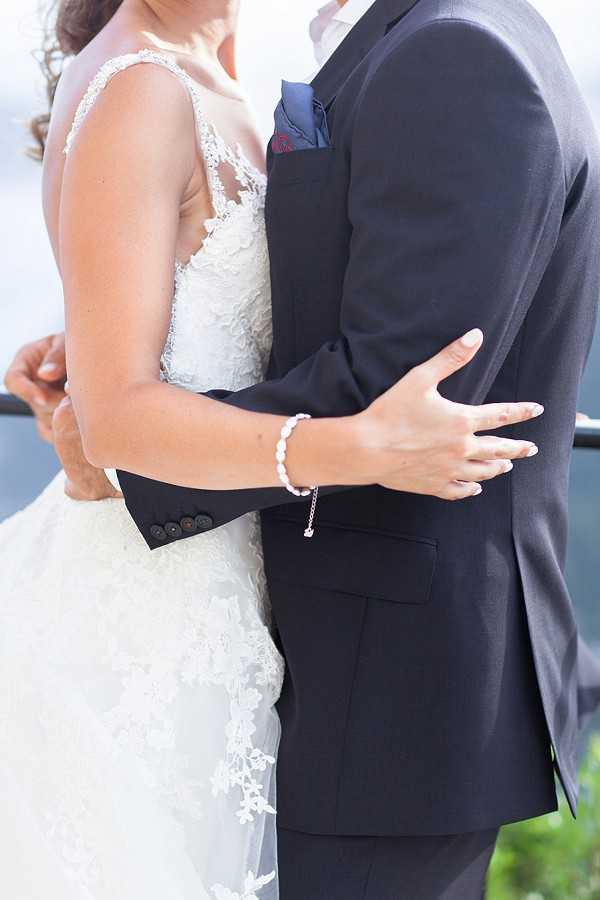 "In addition to the old streets of the city, we had a photo session in the beautiful gardens of Chateau Chevre d'Or. This is a magnificent garden. The most important event of the wedding day – the ceremony was held in Chateau Eza. It offers a magnificent view of the sea and on the peninsula Saint Jean Cap Ferrat. Saying your vows at this breathtaking spot evokes great emotions for the couple and leaves an everlasting impression."
"I am grateful to Sarah and Pedro for their confidence to photograph their wedding day. They were open to new ideas and filled with love for each other. It's easy to photograph a couple when they trust and love each other so that it can pass on this love all around."
To view another amazing wedding at Chateau Eza click here.
South of France Chateau Eza Wedding Snapshot
Wedding Vendors
Photographer: Philip Andrukhovich | Ceremony venue: Chateau Eza | Garden shoot location: Chateau de la Chèvre d'Or | Wedding dress: Pronovias | Celebrant: Rupert Wynne-James | Hair and Make-up: Le salon Leroy S | Florist: Mme Ferris Mara | Accommodation: Chateau Eza
Save
Save
Save