I hope that you have had a chance to browse through the new blog layout and read the rebranding post.  I have a wonderful post to share with you today from Lexi De Rock, an American hair and makeup artist living in Paris who is sharing how to choose your hair and makeup artist for your destination wedding.  Lexi started her career in beauty early, creating hair and makeup as well as wig design for various theater companies as a teenager in Northern California.  She decided to turn her passion for creativity in beauty into a full-time career she could love doing each day.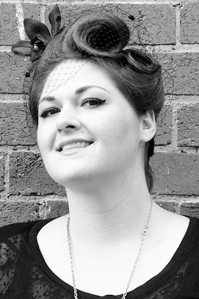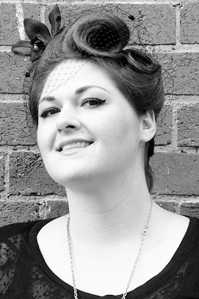 While in Paris Lexi has had the privilege to work with such amazing designers as Max Chaoul Couture, Delphine Manivet, Eden Wynter, JMade, and Loxwood designing beautiful hair and makeup for their collections.    I went to Lexi to find out how does a bride find a makeup artist based in another country for one of the most important days of her life?
Lexi: "So you've found the perfect mate, you've set the date, and booked the location now you have to find the perfect hair and makeup artist too!?  Well fret not, because I'm about to give the the holy grail of how to's so with a little advanced planning and my guide to getting what you need from your stylist, finding the right hairdo won't take nearly as much effort as finding the right dress. So where to start?  Finding the right hair and makeup artist can be tricky enough when you are getting married in your own town but if you are having a destination wedding it can be even trickier.
The best place to start is to use your resources. If you have a wedding planner they should surely have suggestions for you of people in the area that they have worked with before, if not, ask google.  Google always has suggestions.  You now have the world at your fingertips on the other end of your computer so take advantage of the fact that you can shop for your makeup artist from your pj's on your laptop rather than hoofing it all over town to check out salons.
Take their suggestions but don't take their word for it!  Ask to see their work.  Any hair and makeup artist worth their stuff is going to have a website or portfolio where you can see examples of what they can do.  If they don't they're probably either new to the job, horribly disorganised, or technologically challenged..none of these are qualities you want in a stylist when you are having to organise from abroad. So, you've found someone who's work you like…now what?  BOOK THEM.
Booking your hair and makeup for your wedding in as much of an advance as possible is as smart as booking your venue in advance.  Good stylists get booked up, especially during the height of wedding season (May-Oct unless you're in Australia..then flip flop it).  If your wedding is on a Tuesday in December you can probably find someone close to the date but if you are getting married the first Sat in June you'd be smart to lock them in or risk loosing out to someone else.
As a side note I recommend finding one person to do both your hair and makeup as opposed to two different people if you can.  It just gives one less person to worry about and makes organisation easier and saves space on the day not to have too many extra people taking up space in your hotel room or apt.  If you can't find one person or if you have a very large wedding party and you feel you need two people to keep things running on time be sure to coordinate the two people together.  Cc them on emails, make sure that they organise to work together to keep the day flowing as smoothly as possible.  And be sure that if you have two people coming they both have a work space and a chair for whoever they are working on.  Your makeup artist might need natural light and want to be close to a window, your hair stylist will need outlets to plug in irons and things so if you coordinate that all in advance it will save stress on the day.
Now you've got them booked, how do you communicate what you want when you're 3000 miles away?  I cannot stress it enough ASK QUESTIONS AND SEND PICTURES!
Don't be afraid to annoy your stylist with too many questions, you've booked a professional for a reason so take advantage of their knowledge and experience and ask every question you have and send images of what you want.  Now, that being said, try to organise your questions and pictures into a few concise emails.  One email every other day with one questions is a bit more of a pain to answer than one big email with a list of all your questions, ideas and concerns. Your stylist can give you lots of ideas but in the end it's your day and you need to think about how you want to look and what you are comfortable with and communicate that.
My thoughts on both hair and makeup for weddings tend to run along the lines of "Look the very best version of yourself, but don't look like someone else".  I love red lipstick and false eyelashes and thick black liner, but if you're a chapstick and tinted moisturizer kinda gal I don't recommend it.  Likewise if you've worn your hair in an adorable pixie cut for the last 4 years and that look is a signature for you, think thrice before deciding to grow it out to look like some girl in a bridal magazine.  Odds are you won't feel like yourself and you'll end up feeling you look less like the girl in the magazine and more like your cousin Debbie at her junior prom.
© One and Only Photography Paris
If you want to wear false lashes, make it known before hand as she may not carry them standard in her kit.  I always tell my clients to bring and choose their own since there are so many styles and thicknesses and lengths.  If you intend to wear a hair piece or if you have extensions these are all things good for your stylist to know beforehand.  If you want to know what kinds of products are used or if you have special products you want to use this is something best discussed in advance I've put together a list of questions for you in case you're having trouble thinking of where to start.  It doesn't include everything but most of the big ones you should ask your hair/makeup artist before the big day are here and anything individual to you you can add.
TOP FIVE QUESTIONS TO ASK YOUR HAIR/MAKEUP ARTIST
1 – How long will the service take? It is always best to have an idea of how long hair and makeup will take for you and any other bridal party members so you can start at the right time and leave plenty of time so there's no "Will we be on time?" stress.
2 – Can I/should I bring any of my own makeup? If you have sensitive skin or need hypo allergenic makeup then you probably already know that and may already have found products that don't irritate your skin.  If so it may be best to use them as you don't want to risk any sort of reaction to a new cosmetic on the day of your wedding.  Also unless your makeup artist is going to stay through the ceremony and for pictures I recommend you choose your own lipstick before.  Between toasts and eating and nervous chewing on your lip you'll probably want to retouch several times throughout the day.
3 – Are you going to stay though the ceremony/pictures/reception? This is one that will depend on how much attention you feel you need and what your budget is.  Some brides are good to go once their hair/makeup is done with a little lipstick touch up before pics, but if the weather is hot and/or the wedding is outside hair can get blown around and makeup a bit runny.  Blotting tissues are great for that, but if you plan to change your dress/hair for the reception it may be worth the investment to keep the makeup/hair artist on for the whole day and have touch ups for pictures and reception.
4 – Will you leave me any extra pins, powder etc? Some makeup and hair people will, some won't, but most will if you ask.  At the least I always leave my client with extra hair and bobby pins in case some hairs come stray during the day.  Tuck a few into your bra or purse or have one of your bridesmaids keep them for you.  It's always good to prepare for "Just in case"
5 – Should I wash my hair/face before? This is a big one for most hairdressers and everyone has their preference.  Some hairdressers prefer freshly washed hair that they can blow dry and start from scratch.  Personally I find hair that's one day dirty is easiest as the natural oils don't make the hair to slippery or fly away and I like to start with a clean moisturised face.  But this is something to decide with your stylist.  If you know your hair gets greasy and flat if you don't wash it every day then tell her that and if she needs to dirty it up with product to get the pins to stay then she can.
© Manivet
So to trial or not to trial?
I think a trial is a wonderful thing!  If you can, spend the little extra time and money and have a trial of the hair and makeup that you think you want beforehand it can make the wedding day go smoother and be less stressful.  Maybe something looks great on someone else but doesn't suit your face shape or a makeup trend is cool, but just not right for you.  Better to know these things in advance than on the day of when you should be stress free.
Whoever your hair and makeup stylist is should be able to help you to find the look that suits you best. If you can't do a trial due to time or location issues a pictures are your best friend.  If you can, send pictures of the hairstyles you like (front, back and sides if possible) or pics of things you almost like and point out what you like and don't in the pics.  Also a relatively recent picture of yourself so the hair/makeup person can have an idea of your hair texture, thickness and length before he/she shows up on the day.
I know this has been a little on the long side, but if you've stuck with me you should have all the tools you need to find your stylist for your big day!  In the end you'll be much less stressed if you know what you are doing in advance and you feel comfortable that the person making you up that day has heard and understood what you are after.  Every woman wants to look her best on a day when everyone will be looking at and taking pictures of her and you can if you prepare a little. So just to reiterate if I may.. Say "I DO" to a trial and believe me you'll be happy that you did.
Pictures, Pictures, Pictures!  Whether you have a trial or not pictures of what you're after will save you a lot of time and headache.  Questions, questions, questions!  Lastly, Take the advice of the professional you hire.  If she tells you that your hair will not hold the style that you want or that you don't have enough hair to achieve a certain look, believe her.  But at the same time it's your day so if you have your heart set on something specific speak up or forever hold your peace."
Book mark this post and share it with your friends!  It is a must read for any bride looking for a makeup artist abroad.
I would like to thank Lexi for her insightful post and to find out more about Lexi visit www.lexiderock.com