Today we are lucky enough to witness three important stages in the romantic tale of real couple Declan and Marie – their engagement, their wedding and their reception. Sprinkled with fun and intimate moments such as buying a croissant from La Framboisine Boulangerie, Sylvia Calmet has captured this day perfectly…
"I had the chance to photoshoot their engagement session at the Calanque de Port d'Alon before our 3rd lockdown in France & their wedding at the beginning of this lockdown. This is their story & their vendors…
Marie and Declan: Our Meeting
After an initial telephone conversation, Marie and Declan told me that they wanted to choose me as their wedding photographer. Recently returned from Australia, this lovely couple had settled in Provence for a while, where Marie's grandparents live.
Originally from France, Marie grew up in England. Although we are both French, we speak almost exclusively in English. This is much easier for Declan who unfortunately doesn't speak French. He is from the UK. Of course: I am delighted!
When I photographed their engagement session it was quite funny when I exclaimed "Ohlala c'est beau" That one was in the " Calanque de Port d'Alon" just at the sea. Declan was looking at me with big eyes "what is she saying?"
Their Engagement Session in Provence
For this wonderful couple there were different options. A very urban session in Marseille in the middle of the Cours Julien and the graffiti, another one more standing at the Palais Longchamp or a very natural one in the Calanque of Port d'Alon.
They don't know it at the time of their choice but it doesn't matter: all three suit me! The nature, walking and seaside side always wins a little in my heart.
So they chose this natural setting between Bandol and Saint Cyr for their engagement session. A real wild cove, Port d'Alon has everything I love: an arrival in the middle of a pine forest, a huge beach and more or less inaccessible corners in the rocks.
The view is sumptuous and the atmosphere ultra peaceful. It is a green stopover for nature lovers. In short, the ideal place for an engagement session.
Bonus: this cove is very accessible and parking is free (at least in winter).
Their Engagement Session at the Calanque de Port d'Alon
We meet on a Saturday morning. The weather is splendid and the light very nice! I had therefore chosen the time of the meeting according to our friend who only changes places: the sun.
Marie and Declan are dressed up as bride and groom but ready to follow me in all my ideas. From the seaside with a view of the calanque this session is fun and very beautiful.
My joys: a groom who was delighted with the location, who didn't feel obliged to pose and for whom the session was easy & a bride who spoke to me about the need for the engagement session before I had even started to make a single image of this wonderful couple.
Their Wedding in Le Pradet, Var
As Marie said, the advantage of the engagement session is that you know your photographer before the big day. Sanitary conditions and respect of the rules, I went to the pretty village of Le Pradet for their wedding in early April. They wanted a small wedding, whether it was for the town hall or for the house they rented afterwards.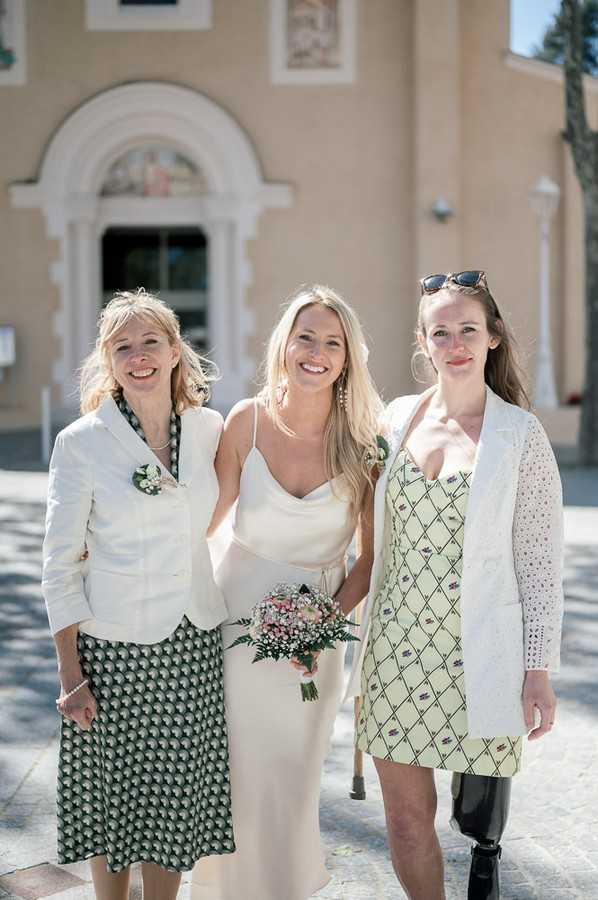 For their wedding day, they gathered their essential family members who were able to travel. There were 10 of them, and this was authorised by the Town Hall on that day.
After an emotional ceremony, two "I do's" and the exchange of wedding rings, Marie and Declan took advantage of this beautiful sunny day to take some pictures in front of the Mairie (town hall)… but that's not all!
Wedding in France: Why not take a break at the bakery?
A few pictures later and a croissant bought in a wedding dress, it's time for her lovers to relax in the house they reserved for the occasion.
The house they picked online is cosy and charming. They had champagne outside & a perfect lunch made by a French caterer. Marie's mom wanted her to have a traditional pièce montée (cake) like the one she had for her wedding 30 years ago & she found a French bakery to have it done for that perfect day."
A Croissant Bought In A Wedding Dress Snapshot
A Croissant Bought In A Wedding Dress Vendors
Dress Shona Joy | Rings The Diamond Store | Suit Tommy Hilfiger | Caterer Nicolas Charchira for Near Chef | Photographer Sylvia Calmet