Hello to you all on this Tuesday morning, can you believe we are in the middle of March already? As we are a quarter of the way through the year, we are bringing you 7 Wedding Floral Installations that you will adore! We've seen so many different florists already this year featured on the blog and we know how much you all love your wedding floral installations at the moment. The on-going trend is still managing to surprise us, with unique concepts every time we are submitted a wedding. We are loving all of the floral work submitted to us at French Wedding Style, so without further ado we bring you our favourites…
Creative Lighting Wedding Floral Installation 
This wedding floral installation was inspired by a very creative wedding design concept in a venue located within the French Riviera. The idea behind this floral design was to create a magical and modern paradise for the shoot itself. The lighting combined with the dried florals gives an intimate and magical atmosphere that will certainly impress your wedding guests. Audace Floral has some impressive work and was a perfect fit for this fantasy theme.
Inspiration from a paradise of birds wedding on French Riviera
| Florist Audace Floral | Photographer Jeremie Bertrand | Photographer Lesley Photography |
Modern Floral Arch Installation
Just because you are getting married in a French Chateau, does not mean that you can't have a wedding floral installation. You absolutely can! Earlier this year we featured the wonderful work by La Plume Fleur which was your classic French chateau wedding with a twist. This shoot featured wild fresh flowers with copper elements combined to create a beautiful backdrop. Like with most floral arch installations they can be setup for photos or for your ceremony. The possibilities are endless and guests cannot miss the photo opportunity.
Château de Verderonne Wedding Inspiration
| Florist La Plume Fleur | Photographer Saya Photography for Studio Ohlala |
Paula Rooney Luxury Wedding Floral Installations
We love Paula's work and we are so excited to share her work with you again this year. Paula is well known for her luxury wedding floral installations and she does an impressive job at designing anything you can imagine. As award winning florists, Paula and her teams are known for their bespoke floral designs, with each wedding floral installation being totally unique to that individual event.
Paula Rooney Luxury Wedding Floral Designer France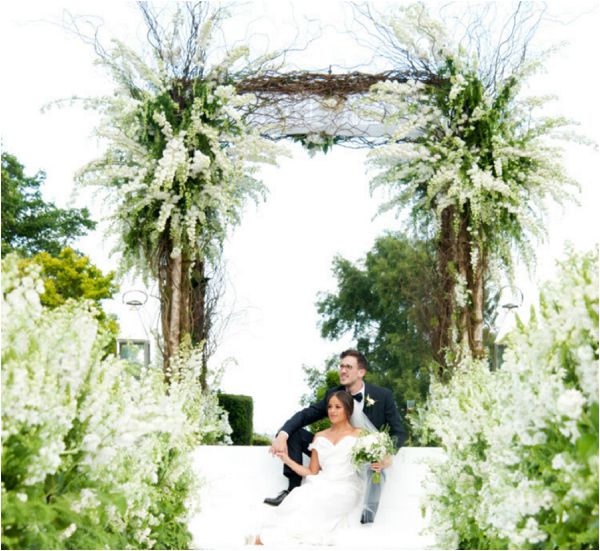 | Florist Paula Rooney | Photographer Robert Shack Photography |
Candle Wedding Floral Installations
Candles, candles, candles… we love them. We really do, combine them with a floral installation and you have the perfect setup for a romantic inspired wedding. This floral installation by Fleurs de Fée was created using plum and nude tones for a rustic French inspired wedding. We love the way this is incorporated with the stone wall behind and offers a unique backdrop to this stunning shoot.
Plum and Nude Inspirational Shoot
| Florist Fleurs de Fée | Photography Madame A Photographie |
Flower Chandelier Wedding Floral Installation
Remember this Romantic Wisteria shoot that featured the popular hanging floral installation? If you don't then you need to check out the original blog post! Wisteria is loved by so many couples and what better way to add to the concept than a hanging floral chandelier inspired arrangement. This was actually created by C'est la Vie Weddings which we find very inspirational indeed.
Romantic Wisteria Inspired Wedding Styled Shoot
| Flowers C'est la Vie Weddings | Photography Zwart Fotografie |
Cascading Springtime Floral Arch
It's always refreshing to see brighter colours when it comes to a springtime wedding. This French cascading wedding floral installation lives up to the expectation! It was important that Fresh Designs Florist incorporated the springtime feel into the design of the floral arch. Combining this together with the country feel of the venue and bold spring colours it created the perfect floral setup.
Stylish French Riviera Wedding Inspiration Shoot
| Florist Fresh Designs Florist | Photography Femina Photo + Design |
Doorway Wedding Floral Installations
This doorway wedding floral installation has been created by one of FWS very own florists Dandelions & Grace. Dandelions & Grace focus on modern natural floral designs with a elegant and romantic feel. The shoot featured was set in the Provence and we love the blue hydrangeas featured in this doorway arch. The great thing about having a doorway floral installation is that most of the time they can be moved after your ceremony. Always speak to your florist about this beforehand!
Inspiration for a Destination Wedding Provence France
| Florist Dandelions & Grace | Photography In Love Photography |
We are always looking to see the best wedding floral installations. We hope that you have been left with enough inspiration for your French style wedding! If you'd like to see more, subscribe to our newsletter for details of the latest blog posts.