Who am I kidding, I am in love with a flower headdress for brides, bridesmaids, flower girls and generally the more occasions for a girl to wear flowers in her hair the better!
I don't like the word 'trend' but floral headdresses are being seen with more frequency as the shabby chic and rustic country bride's hair accessory of choice, not to mention bridal designers such as Claire Pettibone in her An Earthly Paradise collection at New York Bridal Market.
And today, we'll dive into that enchanting realm, exploring different styles, including floral headpieces, blue flower headdresses, and the boho wedding flower crown, as well as providing a beginner's guide to creating your own floral headpiece.
Floral Headdress: A Touch of Nature's Elegance
A floral headdress is the epitome of romantic sophistication. They are versatile and can be tailored to fit any wedding theme, from a traditional church ceremony to a beach wedding. The choice of blooms, their arrangement, and the foliage can all be personalized to match the bride's style, the season, and the wedding's color palette.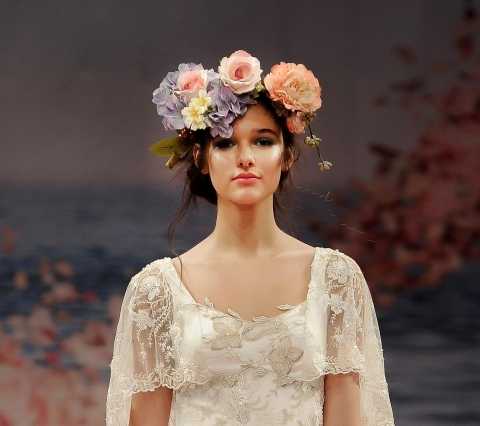 Claire Pettibone
Crafting Your Own Flower Headpiece
For brides who love a touch of DIY, creating your own flower headpiece can be a fulfilling pre-wedding project. Start with a wire base that fits your head comfortably. Then, use floral tape to attach your chosen flowers and foliage. Be creative with your design but remember to keep the weight balanced for comfort.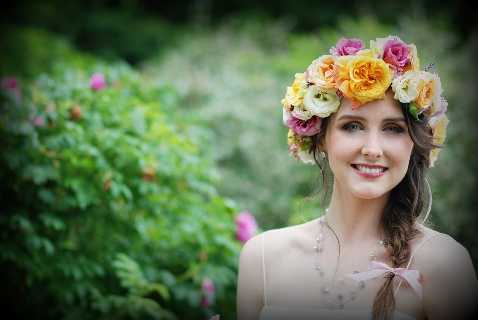 Bridal Flower Headdress: A Timeless Choice
The bridal flower headdress, be it a full circle of blooms or a half-circle arrangement, is a timeless choice that never fails to enchant. It's an ethereal addition that complements a wedding veil or stands alone as a centerpiece of the bridal hairstyle.
Festival Flower Headdress: A Burst of Joy and Color
The festival flower headdress takes its inspiration from music and arts festivals worldwide. It's characterized by its joyful, colorful mix of flowers and its free-spirited vibe, making it a perfect choice for outdoor, festival-themed, or bohemian weddings.
100 Layer Cake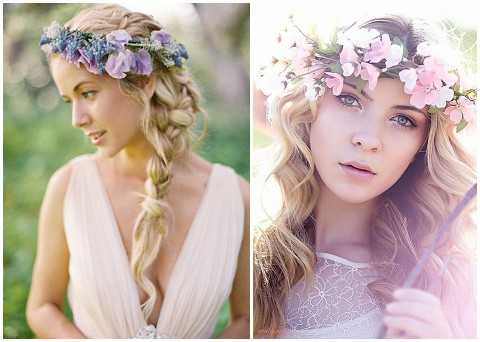 Style Me Pretty

,

500px

,
Artificial Floral Tiaras
If you are travelling for a destination wedding or looking to reuse your floral headdress, then there is an amazing variety of silk and fabric flower halos to fit your requirements. I love the super dainty floral wreath below from Mignonne Handmade, it has a rustic, woodland style ideal for a Provence countryside bride. But the next wedding related event I am going to the Caroline Hair Flower from Lo Boheme, shall be mine!
Boho Wedding Flower Crown: Unleashing Your Inner Bohemian Goddess
Finally, the boho wedding flower crown. This is for the brides who dream of a wedding day where they can unleash their inner bohemian goddess. The boho flower crown often features wildflowers, greenery, and sometimes, feathers, all arranged in a relaxed, flowing style that screams 'boho-chic'.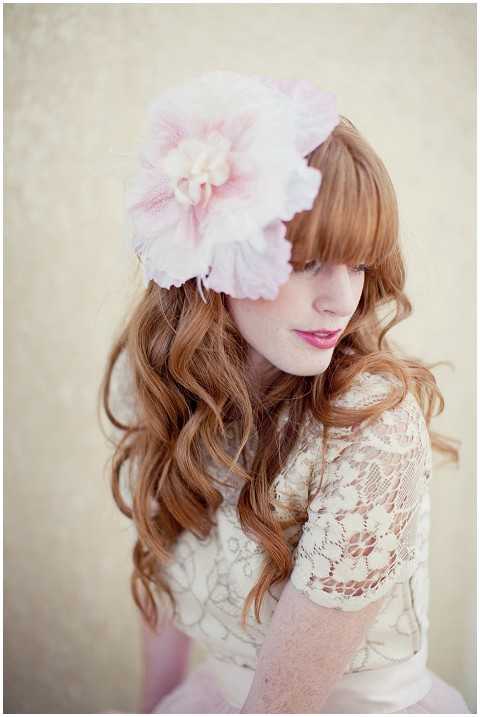 Lo Boheme
Floral Headpiece: A Sculpture of Blooms
Floral headpieces, on the other hand, are a more structured take on the floral headdress. They often feature a combination of flowers and other elements such as pearls, crystals, or feathers, creating a harmonious blend of textures and colors that can be a show-stopping addition to any bridal look.
 Bridesmaids
No matter how old your bridesmaids or flower girls, a delicate floral tiara or headband unites all their outfits and adds to the stylised rustic wedding style.

The world of floral headdresses for brides is vast and full of enchantment. They bring nature into the bridal look, adding a unique touch that's bound to turn heads. So, whether you're a classic, bohemian, or avant-garde bride, there's a floral headdress out there that's blooming just for you.
Are you having any flower headdresses at your wedding?
Monique xx