Woman with a Parasol is an oil-on-canvas painting by Claude Monet from 1875 and also happens to be the inspiration behind this stunning garden wedding at Chateau Forge du Roy in Dordogne, France. The light, bright pastel colours and the green of the woman's parasol are brought to life in this shoot presented to us by Best Events Co. Luxury Weddings…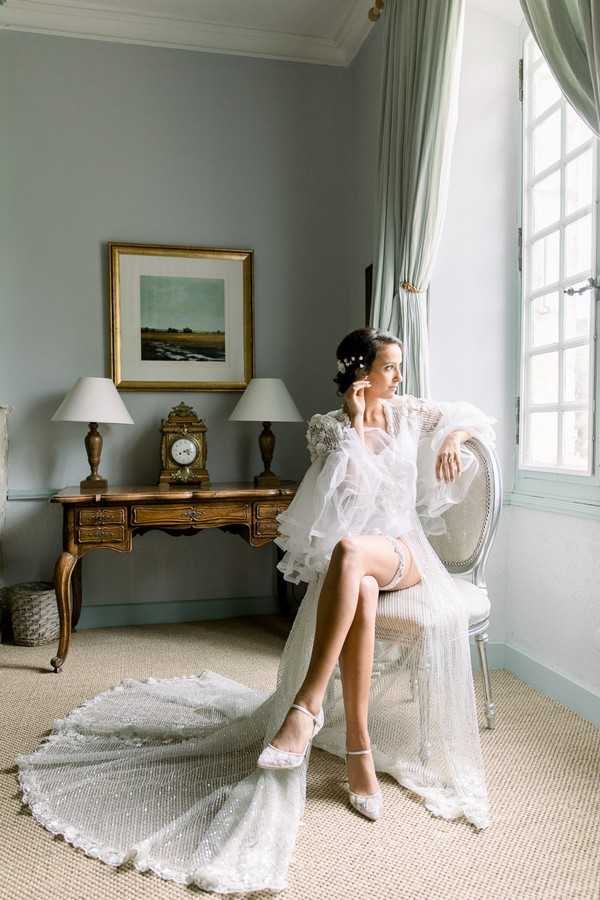 "The inspiration behind the photoshoot at Chateau Forge du Roy, nestled deep in the countryside in the Dordogne is Claude Monet and his cohesion between nature and vibrant colours which appear in his whimsical paintings, perfect for a fine art photoshoot.
The gardens at Forge du Roy are beautiful with weeping willow trees, a trickling stream crossed by a little bridge, an impressive forest as a backdrop and many different external areas which are like rooms making it a perfect place to capture the magic of real life couple, Brenda and Guillaume and their adorable pug!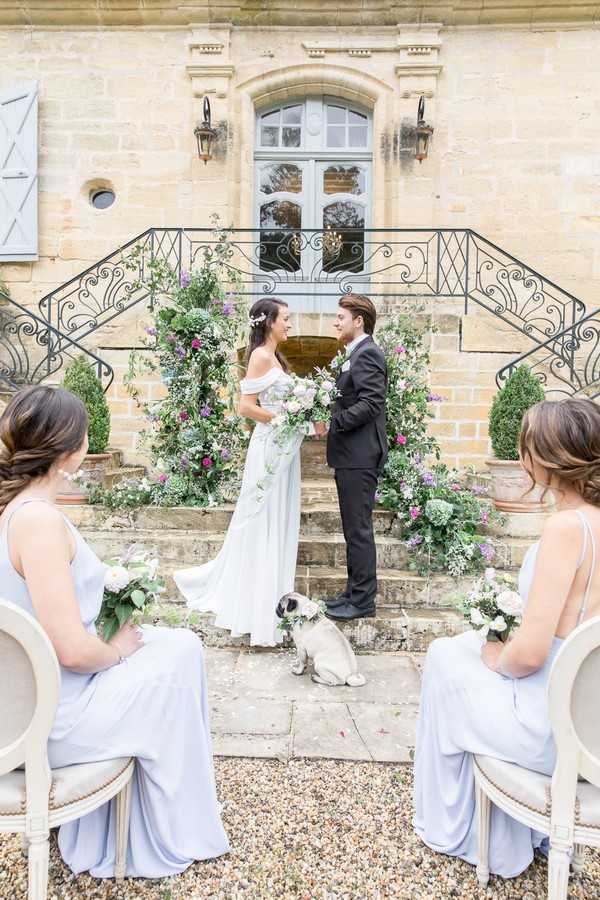 The wedding dress was an off the shoulder boned white pure silk dress with a thigh high side split from the British designer Constellation Âme. Brenda had very natural hair and make up from Alexia Bigaud Morin and a delicate headdress by Viviembellish. Her shoes with floral detail are by Bella Belle.
Planning and styling were by Best Events Company who concentrated on a floral theme throughout with detailing on the shoes, headdress and small details such as the silk fan from Amonie and the pastel wedding cake by Invitation au Delice.
The colour palette was pale lilac and light blue and this was echoed through the table linen, candles and divine suite of stationery by Millie Stone. With a nod to Monet the name cards were individually hand painted in watercolour. When the rain started to come down the cards were smudged which looked very pretty and give a true link to the famous French artist. Even with light rain the team wanted to use the outdoors as much as possible and Parisian photographer Daria Lorman and the the videographer Matthias Guerin captured the chemistry of the couple and the natural backdrop.
The photoshoot was further enhanced by their adorable Pug Bubble who wore a cute floral collar by the talented florist Veronique from Poesie d'un Jour who created incredible florals including a parasol constructed of delicate flowers and foliage.
Two bridesmaids made up the bridal party, also in silk dresses by Constellation Âme which complimented the wedding dress beautifully."
Woman With A Parasol – A Monet Inspired Garden Wedding Snapshot
Woman With A Parasol – A Monet Inspired Garden Wedding Vendors
Photographer Daria Lorman Photography | Planner Best Events Co. | Videographer Matthias Guerin Films | Florist Poésie d'un Jour | Hair & Make Up Alexia Bigaud-Morin | Hire Our Fabulous Things | Cakes & Desserts Invitation au Délice | Venue Chateau Forge du Roy | Bridal & Bridesmaid's Dresses Constellation Âme | Luxury Bridal Robe VTABi | Groom's Accessories Le Colonel Moutarde | Stationery Millie Stone UK | Ring Objekts | Ring Boxes Amonié | Bridal Gloves Cornelia James | Accessories Vivi Embellish | Candles Kunst Industrien | Bride's Shoes Bella Belle Shoes | Accessories Crystal and Pearl Bridal | Pug Bubble-Joy | Model Sarah Sauvant