Whimsical water-colour inspired wedding shoot
Today we are told the story of two painters who share each others' passion for the arts and fall in love over a love letter. Thank you Florence from Flora Maria for sharing with us this whimsical water-colour inspired wedding shoot…
"Everything started at the end of January 2021. When wedding photographer Justine Maquart contacted me to organize a wedding-inspired Shooting next to her.
During the first confinement, she started watercolour. That is how the idea of organizing a Shooting on the Art theme germinated in his mind.
The history of our couple was built very easily
We decided to highlight the arts such as painting, music, reading and sculpture. The history of our couple was then built very easily. A couple of painters, she also passionate about music. It is thus she who would have manufactured, in her workshop, their welcome panel, like a painting canvas placed on her easel. He would have written her a love letter, which she would reread for the umpteenth time a few minutes before telling her yes.
For the Shooting colors, we decided to use pastel colors, in addition to character colors such as purple and green fir. On Friday, April 30, 2021, we invited a team of talented service providers on this project.
The first provider we selected was the place : Le Château de Sénéguier in Lançon-Provence. A true fairytale castle, we were charmed by its prestigious pieces, and the remains of an ancient time present in each room.
A deconstructed floral compositions
Many arts revolve around the world of marriage, such as media arts (photography, cinema) and floral art. It seemed obvious to us to have a videographer on this Shooting. Our choice was then Thomas Augier. For the flowers, we called on the floral decorator Instant Fleuri. We wanted deconstructed floral compositions. Composed mainly of foliage, with pink, white and purple flowers.
For decoration, we contacted L'Atelier Event, Pièces Unique and Pink Rabbit Event. As the place is already well decorated thanks to its frescoes, chimneys and architecture. We decided to set up different spaces: a painting workshop, a ceremonial space, an erect table and a dessert area.
The stationery of the Shooting, the table plan, the announcement, the placeholders, the menu and the love letter were realized by the graphic designer By Popiete. Watercolor and writing are integral parts of this stationery.
By Popiete shared her creations with the cake designer Emeline Pâtisserie, so that she transcribes the graphics and calligraphy on the wedding cake and the cute ones. Graphic art meets culinary art.
The wedding dress and costume come from the Marseilles boutiques Bridalia Wedding and Viktör Concept. For the dress, we imagined a dress with ruffles and fell under the charm of this dress with thin straps and ruffles at the levels of the chest. We wanted a green tree suit.
Makeup is also an art, we called on the makeup artist Nomas Makeup to make a light but colorful makeup to the eyes. The jewels were made by L'Atelier de Sylvie. The artisanal side with the manual art.
The touch of music was brought by Aurélie Ellul-Ricci and his harp. She thus interpreted, for the video, the melody of the song Halo of Beyoncé. A hymn to love."
Whimsical Watercolour-Inspired Wedding Snapshot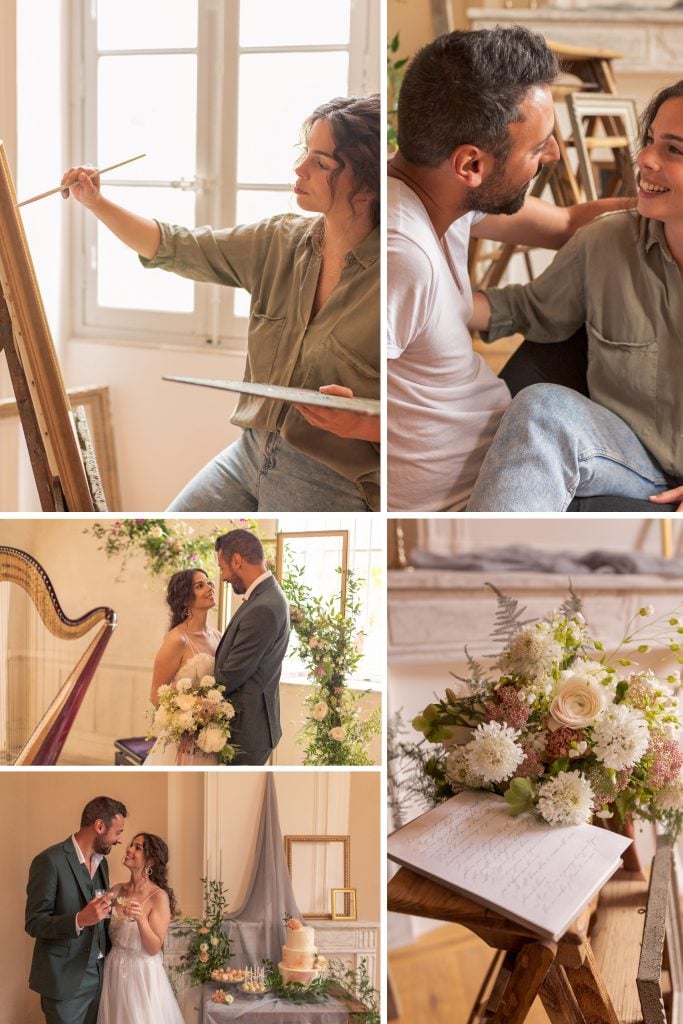 Whimsical Watercolour-Inspired Wedding Vendors
Wedding Venue Château de Sénéguier | Wedding Photographer Justine Maquart | Wedding Planner Florence – Flora Maria, organisatrice d'événements | Videographer Thomas Augier | Floral Designer Stéphanie – Instant Fleuri | Wedding Designer Andréa – L'Atelier Event & Nadège – Pièces Uniques | Rentals Eric – Pink Rabbit Event | Stationery & Invitations Jessica – By Popiete | Cake Designer Emeline Pâtisserie | Wedding Dress Sylvie – Bridalia Wedding | Groom's Costume Jeremy – Viktör Concept | Hair & Makeup Melly – Nomas Makeup | Bridal Accessories Sylvie – L'Atelier de Sylvie | Harpist Aurélie – Ellul-Ricci