Welcome to another wonderful week here at FWS, we hope you enjoyed a lovely weekend! To kick this week off we have for you a vintage wedding inspired styled shoot created by a team of wonderful suppliers.
If you love vintage details, then this autumn inspired shoot full of pretty lace and vintage touches will be right up your street! We have rustic invites created by Paper Tree Media and perfect blooms by L'Arrossoir.
But before we walk you through this gorgeous vintage wedding inspiration, check out this stunning wedding film from the day captured by super talented Marie Marry Me…
"It was after I enjoyed a coffee with Gaëlle, from Carnet de Noces, that we decided to plan this styled shoot. She wanted to do something special for this season, to show to the couples some of the possibilities of an autumn wedding. We said YES, of course! I love fall, it's my favourite season!"
"We wanted to plan an intimate wedding, focusing on all the little details. The first thing to do was to find the perfect place. Martin, the videographer asked for an outdoor ceremony, to play with natural light. It could be so beautiful! The woods were the perfect place to celebrate this elopement, surrounded by autumn colours. Gaëlle showed us her childhood's land, in a little french town, Roufiggnac-de-Sigoules. Her family has a country house there, surrounded by vineyards. The views were just awesome!"
"We recruited the team, starting with the photographer. Will of Mira al Pajarito has worked with us in some other occasions, and when he knows about this project, he was so happy to join the team! Gaëlle left us choose the models, and after a long search we finally found the perfect couple: Clarisse and Anthony."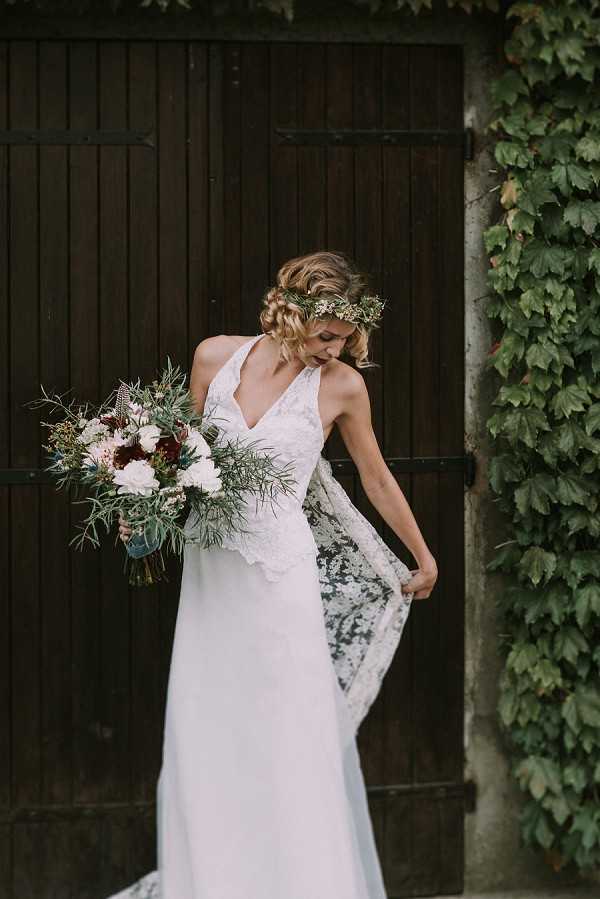 "The styled shoot day was a little stressful because of the rain, and the timings. The models got lost and we were seriously concerned about the natural light to shoot in the woods… But Emilie and Amélie helped us to speed things up, preparing the models in a very short time."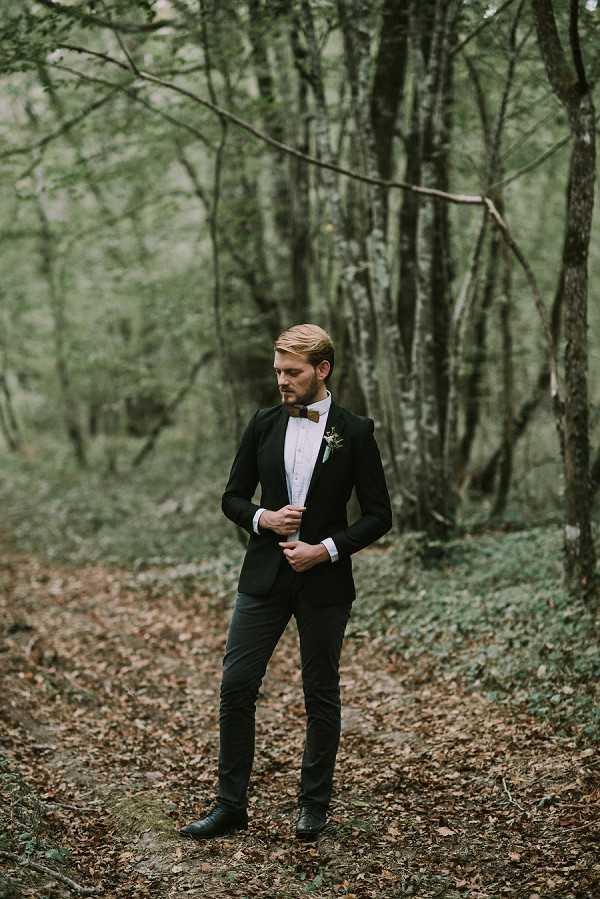 "Anthony got dressed with a costume chosen by Fabienne, from Fashion Day and a bowtie from Oncle Pape. And Clarisse was gorgeous in a delicate dress, with a stunning long lace tail designed by Marie Wells. The flowers by L'Arrossoir gave the final touch to her look: a floral crown to highlight her golden curls, and an autumn bouquet. Jacqueline designed in the same palette a boutonnière for him. The precious rings by Bijoutier Auzémery Périgueux captured our attention. With Gaëlle, Axel, Will & Marti, we were finishing to decorate the different spaces in the woods when the models arrived. The results were astounding!"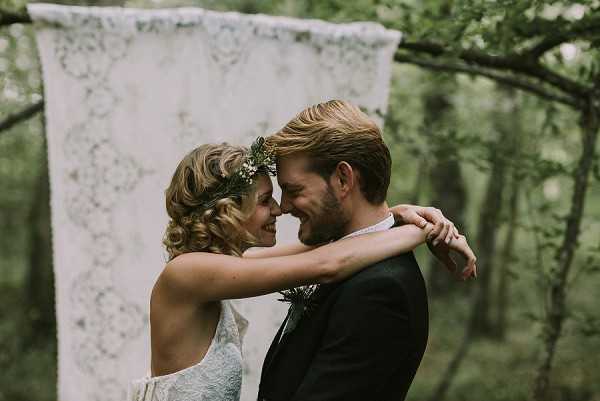 "We used an old sewing machine placed upon a tree for the Guestbook corner. This place was dressed with some books, and a vintage camera with a flamingo strap from Parenthèse. El Retaller's handmade album was one of the main objects: she has stamped flowers with an iridescent white ink in the covers. Kirsty, the artist behind Paper Tree Media, designed a crafty invitation for this elopement. This space was framed with a wheelbarrow full of butternuts, pumpkins…"
"We wanted something very simple for the ceremony. With Gaëlle and Axel, we installed a lace curtain in an arched branch of a tree. Chandeliers and candlesticks placed in both sides creating this magical space where the lovers could exchange their vows."
"What about this Candy Bar? Isn't it too cute? Gaëlle prepared all these little jars as a wedding favour for the guests. With Axel's help, they placed all the cupcakes, tiny carrot cakes, macaroons and all kind of sweets made by Navy's Cakery. The star, no doubt about it, was the naked cake, with natural fruits and a topper of melting caramel. We confess: half of the food disappeared during the shoot. They were delicious!"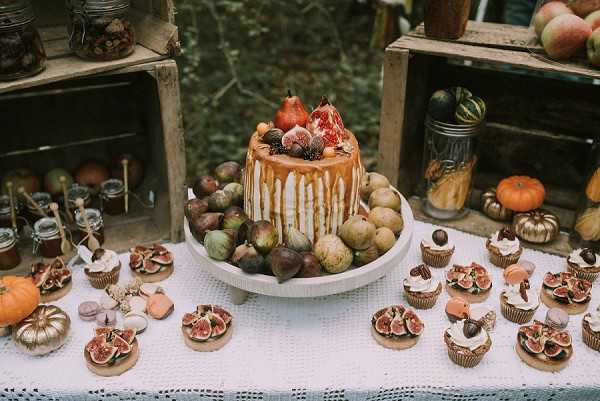 "Floral crowns in autumn colours, and dream catchers made by Catherine, were decorating this space. She also made some kokedama for the Photo booth placed upon a tree."
"Not so far from this, a rustic teak table was dressed with old lace linen and tableware by Cañigueral Mesas con Esencia. This sisters company helped Gaëlle to stylise this shoot with delicate Italian dishes, decorated with marvellous details. The golden cutlery enhanced the scene, simply decorated with some apples and pines cones."
"When night fell, we lit candles and placed them in both sides of the woods. Anthony and Clarisse started to dance while it began to rain. It was magical…"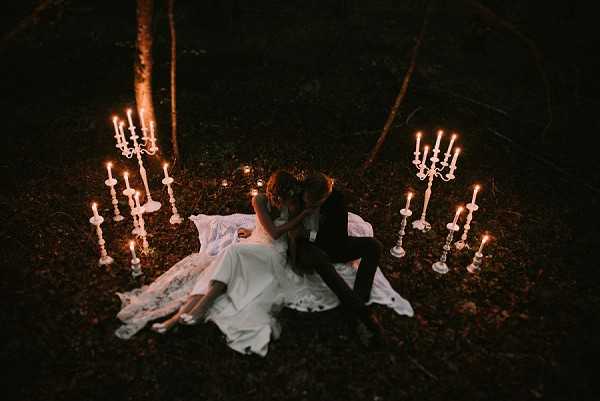 "We want to thank all the team, especially Gaëlle, to lead this lovely shooting. She found the inspiration in a quote by Guy de Maupassant, a french author. It talks about fall's beauty, covered in gold, red, orange… A colourful palette in the last leafs that remained alive, "like tears of a sun that drops down in the deepest woods".

Vintage Wedding Inspired Styled Shoot Snapshot
Wedding Vendors
Planner: Carnet de Noces | Florist: Les Fées Verdure | Florist: L'Arrossoir | Make Up: Amélie Estheticienne à Domicile | Hair: Emilie SOS coiffure | Cakes: Navy's Cakery | Decoration: El Retaller | Stationery: Paper Tree Media | Brides Dress: Marie Wells | Decoration: Cañigueral Mesas con Esencia | Grooms Outfit: Oncle Pape | Accessories: Bijoutier Auzémery Périgueux | Videographer: Marie Marry Me | Photographer: Mira al Pajarito | Models: Anthony Pomes & Clarisse Marguaritte | Wedding Rings: Bijoutier Auzémery Périgueux
Save
Save
Save