Trash the dress is on my mind at the moment and we are off today to Paris with Catherine O'Hara Photography to trash the dress in Paris fountain style!  Ben and Erin were happily married in 2012 in their home town of Melbourne, Australia where Erin wore a beautiful strapless Maggie Sottero dress.
Erin: "I absolutely loved my wedding dress, and really wanted the opportunity to wear it again but I didn't have any specific plans and as time went by I forgot about the wedding dress stuffed in my closet.
We were planning an eight week holiday travelling through Europe, starting with ten days in Paris in late April. The week prior to our leaving, I had a friend elope in Paris, photographed by Catherine O'Hara. Seeing Sami's amazing wedding photos with iconic Paris landmarks in the background planted the idea in my mind. Thinking it was a crazy idea, I spoke to some friends about my idea of having a photo shoot while in Paris, and they encouraged me and helped me to figure out the logistics, such as how to send my 6kg dress back to Australia after the shoot.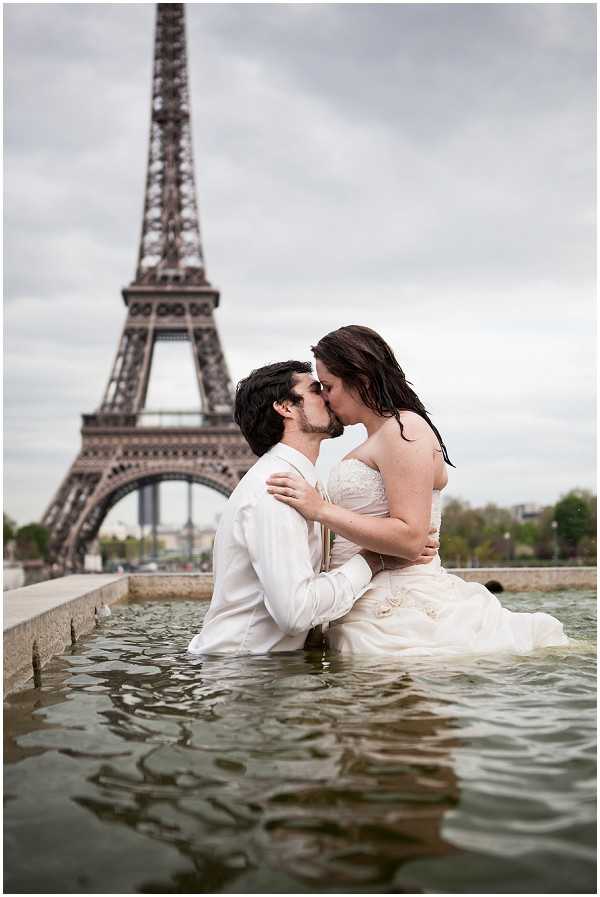 I contacted Catherine to see if she had any availability and also enquired over the internet as to the prices of getting hair and makeup done prior to the shoot. At this time our photo shoot was still hypothetical, as Ben was at work and I hadn't spoken to him about it yet. This had all happened within one day. When Ben came home from work that night I excitedly met him at the door and told him all about this great idea I had had. The way he tells the story, he had no choice at this stage but to agree to the photo shoot.

At first we were only planning to have "nice" photos taken, no trashing of the dress involved. I did want to do something different, such as jump in a fountain, but I thought that surely this was too crazy of an idea. After arriving in Paris Ben and I had dinner with a friend who encouraged us to go for it, so I emailed Catherine with our idea of jumping in the fountain at the end of the shoot. Catherine then got back to me with a possible location, and we were set.

The day of the shoot was quite a cool Paris day, with a maximum temperature of 14 degrees. Thankfully it didn't rain, as that might have changed our willingness to get wet! Catherine was great, really efficient, professional and a fantastic photographer. We had a lot of nice photos taken at locations around the Louvre, before taking a taxi to the Trocadero area.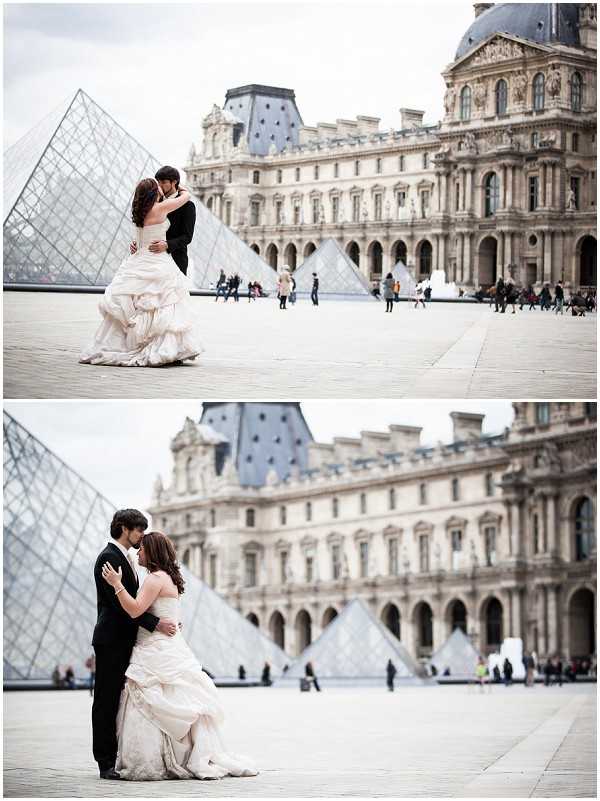 We had some nice shots here before it was time to get wet. There was a big crowd of people who were soon all watching us in disbelief as we climbed into one of the fountains, which was freezing and slimy. Our adrenalin was pumping by now so there was no turning back! We were all concerned that we might get kicked out of the fountains or get in trouble but it was all fine thankfully.
It was fun, in a crazy way, and my dress was soon so heavy I could barely move. We moved to another fountain and had some more photos taken, before finishing for the day. The fountains were much more shallow than they looked from the outside, and more slimy. I have never been so happy to get changed into warm clothes before, and taking a hot shower when we returned to our apartment felt marvellous!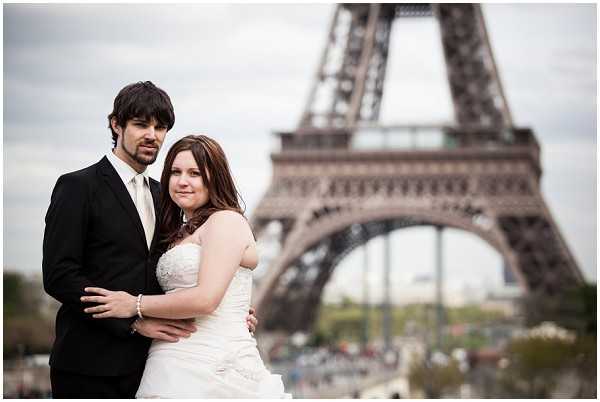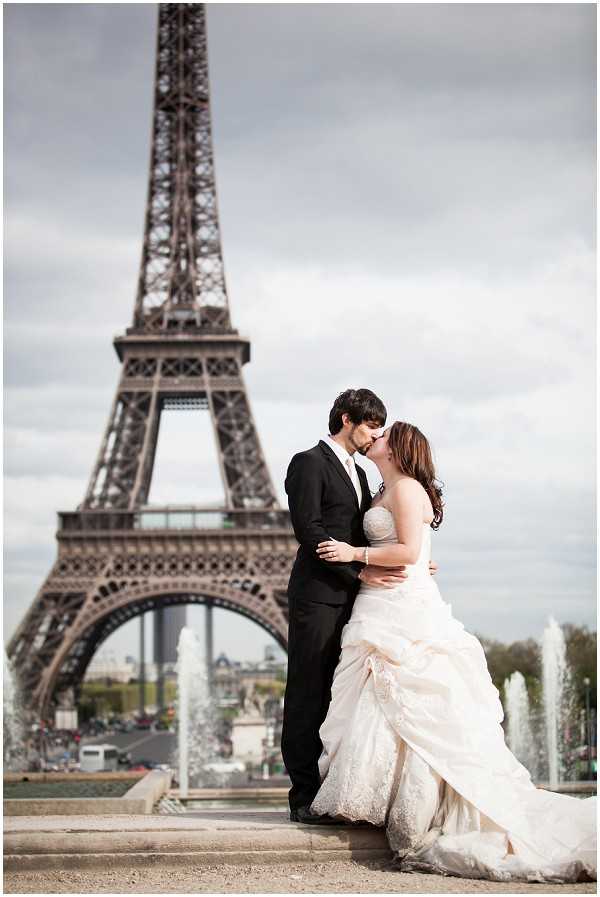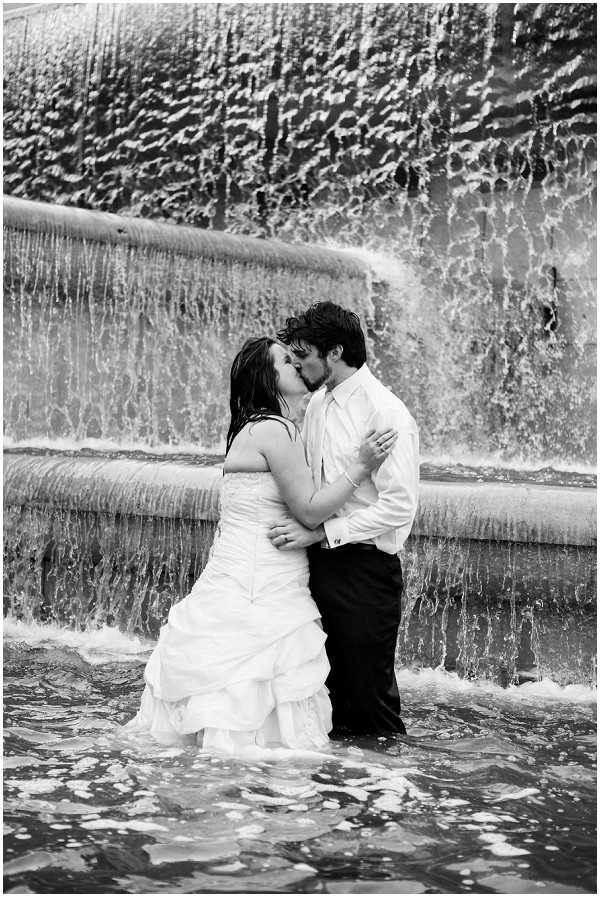 We hung my dress over the shower and it took two days to dry out, and I'm hopeful that our dry cleaner will be able to remove the green tinge and terrible smell that my dress now has. It doesn't matter though, when we look at the photos it was totally worth it!"
Love this!  I do like the concept of trashing your dress in an iconic location, another idea to add to my list of how to trash my dress!

Wedding Supplier:
Wedding Photography: Catherine O'Hara Photography
Wedding Dress: Maggie Sottero
Hair and Make up: Charles Gillman