Trash the Dress sessions ! What better way to close-out an absolutely perfect wedding weekend than by having a bit of craziness and care-free fun in your wedding dress? This post by guest bloggers Haute Weddings is one that has been on my mind, as I have been pondering ideas for trash the dress shoot for ages.
Bare in mind that I just celebrated my 5th wedding anniversary, my wedding dress is still kept nicely packed away awaiting the day when I decide exactly what type of trash the dress to do.  But readers a question if I did do a trash the dress shoot, would you want me to share it on the blog?
Before I make up my mind, the lovely ladies at Haute Weddings take us through some unusual and fun trash the dress shoot ideas.
*****
Yes you took perfect care of this stunning dress leading up to the wedding: you kept it in the garment cover, hanging up in the closet so no other clothes can even touch it, high up off the ground, transporting it across the world and getting the wrinkles out, keeping it in the bathroom with a hot shower running to steam it just a bit more….all brides have done this in some shape or form!
But now, the wedding is over! You can capture some true-to-you, personality-reflecting artistic shots in your wedding dress! Haute Weddings, who specialize in destination weddings in France & Italy, have encouraged and brought to reality a bit of that craziness that their modern, destination brides yearn for.
Destination brides are travelers, they are adventurous, sporty, beautiful and fun! Their trash the dress session is the opportune time to express themselves!
Here are a few examples of what destination brides have opted for when they 'let it all out' and trashed their dresses!
Claire: A successful lawyer from Australia Claire chose to trash her dress on the ski slopes in Chamonix after her wedding. Claire & Dominique her new husband (a ski instructor), put on their wedding garb and headed up the hill with a dozen of the guests who made the trip half way across the world to share in their weekend of festivities. Wearing her white strapless wedding dress, bouquet in hand Claire definitely ripped down the mountain looking like a total pro. Photos that are more than magazine worthy!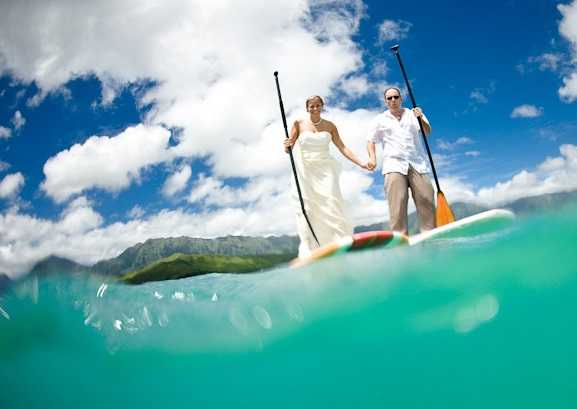 Credit: L'Amour Photography + Video
Aylin: Our gorgeous smiling Turkish bride with a beautiful heart and contagious energy knew from the moment she was engaged that trashing the dress was a high priority for her wedding. Loving the water Aylin pictured herself jumping in the pool after all the dancing was over, and that's exactly what she did…but better! She did a running start with a flip and flawless dive into the chateaux pool at 2:30am!
A perfect 10!! (And even though we witnessed it with our very own eyes we still don't know how she managed such graceful moves with her gorgeous form-fitting gown on!). Guests followed her example and nearly 30 people were swimming, laughing and having the time of their lives.
Carole: Taking a cable car up to 2200m in altitude Carole strapped into a harness with her professional paragliding pilot, lovely dress, and off she ran….off the hill! And was lifted gently into the air for a scenic flight with the world below her. The landing is the trickiest part as it requires a bit more abrupt running to bring the colorful wing and it's momentum to a halt but a bit of dirt and slight grass stains didn't bother her from an experience (and photos) that will last a lifetime!
Other ideas that the girls at Haute Weddings suggest that are not only fun with your wedding attire but also realistic for a photographer to capture on camera….waters-skiing, jet-skiing, climbing, paddle-boarding, horseback riding, cycling, a mini-soccer game with bride & groom and a handful of guests, river-rafting with your bridal party….the possibilities are obviously endless. Invite your guests to come along and partake in a relaxed, post-wedding, totally silly and exceptional moment! Amazing memories and sensational photos guaranteed!!
 *****
I am not sure that I am up to a skiing trash the dress, but wow fabulous ideas!  Don't forget let me know if you want to see me trashing my wedding dress and any suggestions let me know in the comments below!

Guest Blogger: Haute Weddings provide personally tailored wedding planning for couples looking for & loving all things French & Italian. Haute Weddings specialize in destination weddings reflecting your desire for travel, culture and beauty, ensuring your dreams are flawlessly brought to reality.