We are off to the South Coast of France this morning with the first in a 2 part traditional French wedding in Nice of Gaelle and Colin.
As is French culture Gaelle and Colin's wedding was split into two parts, the legal ceremony always takes place separately to the religious ceremony. So Gaelle got to wear two gorgeous dresses! The first ceremony was in the morning and was attended by their very close friends and family, whilst the larger part of the wedding took place later on in the day, in a Chateau just outside of Nice.
Photographer Kathryn Edwards was on hand to capture both parts of the day and takes us through the wedding day celebrations: "The intimate ceremony was conducted in French, so although I could understand the odd word here and there, my schoolgirl French was not sufficient to comprehend exactly what was being said. However, the tone of the ceremony was serious yet informal and there were plenty of giggles throughout as well as some serious vows declared.
"It was nice to have this intimate part of the day that was shared only with close friends and family. After the morning legal ceremony, Gaelle and Colin wanted some pictures of the two of them walking around Nice's old town, the very pretty historic part of Nice.
The town provided a beautiful backdrop for some lovely shots of the newly weds as they strolled around in their finery to greetings of "félicitations" from random passers by. This was one of my favourite parts of the day. I just loved the old architecture in this part of Nice and the way the afternoon sun hit the buildings, creating some gorgeous light for the photographs.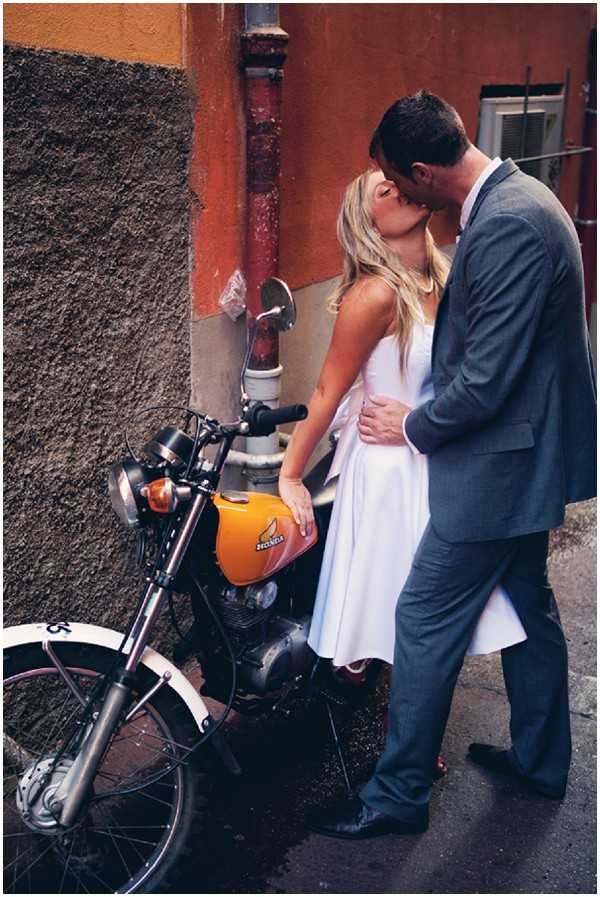 Gaelle's knee length dress and little bouquet were beautifully understated and made for some really cute pictures. Gaelle grew up in this part of France, and so having some photographs around the old town with her new English husband was really important."
Be sure to check back later for part 2 the Chateau wedding celebrations! Click here to see Part 2 the Chateau wedding.

Contact Details:
Kathryn Edwards Photography Website: www.kathrynedwardsphotography.com
Kathryn Edwards Photography on Twitter: www.twitter.com/@KathrynPhotos
Kathryn Edwards Photography on Facebook: www.facebook.com/kathrynedwardsphotographer
Email Kathryn Edwards: [email protected]