I have a little ray of sunshine to share with you today Abi and Matt's sunflower yellow and red themed  rustic wedding Poitou-Charentes, captured by David Page Photography.  This part of France is so pretty and Abi and Matt use the beautiful scenery and stunning buildings as the backdrop to their wedding celebrations.
Newlywed Abi talks us through their wedding day: "Our wedding took place on July 7th, 2012, in the Poitou-Charentes region of France. We wanted the day to have a very rustic, personal and unique feel to it, the most important thing being the enjoyment of our 96 guests. We went for a sunflower yellow and red theme, with a sunflower bouquet for the bride and giant daisy bouquets for the bridesmaids, arranged by Lisa Gatenby.
In the morning I got ready with the five bridesmaids, who all wore red dresses from Hobbs. We were in excellent hands with make-up artist, Carey Hawkins, and hairdresser, Caroline Mitchell. The official wedding car was my cousin James' charcoal silver Landrover, which was the perfect size for 5 girls and a bride!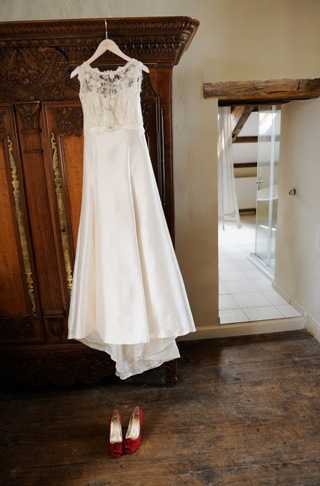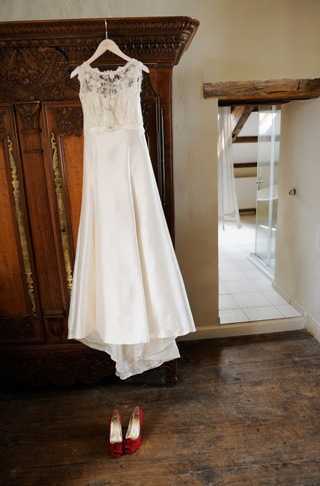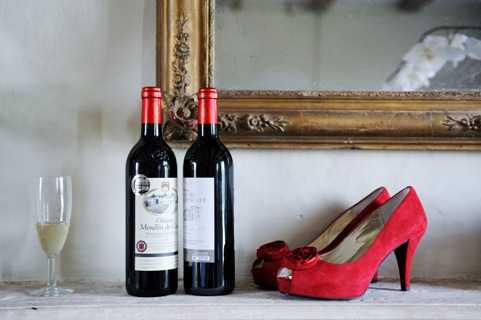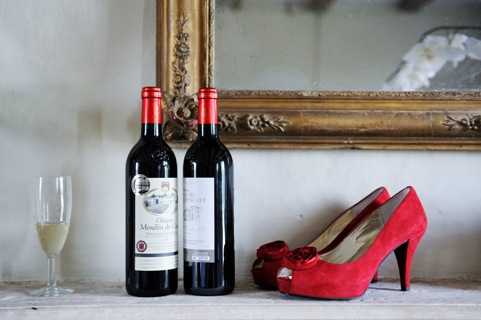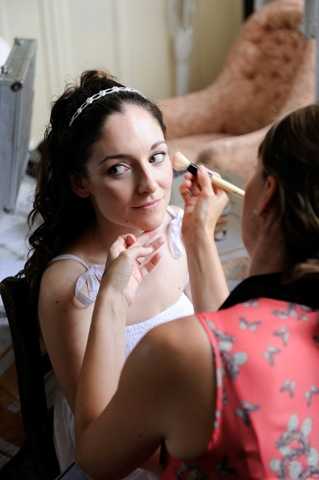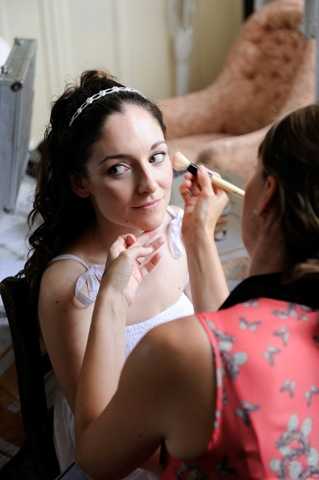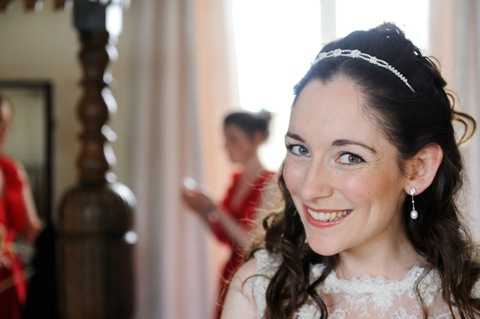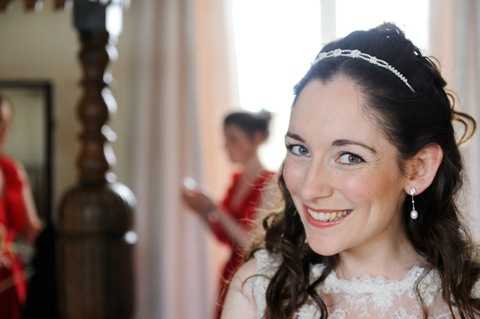 The ceremony took place in L'Eglise de Javarzay in Chef-Boutonne, which is a simple, yet beautifully rustic church next door to Chateau de Javarzay. We had worked very closely with our celebrant, Jean Sait, in the months beforehand to make the ceremony into something that was very personal, but also light hearted enough for all to enjoy. We had three readings – 'Oh The Places You'll Go!' by Dr.Seuss, 'The Owl and the Pussy Cat' by Edward Lear, and a Shakespearian sonnet. The bridal procession, Minuet in G, was played by Steve Somers on acoustic guitar.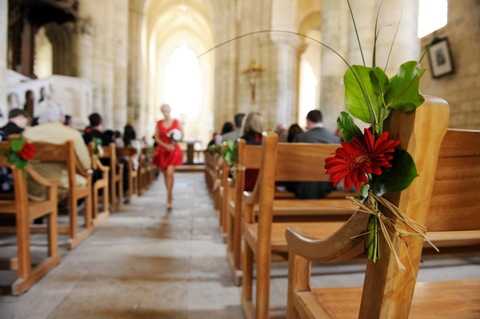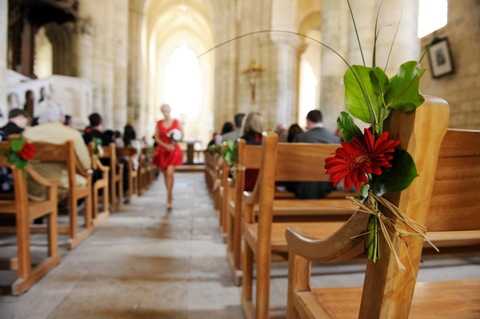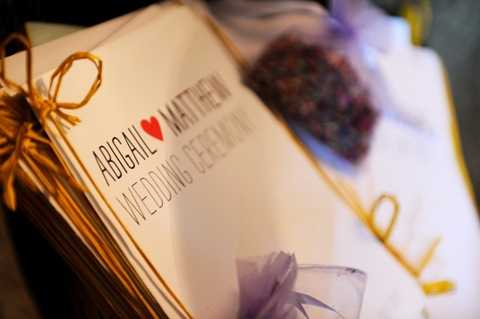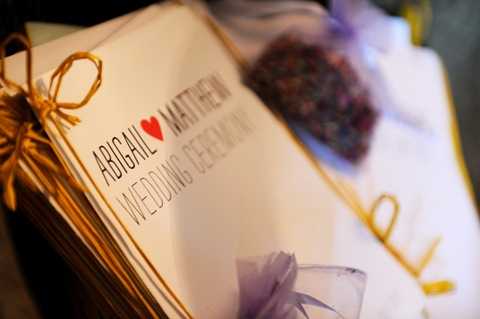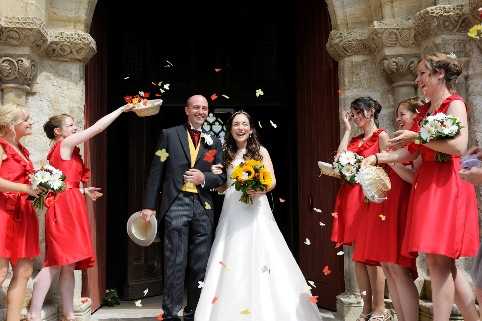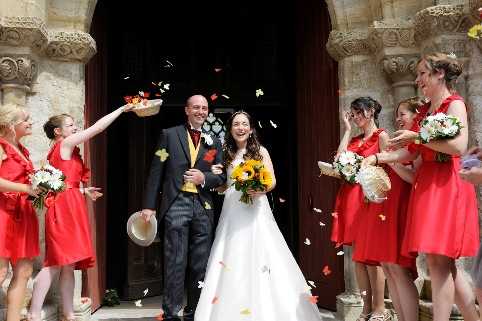 After the ceremony we had some bubbles and photographs by David Page in the grounds of the Chateau next door. Following which we all went back to the excellent Mad Hatter's Kitchen in Caunay, a traditional French hunting lodge owned by the bride's parents. Abi's mother, Charlotte is the chef of the restaurant, and together with her team of fantastic staff, prepared all of the homemade food for the wedding guests. We wanted the food to be one of the most memorable parts of the day, and with Abi's mum in charge we knew our guests were in for a treat.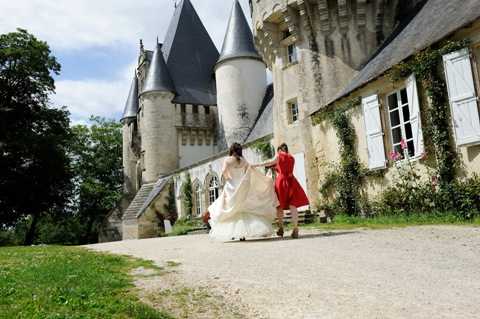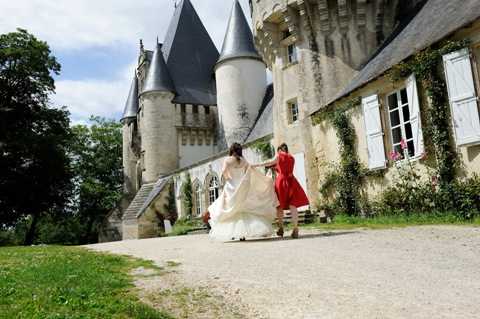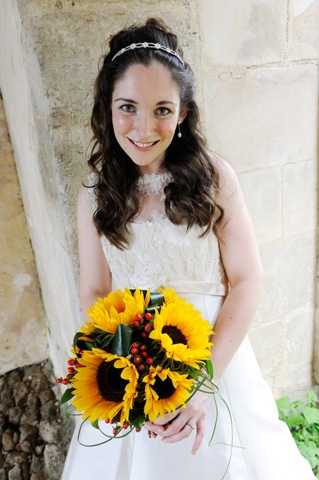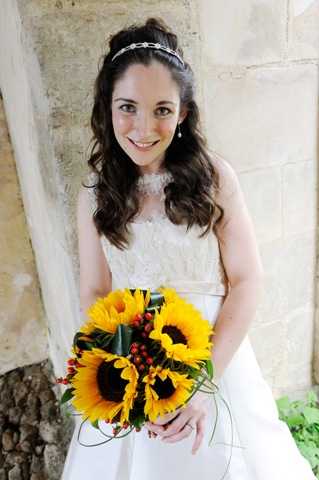 Before dinner, the guests enjoyed a wonderful performance from Steve Somers, and relaxed whilst drinking homemade punch and imported London Pride ale. The dinner was held inside a large beautiful Indian marquee, decorated with red and yellow bunting, and gingham table runners which the groom had made himself. The marquee was put up by Abi's family and friends, to whom we are very grateful – it took 3 days, 10 men and 2 tractors!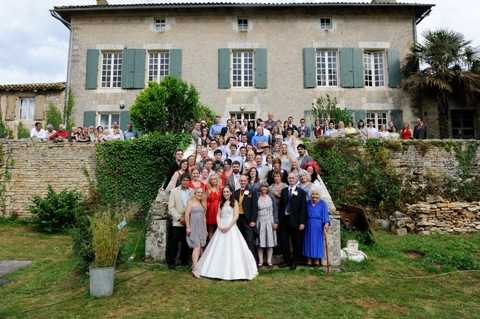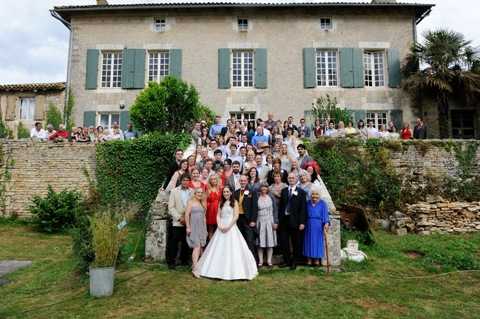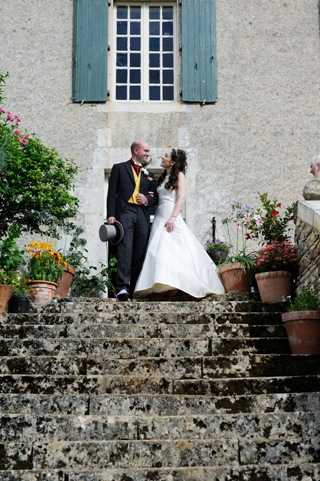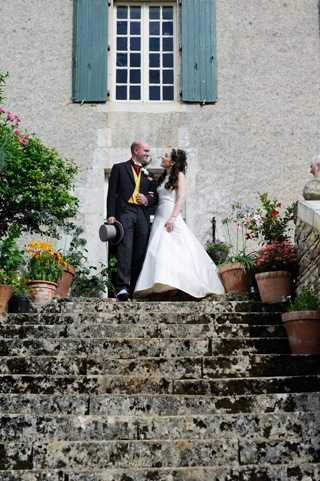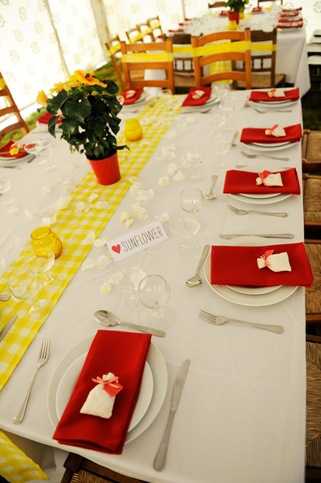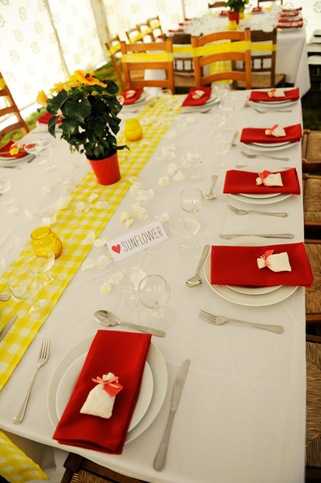 We wanted to do something different and personal for the wedding favours – a gift that people would feel had been especially chosen for them. We collected over 100 vintage brooches and badges, from antique shops, eBay and charity shops, each favour being specifically picked for each individual. We wrapped the favours in muslin bags, tied with a red gingham ribbon.
Charlotte's homemade food went down a storm! Delicious dishes on the menu included an anti-pasti starter, followed by a choice of Lamb Tagine, Baked Salmon, Chicken in Tarragon Sauce, Provençale Tart or Ratatouille. Dessert consisted of a tempting selection of Chocolate Raspberry Torte,
Homemade Meringues with Berry Coulis and French cheeses. After dinner, the bride and groom took to the dance floor, performing the first dance to 'I Wanna Be Like You', performed by Route 403, a wonderful 1930s Jazz trio.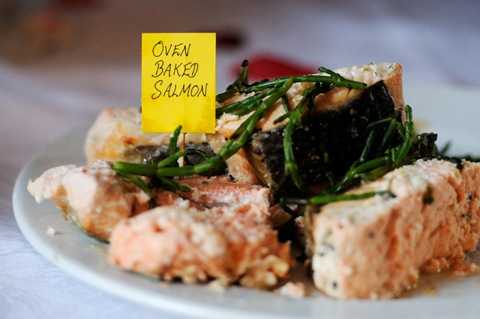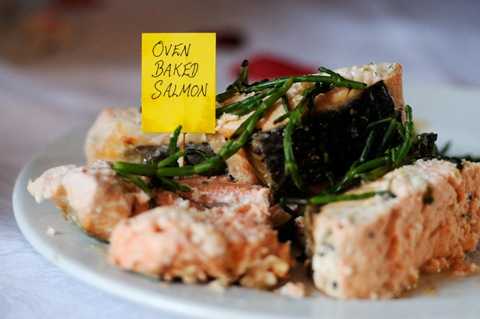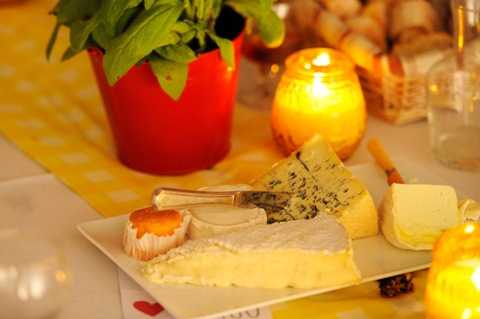 Later in the evening, not one – but three wedding cakes were brought out, which had been homemade by Charlotte and iced by Abi's sister, Rachael. The cakes were decorated with personalised peg dolly cake toppers, handmade by good friend, Laura Hambleton. The evening was finished off with lots of dancing and singing to Lipstick Torpedo, a 1970s Glam Rock band! We had a wonderful wedding day, full of special memories and moments. We couldn't have done it without the amazing help and support of all of our friends and family."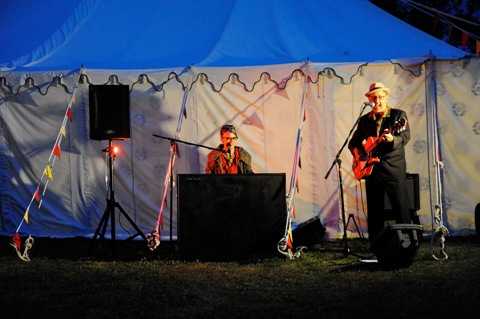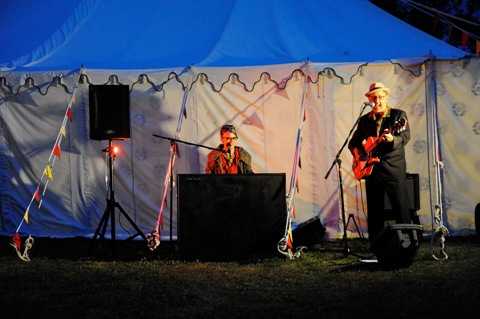 I think that the vintage brooch wedding favours is such a lovely gift for your guests and shows how much time and energy has gone into thanking them.  Not to  mention I would LOVE to get a vintage brooch as a present.
If you want to achieve the perfect  makeup that Carey Hawkins created for Abi, be sure to read Carey's post on how to create wedding hair and makeup in a warm climate.
Congratulations Abi and Matt.
Monique xx
List of credits:
Caroline Mitchell, hairdresser [email protected]
Carey Hawkins, make-up artist www.careyhawkinsmakeup.com
David Page, photographer www.davidpagephotography.com
Lisa Gatenby, florist www.frenchflowerstyle.co.uk
Jean Sait, celebrant www.celebrantsinfrance.co.uk
Mad Hatter's Kitchen, catering and venue www.madhattersfrance.com
Laura Hambleton, handmade cake toppers www.laurahambleton.co.uk
Steve Somers Music www.stevesomersmusic.com
Route 403 www.route403.com
Lipstick Torpedo www.lipsticktorpedo.com