Wedding hair and make up has the ability to lift our mood, provide a mask to tackle the day or simply make us feel like a princess on our wedding day.   So how do you get your make up/hairstyle to look perfect in the photos for your French wedding in a different climate?  Carey Hawkins –France based Bridal Make Up Artist and Hairstylist,  has worked with brides for the past 7 years, as well as working on a wide range of films and TV.
Carey provides her expert advice for achieving your ideal French Wedding Day hair and make-up:
"Make-up and hair styling are a hugely important part of the 'Big Day'. It can make all the difference to photography and the confidence of the bride.
'Let's start with make-up. Working in such a warm climate can be a challenge when it comes to creating a long-lasting make-up look. The answer? An excellent primer and waterproof mascara. Primer acts like a magnet for other products that you add to your skin, creating a smooth base for your make-up. And waterproof mascara will stay put through the heat and tears of an emotional day!
'Generally the brides I have worked with in France go for classic styles in natural or muted tones that enhance their natural look – brides want to look like themselves but at their most glamorous!
'When it comes to hair, up-dos are the most requested look. Hair is usually curled through and given texture, before being swept up using pins or grips in one of many different styles and then set with hairspray. Up-dos always look timeless, elegant, keep you cool and stay put all day. Relaxed, romantic styles where the hair is softly curled and slightly messy are also particularly popular and fit in perfectly with the beautiful venues of the Poitou-Charentes region.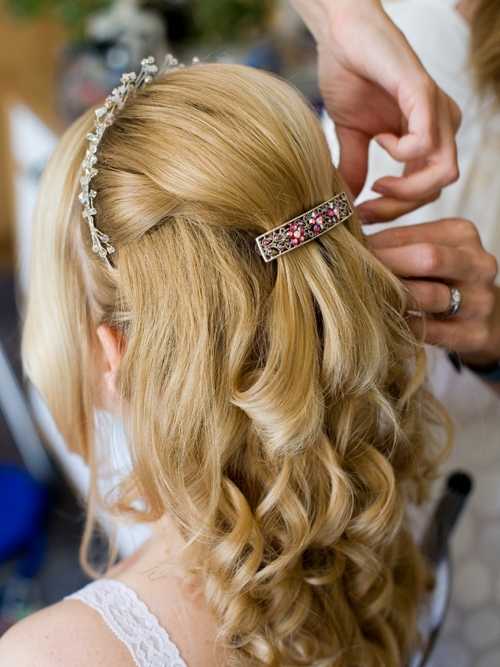 'Tiaras, cathedral length veils and small flowers in the hair are often part of a bride's hairstyle. I particularly like bands with some sparkle and they look so beautiful especially with darker hair.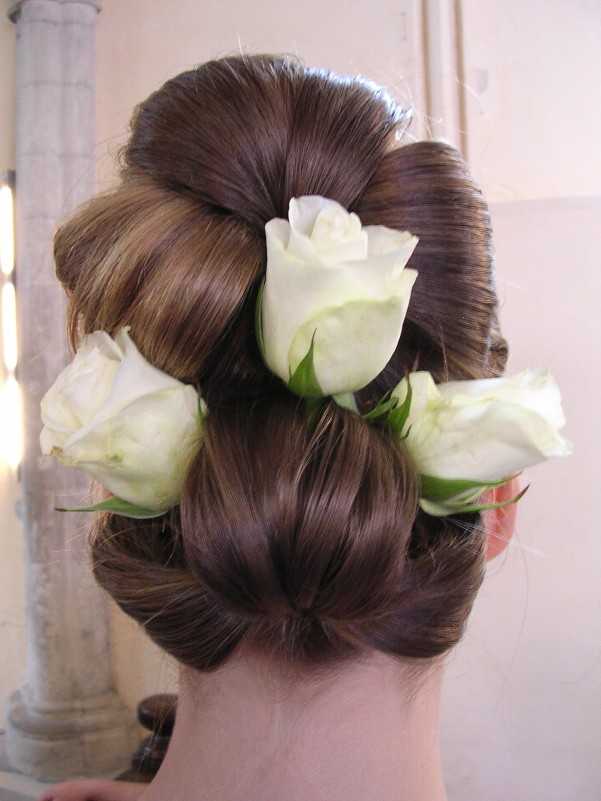 'My advice to brides getting married in France? Get to know your make up artist/hairstylist through phone calls and at the trial. Having your make up and hair done is a very intimate process and you need to completely trust the service they provide. Also avoid trying anything too different from your normal look – if you never wear your hair up, your wedding day is probably not the time to try is for the first time!"
Thank you Carey for your advice and I for one am on the look out for a primer!
If you would like to book Carey for your French wedding day she covers the French departments of Charente, Dordogne, Charente Maritime, Lot-et-Garonne, Vienne and Haute-Vienne.  Carey is also happy to discuss travel to other areas of France including Paris, Bordeaux, Loire Valley and La Rochelle. View Carey's work at http://www.careyhawkinsmakeup.com/
I would love to know your thoughts and comments on wedding hair and makeup in different climates.