Famous for its stunning weather and beautiful countryside. Provence really is a dream location for a wedding. Laurianne Pauron from Alyna Photographe gives us a peek through her lens into the gorgeous wedding of Roxane and Kévin. Surrounded by lavender fields and those they love most…
"I take you with me to France and more precisely to Provence for the magnificent wedding of Roxane and Kévin at the Domaine de Sarson in Grignan.
This domain dominates the city and offers an impregnable life on the castle of Grignan and the Mont Ventoux. You can also see lavender fields as far as the eye can see.
Roxane and Kévin chose the Drôme to celebrate their wedding. It was surrounded by all their loved ones that they found themselves on this beautiful summer day in 2020.
A complicated wedding season because of Covid but they managed to maintain their marriage to the greatest happiness of all.
Everything was in place to make this exceptional day, perfect weather. Motivated and cheerful guests, happy and energetic newlyweds. No stress on the horizon, just the desire to take advantage of this day so long questioned and finally beautiful and well maintained.
Sarson's Estate is an incredible place to get married. It is one of the most popular places in the region because it offers a dream setting for the bride and groom.
It is a talented team who gathered around Roxane and Kévin to create this wedding, Cécile and the teams of D Day Wedding planner, Laurianne d'Alyna Photographer. Any flower for the flowers and Cathy for the make up and the hairstyle. Roxane wore an incredible dress by Nicolas Fafiotte. The stylist of Miss France! Something to make anyone dream.
It is always an incredible and strong moment.
The bride and groom chose an outdoor ceremony for more emotion and personal speech. It is always an incredible and strong moment.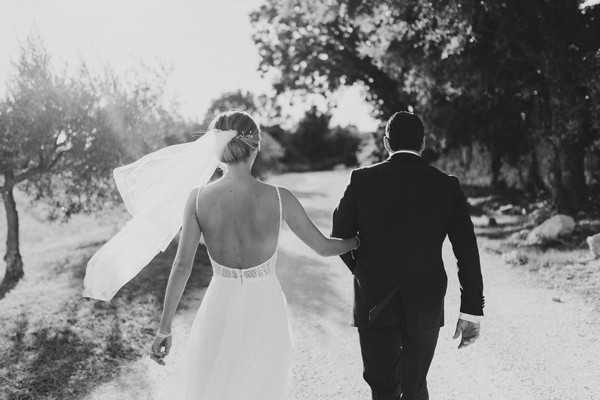 The sweetness of this day made it possible to end the evening in the open air and to dance under the stars until the end of the night. France remains a must-see destination for newlyweds. From all over the world and French wedding providers look forward to meeting you in Provence, Burgundy or anywhere in France!"
Roxane and Kévin at Domaine de Sarson Snapshot
Roxane and Kévin at Domaine de Sarson Vendors
Photographer Alyna Photographe | Wedding Planner Cécile – D Day Wedding Planner | Flowers Anyflowers | Hair & Makeup Cathy Coiffure | Dress Nicolas Fafiotte | Catering Traiteur des Garrigues | DJ Profusion Event | Venue Domaine de Sarson