Hello lovelies, it may be summer time but today we are heading to the French Alps for a rainy but completely romantic real wedding in the mountains!
The entire day was held at a beautiful 19th century savoyard farmhouse –  La Ferme du lac Vert which was built in 1842, restored in 2010 and is situated in the village of Montriond. It was the perfect spot for this sweet pair to say I do and it wasn't the first time they'd spent time at this gorgeous venue as you'll read below!
We love how Xian & Craig embraced the wet weather and really made the most of it with regards to their beautiful images captured by Eight Bells – Wedding Imagery. We'll now pass you over to Xian & Craig who will be walking us through their big day…
"Our wedding was a very wet but a very happy day. After two days of enjoying the blazing sun with our guests, barbecuing, climbing and rafting, we woke on the morning of our wedding to the drumming of raindrops on the windows and rumbling thunder! A few frantic telephone calls and a real team effort to bring everything indoors at the last moment resulted in a lovely, intimate ceremony in the atrium of the chalet."
"Craig said the happiest moment in his life so far was seeing Xian in her dress for the first time in the morning, where we had a private moment in the garden before the wedding day started in earnest. The ceremony was both our favourite part of our day. We are very lucky to have so many talented friends and family who hosted, played instruments, sang, read, and gave blessing. We felt so much love in that half an hour to last a lifetime."
"We first met as graduate trainees at a work team-building event. Both knew we liked one another that day, but became just good friends first of all. A year later we found a relationship developed naturally and we soon knew we had both found something special. Our love of adventure (and Sauvignon blanc) took us on a tour of New Zealand in December 2015. During a road trip through the Marlborough wine region, Craig leaned over to Xian in the car and whispered "do you want to get married?" and the rest is history."
"Near the start of our relationship, we had our first ski holiday together to La Ferme du lac Vert and always said that we'd love to return and rent the whole place, if we were lucky enough to have the chance. We really enjoyed La Ferme's combination of rustic charm and luxury, as well as chef Sharif Gergis' skilful cuisine. So a few years and a proposal later, we remembered Montriond when thinking of how we could have an intimate wedding, with fantastic food and amazing natural beauty. After visiting in the summer and experiencing Montriond's beauty in a different season, we were sure it was the right place for us to share our marriage with our closest family and friends."
"Sonya was a last minute stand-in for our original florist who unfortunately took ill, but she was perfectly suited to creating the wild and rustic bouquets, boutonierres and table settings. We chose a palette of muted blues and greens to echo the natural surroundings and colours in Craig's tartan, featuring thistles in homage to our Scottish home."
"Food and drink are great passions of ours so the catering was one of the most important elements of our celebration to us. Sharif Gergis at Guerrilla Dining crafted a gourmet barbecue menu for an al fresco welcome dinner for all our 39 guests. For our wedding breakfast, we had no top table – we seated everyone at one long table, and Sharif served three courses fusing French cuisine with a Scottish touch. Craig is a craft beer enthusiast, so he found local brewery Ibex who supplied kegs and taps from which guests could pour their own pints."
"Due to the small size of our venue, we needed a relatively compact band. Rip It Encore only has three band members, but created a really complete and professional sound, keeping the party going until the small hours."
"Our cake was made by Nic at Le Cacen, based in Chamonix. She did a wonderful job capturing the natural, pared back design we wanted, whilst taking account of all our favourite flavours and multiple dietary requirements. We had a vegan chocolate, courgette and passionfruit layer, plus a gluten free pear and almond layer – both were delicious and beautifully presented. We found Pinterest an invaluable reference for floristry and the wedding cake."
"We both chose local Glasgow suppliers for our wedding outfits. Xian's bespoke dress was made by Wendy at Flossy & Dossy. Xian wanted a light and relaxed dress to suit the intimacy and natural setting of our wedding. Working with Wendy was a dream, she did an amazing job capturing Xian's vision and bringing it to life with her own expertise and ideas. Xian's bridesmaid, her sister Nian, wore a complementing white sundress from Topshop. Craig chose a made-to-measure kilt outfit from MacGregor and MacDuff in Campbell (Ancient Muted) tartan, the tartan of his paternal grandmother's family."
Huge congratulations Xian & Craig from everyone here at French Wedding Style!
To see even more from this gorgeous wedding check out their wedding film created by Studio Polly…
Romantic French Alps Real Wedding Snapshot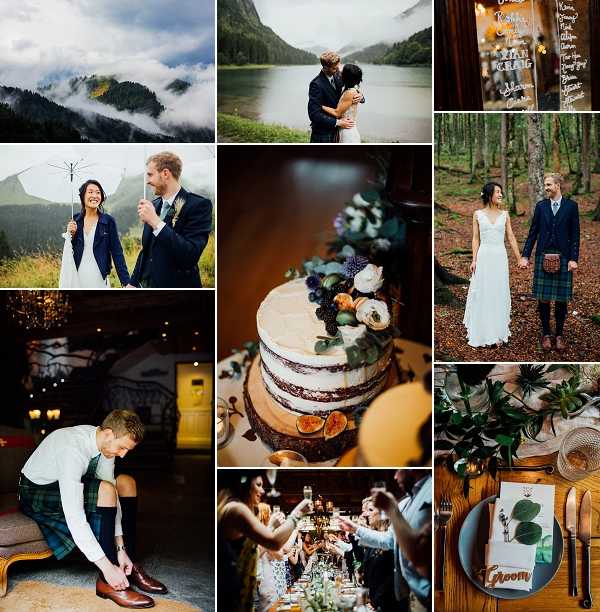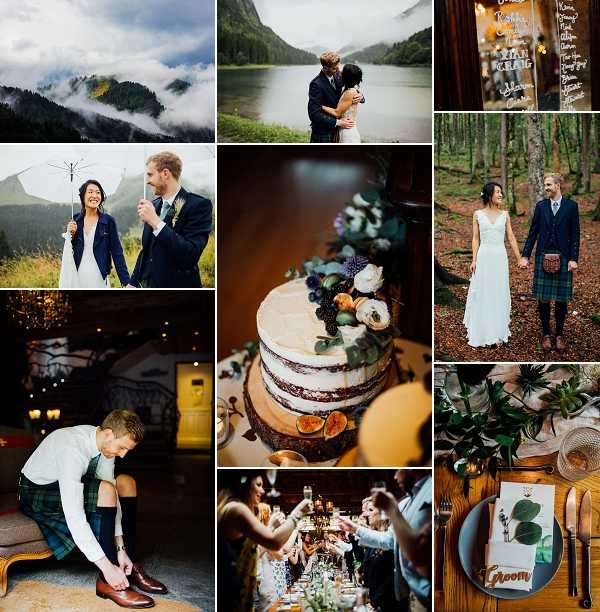 Wedding Vendors
Venue: La Ferme du lac Vert | Photographer: Eight Bells – Wedding Imagery | Videographer: Studio Polly | Brides Dress: Flossy & Dossy | Grooms Outfit: MacGregor and MacDuff | Catering: Guerrilla Dining | Cakes: Le Cacen, Chamonix | Entertainment: Rip It Encore | Florist: Sonya Floral Design