So yesterday it was a sweet DIY wedding in Drôme and today we have for you an opulent Shangri-La Paris styled shoot and it's only Tuesday!
The sumptuous surroundings of this amazing hotel create an atmosphere of pure luxury and indulgence. Today's styled shoot is a compilation of fabulous vendors from elegant calligraphy by Studio French Blue and a palette of soft and deep plum brought to life in floral arrangements from Estelle Preston creating a royal affair at The Shangri-La Hotel – Inspired by the elegance and beauty of Paris.
To find out more about this gorgeous Paris styled shoot I'll now hand you over the designers behind Sumptuous Events Paris…
"The location had to be luxurious, feel royal and historical, therefore the Shangri-La Hotel Paris appeared like an obvious and perfect venue, being one of the most beautiful palaces' in the city of Lights. The friendly, outstanding and welcoming of the top trained hotel team matches the pure elegance the palace's exclusive clientele are searching for on the occasion of a special event!"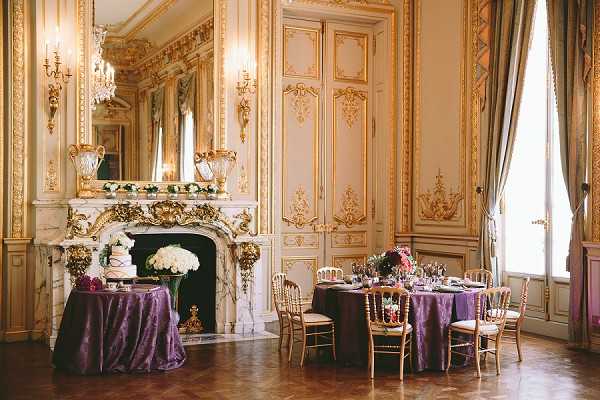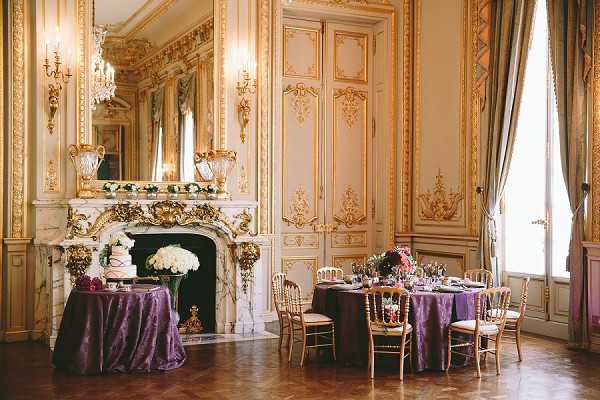 "Having the 'Crème de la Crème' vendors to create a unique and opulent atmosphere in pictures, was actually the main idea for this sumptuous photo shoot, yet we wanted to give it an international feel, twisted with an Asian flavor!"

"Beyond talent and skill, passion is the one quality that carry people through their wildest dream, Maë Haute Coiffure embellished Caidy's natural beauty, with soft accents of peach, beige, hyaluronic powder, and a intricate pony tail hair piece."
"Caidy, the mysterious & phenomenal bride, is wearing a unique wedding gown from Australian designer Anna Campbell. There is something truly mesmerising about that dress, with designs simply dripping with decadent embellishments, intricately beaded lace & floating silk chiffons."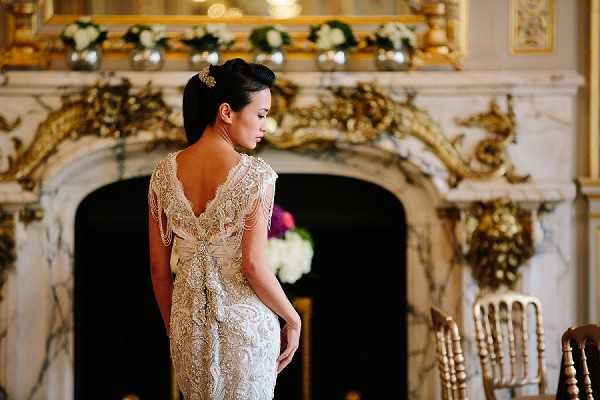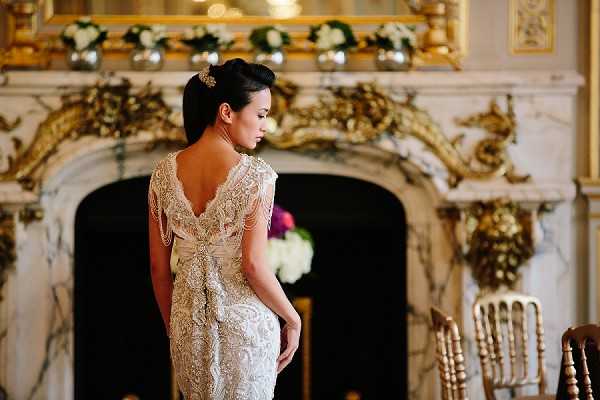 "Sebastian who is tall, seductive and dark haired, is the gorgeous French gentleman every woman has always dreamed about! Soft voice, a smile to kill and wide protective shoulders, the groom could only wear a made to measure classical fit tuxedo from Maison Scabal, one of the oldest luxury garments & fine accessories workshop in Europe, since 1539, crafted by the most skilled craftsmen using the well-known Scabal fabrics."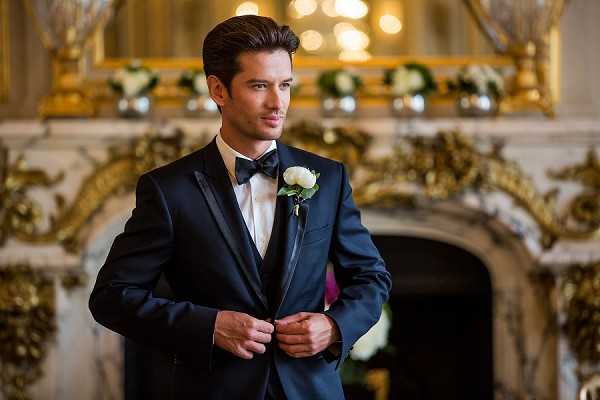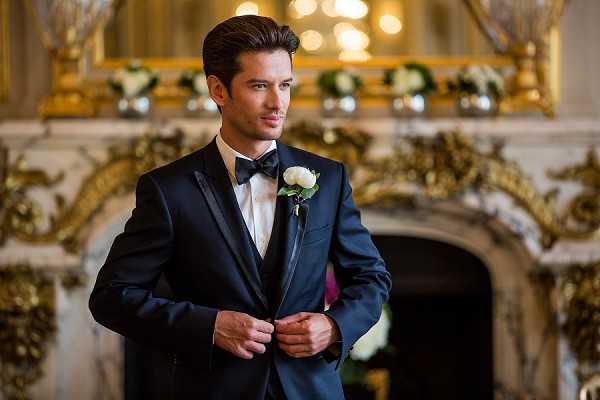 "Sumptuous Events designed a table setting that could only match the vision of opulence using the finest and prestigious items for a fine affair. Sourcing the richest material including a made to measure unique table cloth from their Sumptuous Collection."
"The idea was to play with contracts and warmth, a palette of soft plum, deep purple, blush rose and ivory white embellished by a vibrant gold. Estelle Preston perfectly combines the magnificent Rose, Dahlia, bold Hydrangea with Eucalyptus leaves, and produced here a magnificent floral composition, that smelt as good as it looked!"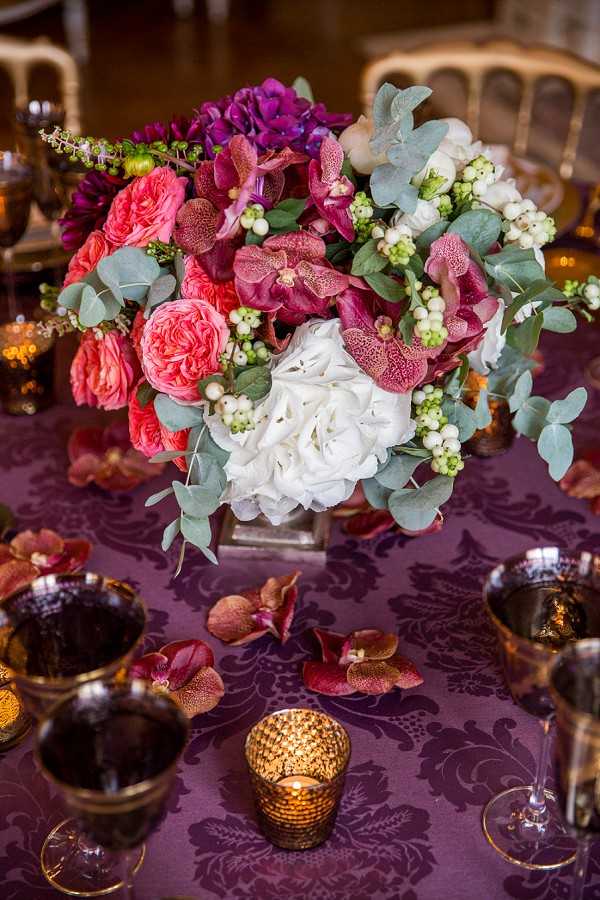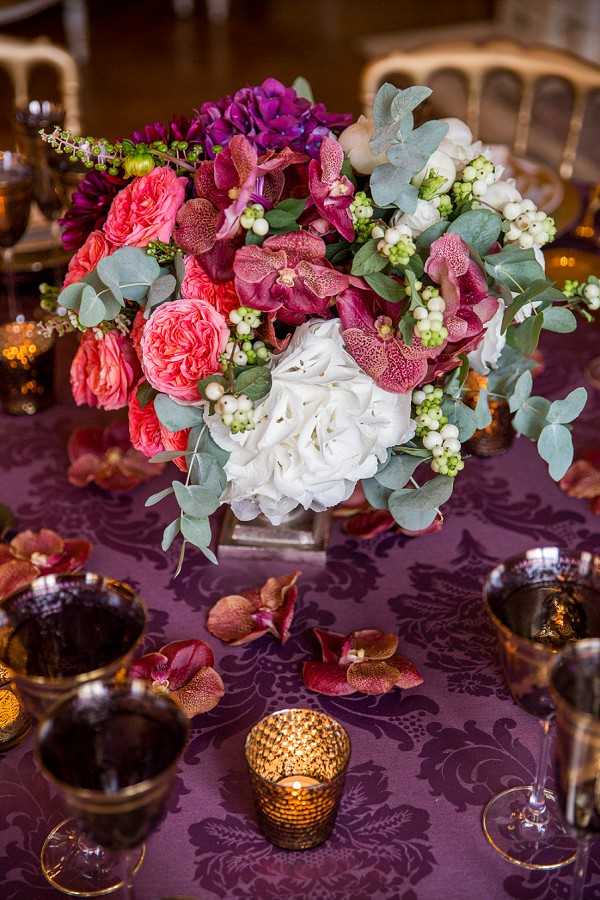 "Gold baroque elements and a bold key frame the eloquent details of the Prestige Volga collection from Maison Options horn this dreamy feel table. Inspired by the iconic Versace print, the new Prestige design is enriched by gold and platinum embellishments, and emphasised by subtle black accent colors."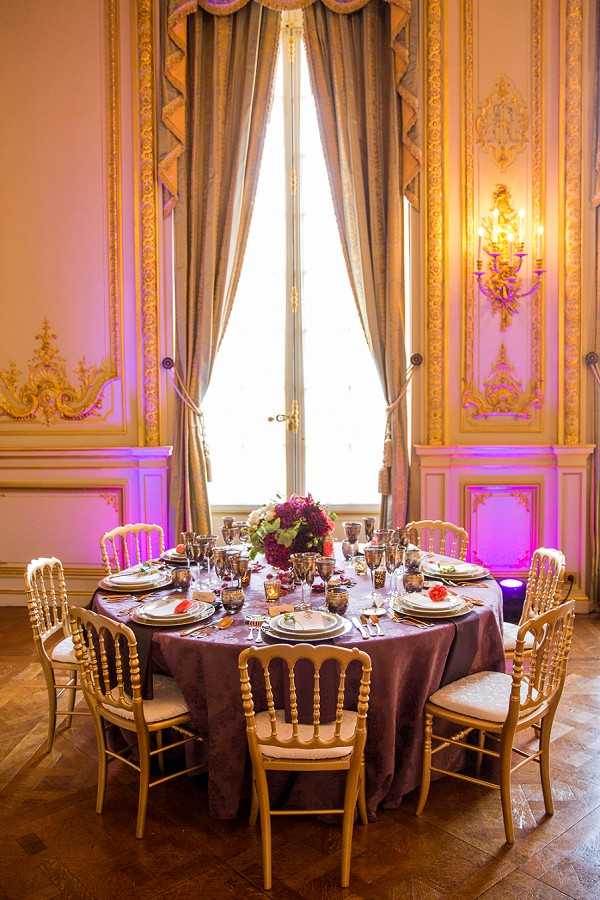 "Hand calligraphied menus on ivory silk paper, royal plum ink and gold monogrammed for a traditional feel."
"And talking about looking good, have you checked out that Red Velvet Pistachio crumbs wedding cake, covered with a pure vanilla flavor English icing, standing proud and elegant just like our wedding couple."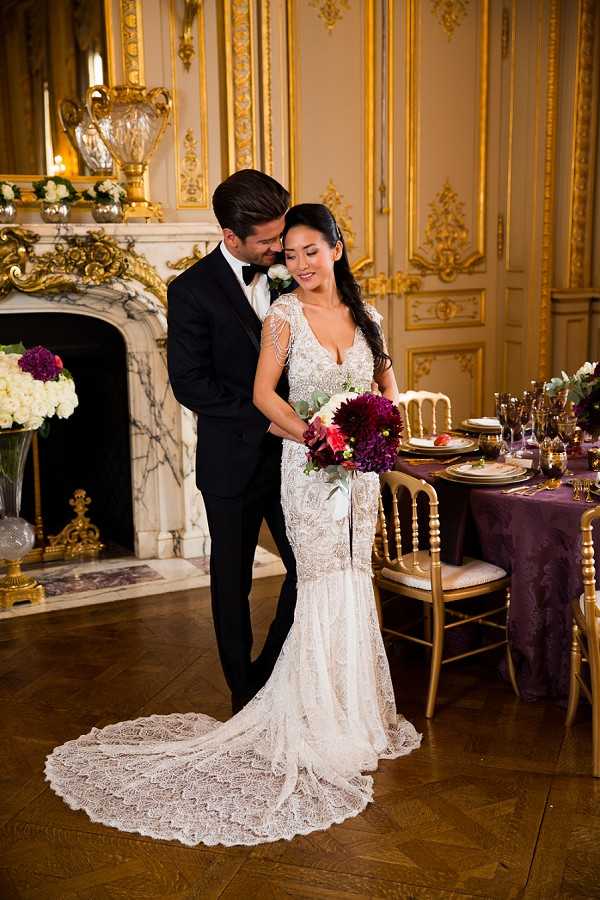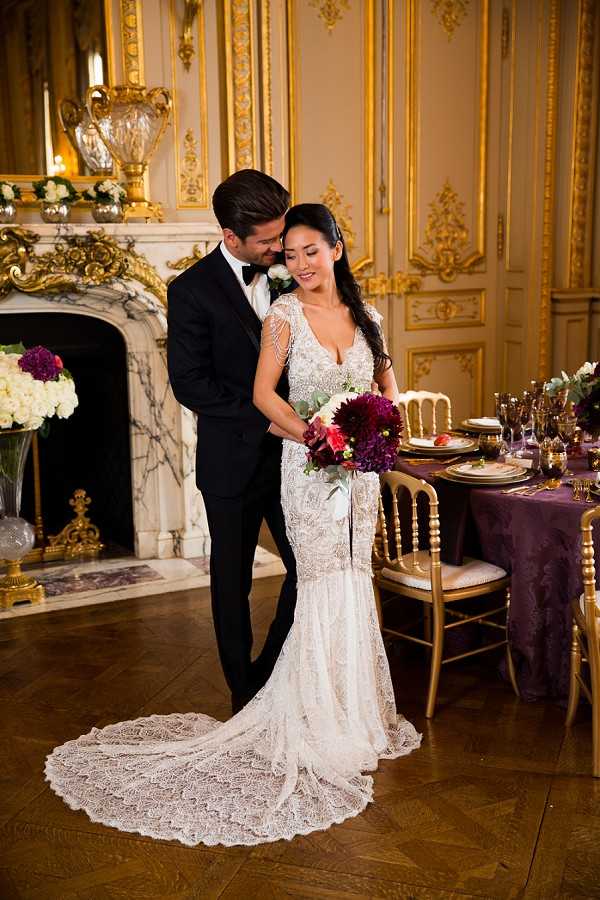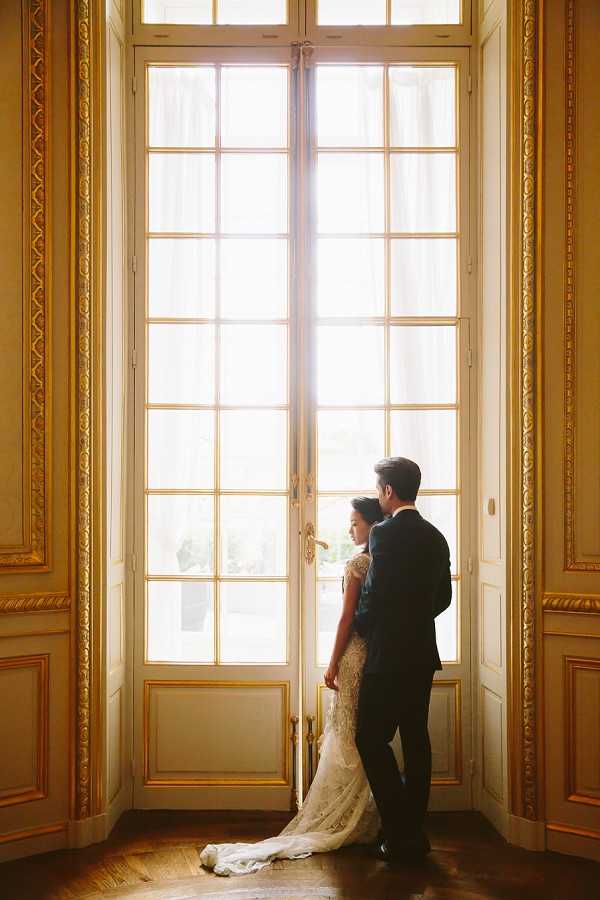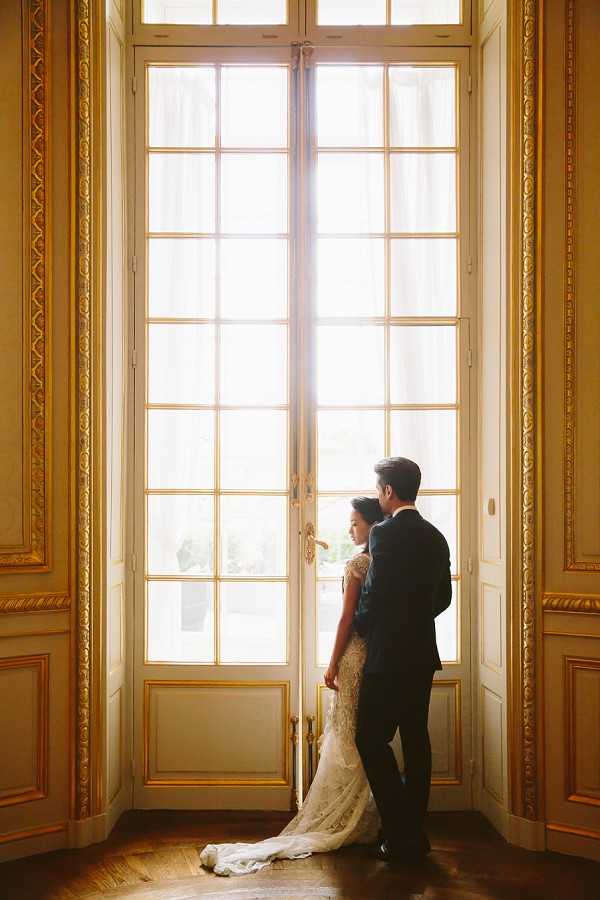 "Glamour, Luxury, Happiness and Authenticity were the inspiration keywords we gave to everyone implied to describe the style of the pictures we were looking to capture, and this is how Ben & Hope Photography, a talented destination wedding photographer from Brisbane, Australia made the magic happen on this sunny day of September!"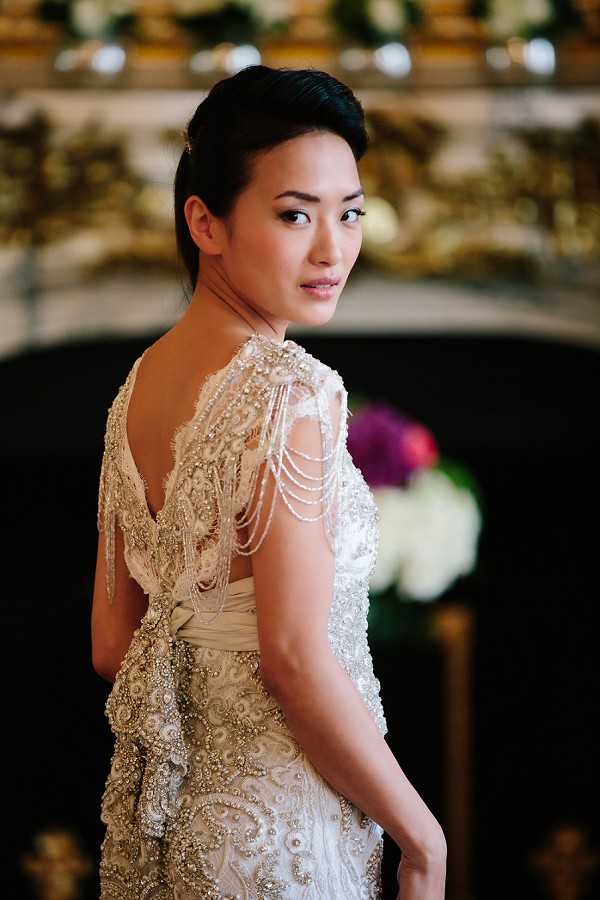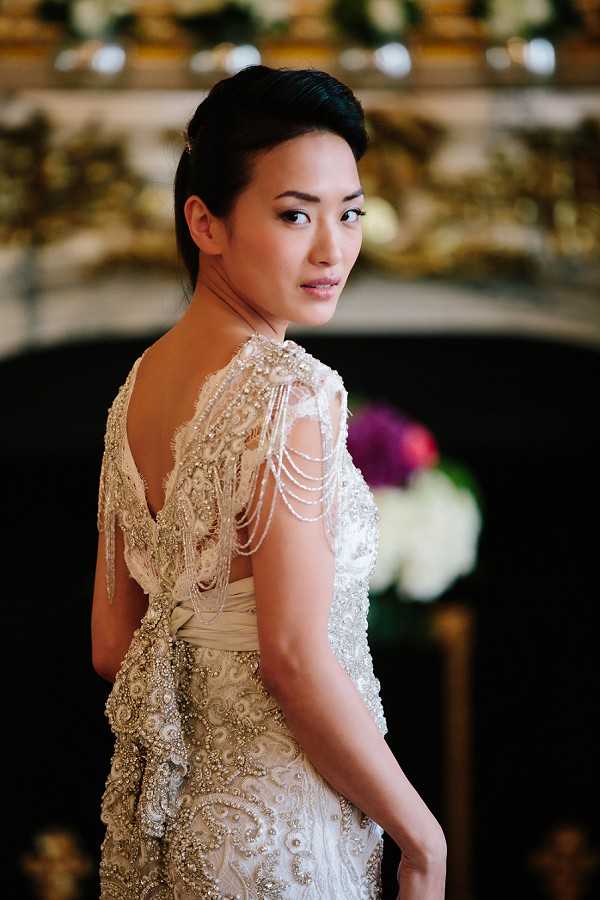 "A diamond nestled in the 16th district of Paris, the elegant façade brings to mind its legacy as the former home of Napoleon Bonaparte's grandnephew, Prince Roland Bonaparte. The Grand Salon & the suite 'Shangri-La', and its one million dollar view of the Eiffel Tower, serves as a backdrop all day, the bride and groom's first dance by the historical grand stairs completely illustrates a modern and whimsical love story!"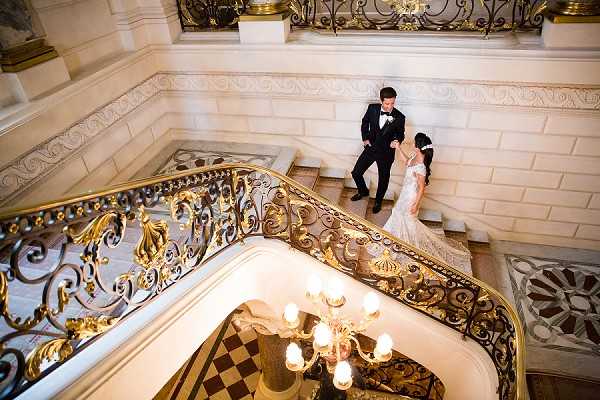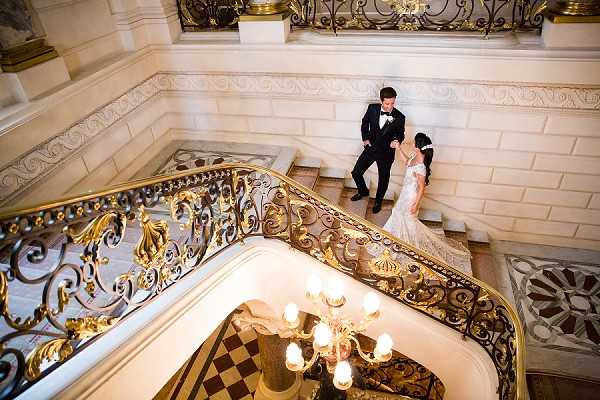 "The secret behind this stunning styled shoot in Paris is actually that the models have known each other for a while and the bride, secretly, felt her heart pumping when looking at the groom during the day! And how could you not?"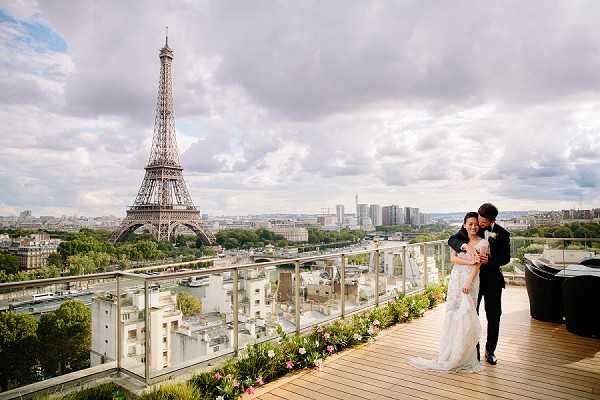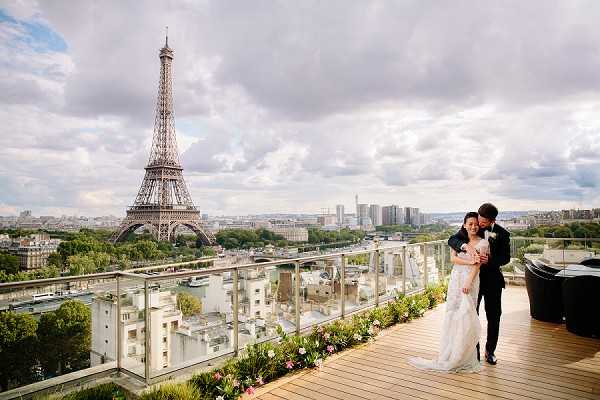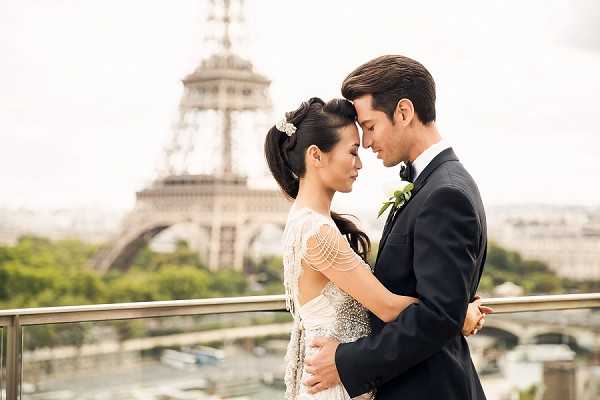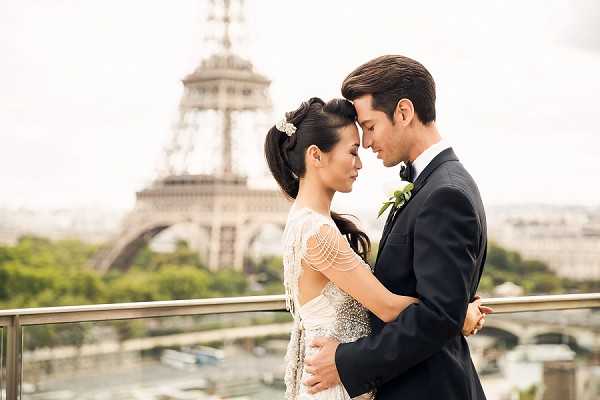 WOW… for even more luxury Shangri-La Paris inspiration click here.
Opulent Shangri-La Paris Styled Shoot Snapshot
Wedding Vendors
Photographer: Ben & Hope Photography | Venue: Shangri La Hotel Paris | Table Ware: Maison Options | Flowers: Estelle Preston | Calligraphy: Studio French Blue | Wedding Cake: Synie's Paris Cake | Dress: Anna Campbell | Groom's Tuxedo: Maison Scabal | Hair & Make Up: Maë Haute Coiffure | Video: Ping & Pang Films | Design & Coordination: Sumptuous Events Paris | Table Cloth: The Sumptuous Collection
Save
Save