Happy Tuesday lovelies! And how are you all doing today? We're continuing this fabulous week on the blog with an artistic and fresh Le Mans wedding inspiration photo shoot.
So as we head towards the time of year when the clocks are pushed back, let's take a step back to when the clocks spring forward – to a time when the very talented wedding planner Alexine Gervaise of Alex & Vous developed the concept behind this spectacular shoot. Alexine teamed up with photographer Samantha Pastoor, capturing the natural, fresh feel.
So over to Alexine, to take us through todays inspiration…
It is at the beginning of spring, when one puts the clocks forward, that this photo shoot came to be.
The idea of this photo shoot came to me while visiting a brand new place in Sarthe, the Grange de Bresteau, the setting of visible stones, high quality materials and this industrial touch with a superb black metal staircase.
I have immediately thought of Samantha Pastoor for this new project. The video maker Maud Caillet was an artistic favourite when I discovered her work, a freshness I've loved.
It this thus from this wonderful place that came the modern spirit of the photo session, playing on rough materials such as stone, wood, cast iron, and metal for the industrial touch. Touch especially brought by the bride and groom's table and the chairs lended by So Boya.
The flowers of Maison Marguerite brings the freshness of the decoration.
Harmonised with these rough materials, some lightness : the fabric and the decoration I have staged with my decorator Karine, from Passion Déco 53.
The flowers from Maison Marguerite bring freshness and light to the decoration.
The paper, with the stationery Septembre Papeterie, highlights the play on materials through the menus' transparency, and the announcements' purety. As well as the paper flowers crown made by Dame Belette? Funny touch with a paper stag head reminding the low poly decoration of the white fox.
I met Valentine from Merci Coco during the professional event … and we immediately got along. She agreed with delight to the idea of some tea with a hint of blue in an original container: test tubes.
Tea which is also used as "cushion" and highlights the rings, created by Charles Letessier, jeweler Made in Le Mans With Perrine la toquée, caterer, always looking out for everything trendy, we worked on the idea of salted macaroons, some healthy bowls.
Also, videographer Maud Caillet captured the shoot. Check out the stunning film below:
Natural Le Mans Wedding Inspiration Snapshot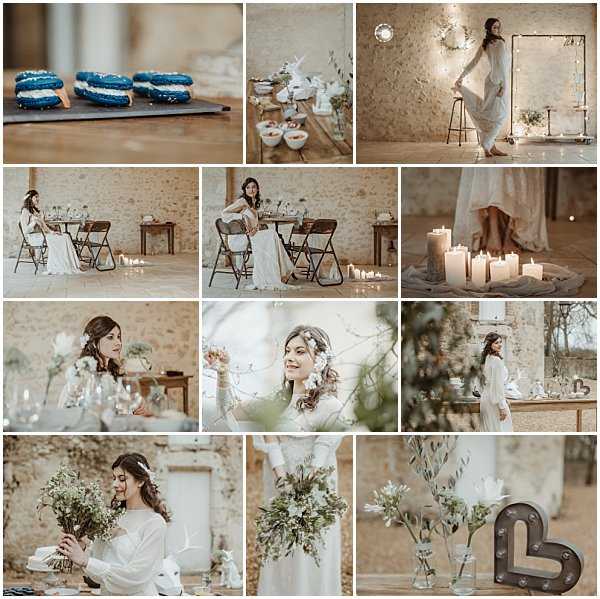 Vendor Details:  
Planner: Alex & Vous | Photographer: Samantha Pastoor | Videographer: Maud Caillet | Wedding Dress: Chris Von Martial | Decoration: Passion Déco 53 | Florist: Maison Marguerite | Catering: Perrine la Toquée | Hair and Make Up: Sayaline Hairliss | Stationery: Septembre Papeterie | Accessories: Dame Belette | Accessories: Charles Letessier | Hire: So Boya | Accessories: Merci Coco | Model: Johanna