"Guy de Maupassant, a famous French writer said…
of all the passions, the only really respectable one seems to me to be gluttony.
Franco-Colombian
When I imagined this wedding, I wanted to transcribe this passion with delicacy and elegance while associating fun and colors.
I chose a bright Franco-Colombian couple wearing the creations of Chloé MBC Couture for the Bride, and Bellucci Lyon for Mr.
Elegant and original
The wedding dress was made to measure by a designer from Lyon who creates magical and unique dresses for all styles and morphologies.
The dress chosen was elegant and original with a sequined veil over-skirt that hinted at a short silk dress.
Chic and timeless
The Château de Cesarges located between the mountains of Isère and the big city of Lyon hosted this event. Thanks to its sobriety, its chic and timeless side mixed with its moldings and period fireplace.
I formed a team with 2 Laetitia to highlight my design ideas. Ma Déco Chic for the decoration and Laetitia Clement Floral Designer for the scenography and floral art.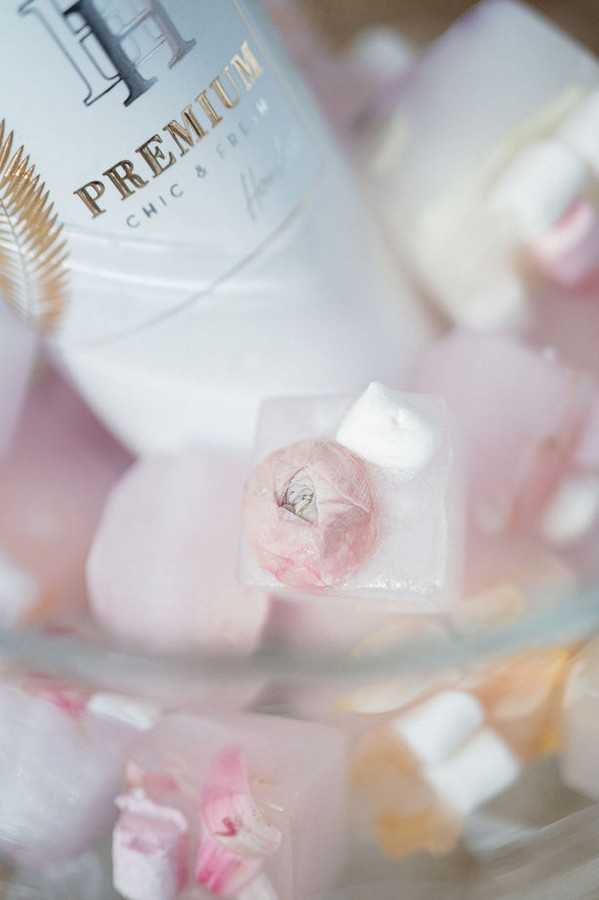 Cotton Candy Bar
Together we created a decor in warm tones: a monochrome of pink, orange and yellow, with subtle touches of gluttony in the decoration but also in the entertainment. Gourmet cocktail bar; cotton candy bar; ceremonial arch decorated with Chamallow garlands. Plan of tables in the shape of a cake mixing flowers, sweets and ladyfingers. To the ritual of a gourmet ceremony: an exchange of strawberries dipped in pink chocolate…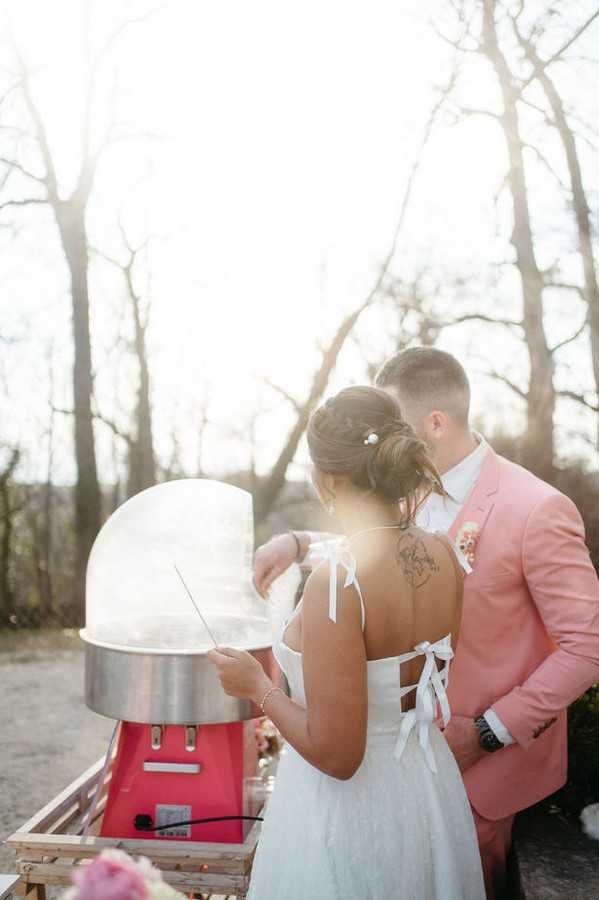 Fresh seasonal flowers
La Pâtisserie de Camille has created unique and delicious pieces. Blending perfectly with the fresh seasonal flowers chosen as well as the decoration and rental furniture from our partners Loc à Souhait and August Évents.
The arrival of the newlyweds in a classy black old car decorated with a cascade of flowers was the highlight of the show!
This shoot was immortalized by the happiness sensors Les deux grands."
Thank you for sharing this delicious shoot with us Reine de Coeurs!
Love Is Sweet At This Candy Themed Wedding Snapshot
Love Is Sweet At This Candy Themed Wedding Vendors
Planner Reine de Coeurs | Venue Château de Césarges | Photographer Les Deux Grands | Videographer Les Deux Grands | Decoration Reine de Coeurs | Decoration Ma Déco Chic | Florist Laetitia Clément Floral Designer | Hair and Makeup Candice Hair Beauty Event | Wedding Dress MBC Couture | Accessories Fil des Toiles | Grooms Outfit Bellucci Lyon | Stationery Encre les lignes | Hire Loc à souhait | Hire August Events | Catering Ke c'est bon traiteur | Cakes La pâtisserie de Camille | Entertainment La bar mobile | Transport Clay 8 Car Events | Accessories Christine Driot | Bridesmaids Dress Family Dress Code | Models Paula Reyes & Adrien Lausson