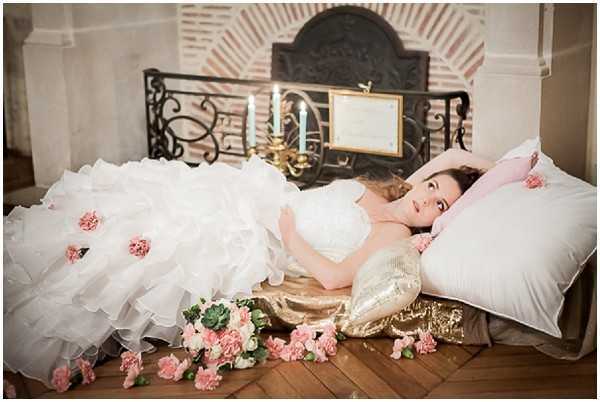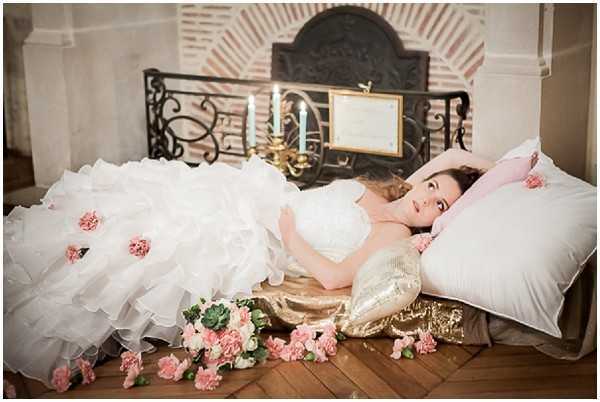 What is your idea of a fairytale wedding?  Are you more of a cinderella bride, a snow white understated elegance or renaissance style Sleeping Beauty?
No matter what your dream fairytale is, today I have an epic and I do mean an epic selection of fairytale wedding theme inspirational shoots by two wonderfully creative talents, Frédérique from The Wedding Teamroom and Alexandra from Des Souffle des ldées.
French Wedding Style – Photography ©Rebecca V. Plasticienne Photographe
The team take us through the styling behind the 5 fairytale wedding shoots: "The idea behind the shoot was to emphasis that all brides can be princesses on their wedding day, not matter what their idea of a fairytale wedding might look like.  We wanted to create a world of princesses in a magical place, not childlike but respectful to the tales of Perrault.  The winter and fall worked so well as a backdrop for the shoots and it also demonstrates what a magical time of year this can be to get married.
The castles' different spaces allowed us to build sets in this series "Once upon a time" very different.  The first setting , Cinderella featured almond green and brown with frescoes of hunting scenes on the wall. Far from being a concern, we useed this recalling the iconography of Cinderella, with the shoe , pumpkin and the clock. We recreated a scene that incorporated a room with brown lace, table feathers from hunting and small gifts guest soap shaped autumn leaves.  It was an intimate atmosphere full of class.
For Snow White, I wanted a short dress at all costs, with a small black vest to accessorize and for warmth,  because we were late October. Decor on the rustic side, with apple liet-motif, wood, moss, mushrooms, a deer, a dwarf … but also oppulent accents, because it is still a princess 🙂
For the princess rustic winter, we wanted to recreate a warm, hot chocolate, powder pink styled shoot.  The  materials were warm colors, cozy, such as linen, cotton, candles with wool and knitting. The setting was pictured next to a roaring fire.
The Winter Princes it's been over a year since "Frozen" from Disney entered my head. I wanted white with a hint of blue, transparency and glitter.
And finally for the Sleeping Beauty: set in, Castle Pontarmé with a living style "Renaissance" with its monumental fireplace, tastefully restored and the utmost respect for the original style. This melted my heart as a historia. You will notice on the cast iron plate of the fireplace the representation of royal lilies and our  Sleeping Beauty decor.  In gold and red wine as such "The fleur de lys and royal gold." We wanted to bring a fresh note with the color mint"signature" of "du souffle et des idées."
So which princess are you?


Credits:
Creation, coordination, decoration and stationery: Frédérique of The Wedding Tearoom and Alexandra from Des Souffle des ldées.
Styling assistants: Chantal and and Sandrine,
Location : Castle of Pontarmé
Photos : Rebecca V. Plasticienne Photographe
Dresses: Custom made for the shoot by Ceremony Day
Models : Eve, Laetitia, Caroline and Melissa
Hairstyle and Makeup: Laetitia from Platinum Pro Coiffure
Small guest gifts : Love n Gift
Eternal bride bouquets: In Bloom for You
Wedding cake :  l'abeille en sucre