Hello lovelies and welcome to another wonderful week here at French Wedding Style. We are kicking this brand new week off with a beautiful Domaine de la Léotardie weekend wedding. Weekend weddings are the future, in our opinion anyway!
So you've decided to get married in picturesque France, after all the planning your day ZOOMS by in the blink of an eye, as you'll have heard from many FWS brides. So why not consider a weekend wedding? Sounds perfect doesn't it. Many stunning French Chateaux offer weekend packages to suit everyone's budget, so why not give it some thought.
We love this relaxed affair of our gorgeous bride and groom Louisa & Ali, for their special day Louisa wore a pretty Cherry Williams gown with a pair of sparkly Jimmy Choo's, the perfect combination for a Chateau Weekend Wedding…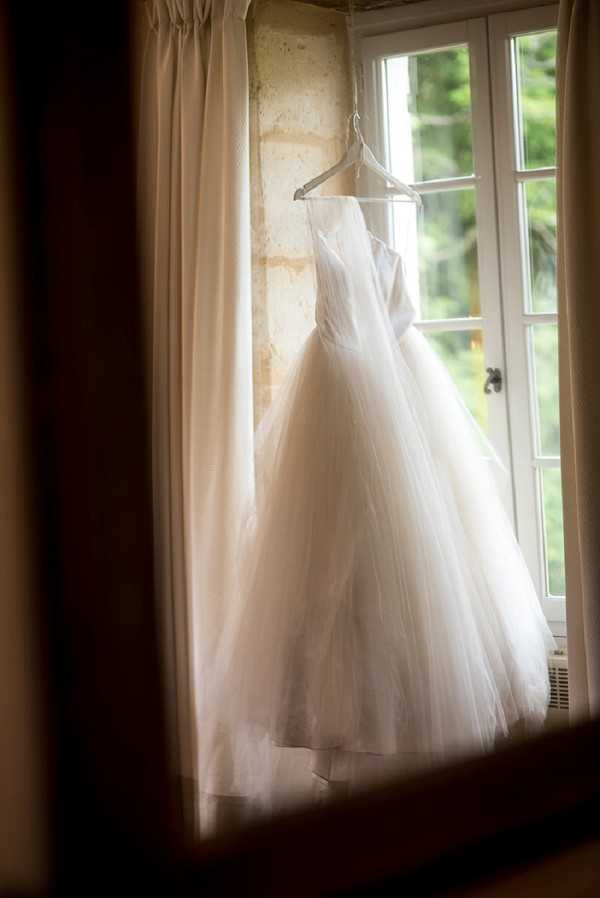 "I have a particular fondness for the Dordogne region with its beautiful countryside, magical colours and quality of light, and when I arrived on the Friday afternoon for Louisa and Alistair's pre-wedding cocktail and found that they'd booked me into a nearby Château with a four-poster bed, I knew I was onto a good thing!"
"Domaine de la Léotardie (situated near Bergerac) is a fantastic venue, with its lovely restored Dovecote building standing as a centerpiece attraction, among the lush rolling garden grounds, and this provided a wonderful backdrop for many of the photos. I was teasingly reminded on more than one occasion, in fact, that the shot not to miss, was the couple running down the hill after the ceremony, with their guests, winding their way down the path in pursuit. I must have been partly successful as Louisa & Ali used this image for their thank you cards!"
"Louisa and Ali, were not only a great-looking couple, but incredibly easy to photograph and get on with. Looking back at my whole wedding season, it's difficult to remember a bride more relaxed during all the preparation time, and she looked absolutely radiant as soon as she stepped into her wedding dress. My recollection of this wedding is of two wonderfully united families, creating a great feeling of warmth and togetherness, and this sense of joy and bonding was evident not only with Louisa & Ali, but also with those sharing their special day."
"Ali's speech moved all those present (me included) to tears and laughter and the evening entertainment was crowned (for me) firstly by the presentation of a wonderful Danish wedding cake (Louisa's maternal heritage) and secondly, by the full-on rock'n'roll dancing of Ali's parents. Altogether Louisa and Ali's wedding was a truly vibrant and life-affirming occasion, I certainly would be up for going through it all again!"
A few words from our bride and groom… "When you walk round the back of the main house at La Leotardie, you find yourself staring out onto a pigeonnier sitting in the middle of an expansive walled garden. Even on the brutally cold and wet Saturday in March when we first visited La Leotardie, we knew how striking it could be on a sunny summer's day as the backdrop for our wedding. We were then shown the beautiful stone barn that could seat 100 guests under candlelight for dinner and various outhouses on La Leotardie's grounds that would be home to about 80 of those 100 guests for the wedding weekend."
"It felt like the perfect venue and, looking back, having so many people on site and in such a gorgeous, rustic setting really helped to create a fun, informal and festival-like atmosphere that started with gypsy jazz, steak frites and jugs of rose on Friday night and ended with a longer-than expected brunch, which wound down at some point late on Sunday evening."
"We chose France partly because we both love the wine, the food and the sunshine but mostly because we wanted to put on a big party where everyone could escape their everyday worries for the weekend. It didn't disappoint on any level; there is something inimitable about being far away from home in the sunshine surrounded by all of your best friends and family with a glass of wine in your hand. We remember laughing (and drinking) more than we would have thought possible and, in that context, all of the hours that we spent organising our big day felt like time well-spent."
"We benefited from working with some wonderful people. Tim Fox's photos are breathtaking and Andrew Kelly's super-8 film captures the mood of the weekend perfectly; both were an absolute pleasure in the lead-up to the day and utterly charmed all the guests. Fabrice at Finesse Catering delivered a succession of unbelievably good plates of food, including a lobster barigoule that blew everyone away, while the raucous wine tasting with Mitch (at Cave d'Eymet) and the father of the groom a few months before the wedding turned out amazingly well with a selection of delicious local wines."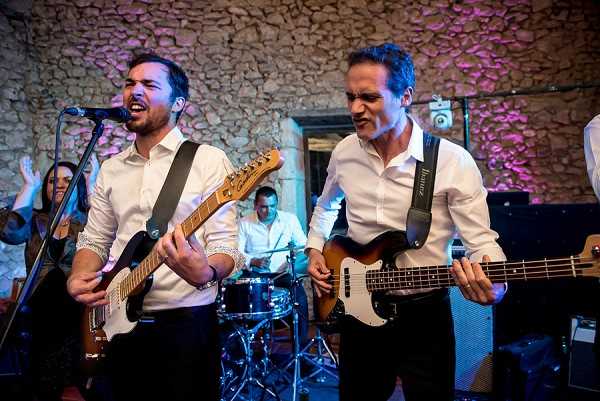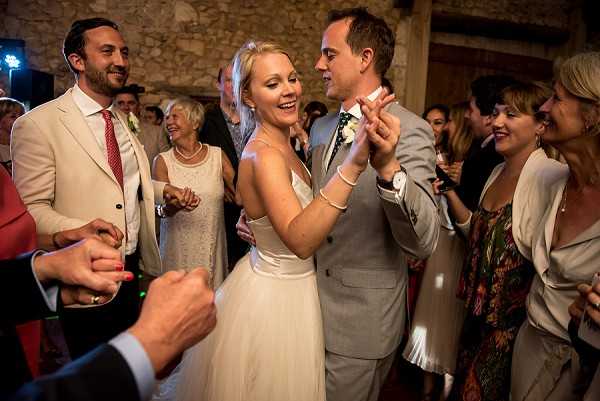 Congratulations Louisa & Ali from everyone here at French Wedding Style!
Don't miss their vintage wedding film created by Andrew Kelly…
For even more beautiful Dordogne wedding inspiration why not check out this relaxed romantic wedding in the Dordogne Valley.
Domaine de la Léotardie Weekend Wedding Snapshot
Wedding Vendors
Venue: Domaine de la Léotardie | Photographer: Tim Fox Photography | Videographer: Andrew Kelly | Brides Dress: Cherry Williams | Shoes: Jimmy Choo | Hair and Make Up: Liz Beth | Bridesmaids Dress: Diane Von Furstenberg | Grooms Outfit: Jaeger | Groomsmen Outfits: Gianni Feraud | Flower Girls Dress: Gilly Gray | Celebrant: Moira Stephen | Florist: Côté Pourpre Bergerac | Catering: Fabrice at Finesse Cuisine | Catering Wine: Mitch at Cave d'Eymet | Entertainment DJ: Justin | Entertainment Pianist: Alex Crowe | Entertainment Band: Carduh | Entertainment Accordion & Band: Stoyan and La Pompe Nomade | Wedding Planner: French Wedding Company
Save
Save
Save